'Public art' are two words that need not strike fear into a commercial property developer. In the eyes of entrepreneur and art consultant Zoë Allen, we have a responsibility to make buildings special – to ensure they are exciting and inviting places and not just a series of four walls that tick the boxes for a leasing. The right creative environment will not only hold its value in the long-term, but also has the potential to boost productivity, and to play a part in creating happy buildings where the occupants truly want to work.
The artists I work with are the most valuable asset I have, followed closely by a deep understanding of people, and place.

Zoë Allen
Allen leapt in head-first when she established her art consultancy business in 2019, leaving behind the safety of a full-time job as director of an art and design agency in Shoreditch – but for her it was a no-brainer. Her goal was to deliver unique and visionary art installations, working with some of London's largest reputable property developers and landlords alongside some of the contemporary art world's most celebrated talents.
In just four years, her ever-growing portfolio includes major projects with some of London's most successful architecture firms, building developers and estates, from AHMM architects to Argent property developers, as well as Grosvenor Estates and Wembley Park. This, alongside an impressive roster of major international artists such as Yinka Ilori, Adam Nathaniel Furman, Christophe Gaignon, Laxmi Hussein, Giles Miller and Lois O'Hara.
While corporate buildings have not always been regarded as serious exhibition spaces, their positioning outside of the commercial constraints of the white cube gallery model can allow for greater creative freedom, attracting credible, global artists to collaborate on projects they would not usually be in a position to pursue. And from the perspective of the corporate client, there's also a commercial astuteness at play. From hotels to city high-rises construction projects there is a growing pressure to go above and beyond to stand out, building a unique and powerful brand and identity – often in an aesthetic and visual way.
Hiring the right architect and interior design teams, investing in the right furniture, upholstery, and minute detailing – no detail goes unnoticed or unconsidered in the contest to market to a certain clientele. One increasingly popular route is to align with art. Long gone are the days when this meant a set of photographs in the foyer – instead, developers are choosing to commission site-specific works by notable artists, sponsoring on-site art programming, and, in some cases hiring full-time curators.
"Art in your surroundings isn't just a bonus anymore – for many, it's expected. It's something workers connect with daily, but it's also a hallmark of company identity to the curious passer-by or those visiting for meetings. It can be a very powerful tool." ZA
For Allen, each building is different, and she says it is vital to work closely with its character, with respect to its heritage and history to create meaningful synergies.
Decision-making around commissioning new artworks can be challenging, but it is also rewarding. For a recent project at 78 St James Street, Allen was thrilled to have the opportunity to meet the unique challenge of working with a Grade II* listed building, with highly decorative heritage spaces dating back nearly 200 years.
Transformed sympathetically, the artwork within needed to complement the historic finishes and murals, whilst bringing the space into the modern era and appealing to all users of the building – Ben Rousseau's Caillou Chaise being a prime example, with its modern lines and materials prominent within a classical and regal setting. But alongside such classical artworks, Allen also commissioned digital artists to create bespoke works for the building's reception area; taking the historic into the modern age, and beautifully juxtaposing old and new.
Similarly, at Warwick Court, a 180,000sqft building in the history Paternoster Square in St Pauls, London, Allen commissioned the impressive work Dual, by Giles Miller Studio. A structural and material balancing act, Dual consists of twin sculptures hang either side of an entranceway, both intervisible as well as pan-visible by the viewer, who can watch the tonal density of the pieces change as they walk past each of the opposing structures.
And finally, two incredible installations she commissioned for The Rowe, a 160,000 sqft office redevelopment in Whitechapel – both offering a nod in homage to the heritage of both the building and the neighbourhood. Situated proudly opposite Whitechapel Gallery and in the heart of East London, with its reputation as a Mecca for Street Art, the artworks had to not only that celebrated the building's unique history but also stand the test as timeless additions to the East London art scene.
Formerly home to London Metropolitan University's School of Art, Architecture and Design, the redevelopment of The Rowe saw Frasers Property UK add six floors to the existing six, however, being sensitive to the building's artistic history, a team of architects from AHMM took inspiration from Rachel Whiteread's famous Fourth Plinth project – an inverted replica of the plinth, cast in clear resin.
"Tasked with curating two large scale art works for a building that's steeped in artistic history and sits within London's largest canvas of street art provided an exciting yet difficult challenge." Zoë Allen
Famed Alumnus of the building's previous demise as the CASS School of Art, award winning artist Yinka Ilori was the first, celebrating East London's iconic Victorian rag-trade with a concept comprising fabric looms, represented as bold playful patterns wrapping the 6th floor balcony.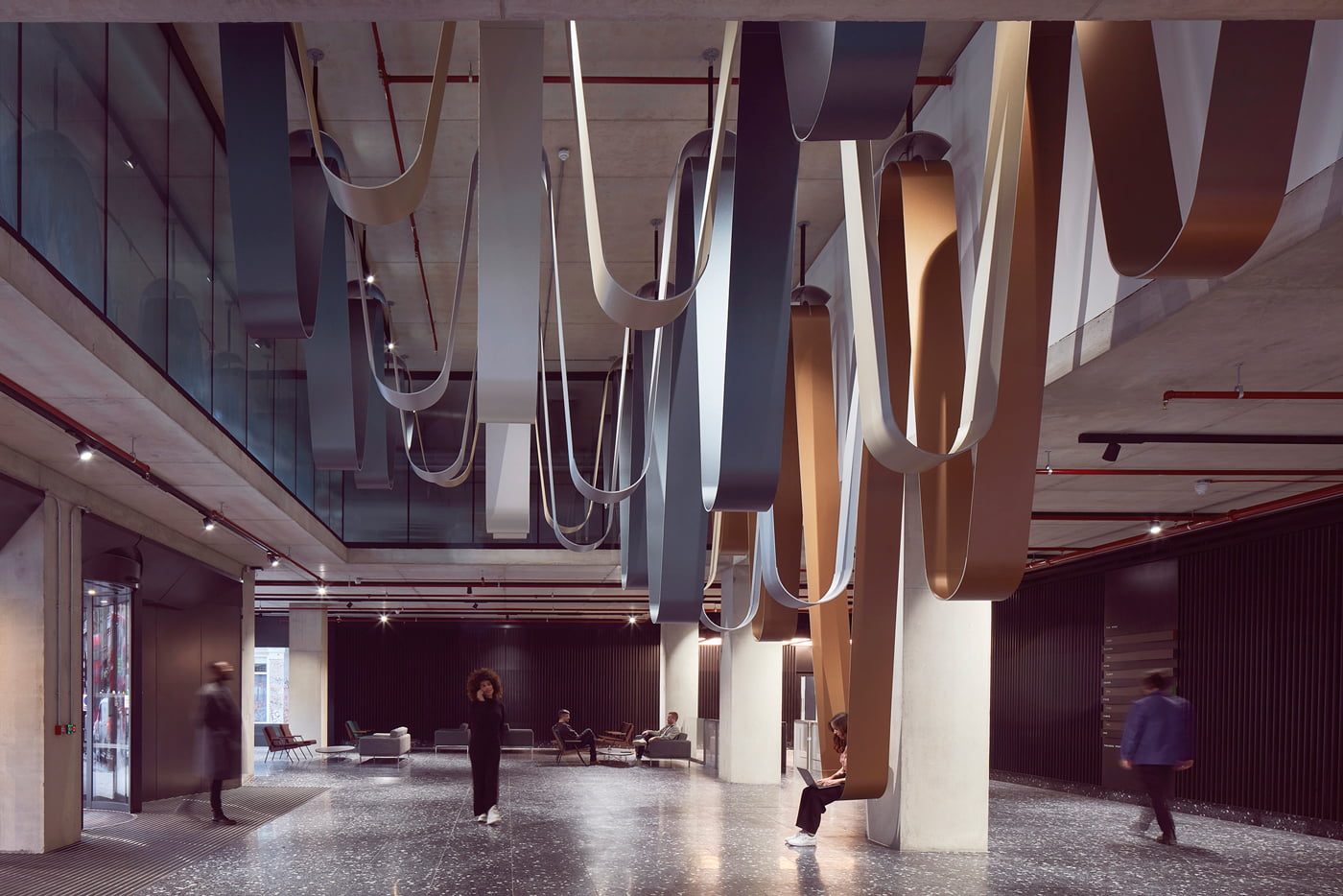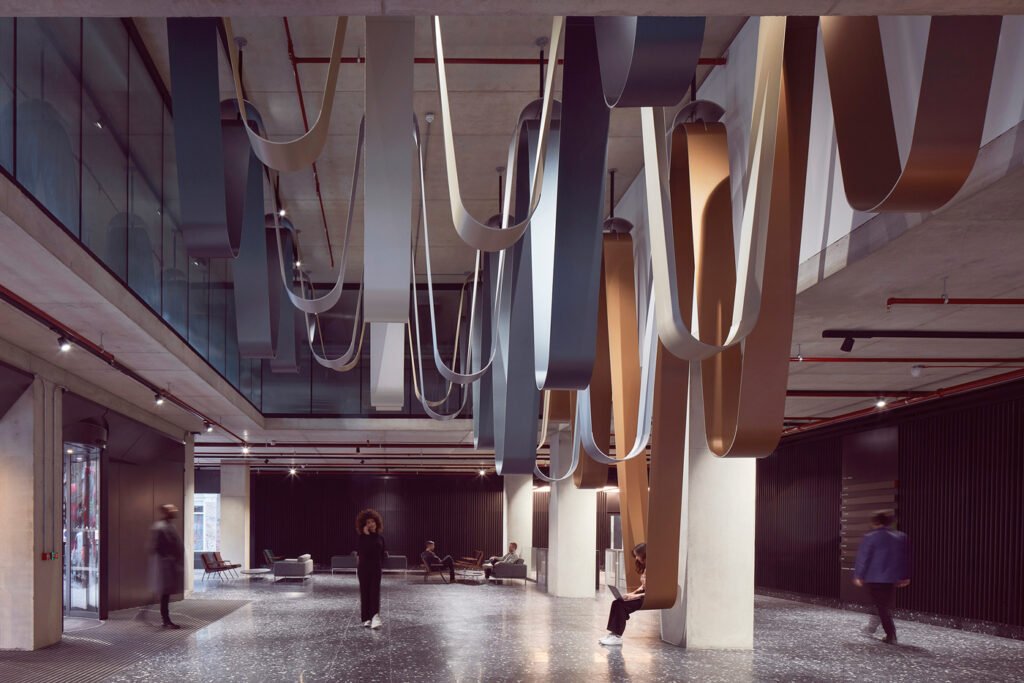 Through its vibrant colour palette, Ilori's installation also contains echoes of the area's more recent history and present as home to the Nigerian and Bangladeshi fabric markets that still fill the streets – as does that by Paul Cocksedge Studio. Entitled Loop, the large scale, immersive and interactive installation is made up of metallic fabric draped from the ceiling, like colossal ribbons of steel that reach up to 5.5 metres in length, playfully and whimsically flowing through the space, sometimes low enough to be sat upon.
Both installations serve as a permanent reminder not only of the positive impact art can have on a building, but of the positive impact providing exciting canvases to artists can also have. Thoughtful architecture provides a backdrop for artwork that goes beyond the two dimensional, offering spaces not only for paintings, but for a wide range of artistic options, including sculpture, light works, photography and illustration.
Harmonious within the stunning concrete architecture, the works create something awe-inspiring and unforgettable for visitors and tenants alike…fitting tributes to the building and the local area's artistic history, they blur the lines and challenging the perception of what the future of work looks like.
©2023 Zoë Allen, Artistic Statements