George Morl is an emerging artist based in Basildon, UK. He completed his MFA in 2018 at University for the Creative Arts. Morl takes inspiration from Beat Poetry, Neuroscience, 'Outsider Art', to merge with his artistic practice exploring themes such as queerness, body-image, isolation, and our journeys in seeking affection and intimacy under modernising technology.
Morl has exhibited nationally including at UCA, Herbert Read Gallery, Southend Museums, and Turner Contemporary. Recently he was awarded a Firstsite Collectors Group Award (2020) to explore the relationship between neurodivergence and art. In this conversation we will be learning more about the inspirations behind his work.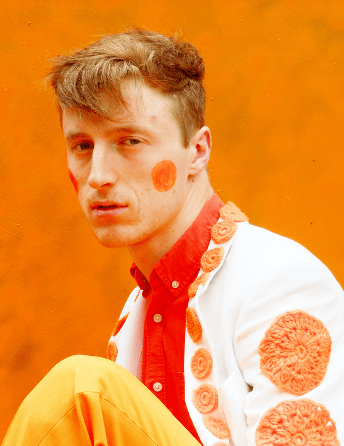 Q: What do you make and why you do what you do?
A: I began using art as a patient at Great Ormond Street Hospital for children and as a child I was mute and I learnt from historical portraiture human emotions. Because of this I produce paintings, sculptures, poems, and photographs, about my perspectives as a queer 'Neurodivergent' about communication, sensory processing, affection, isolation, and society's wider experiences of human connection.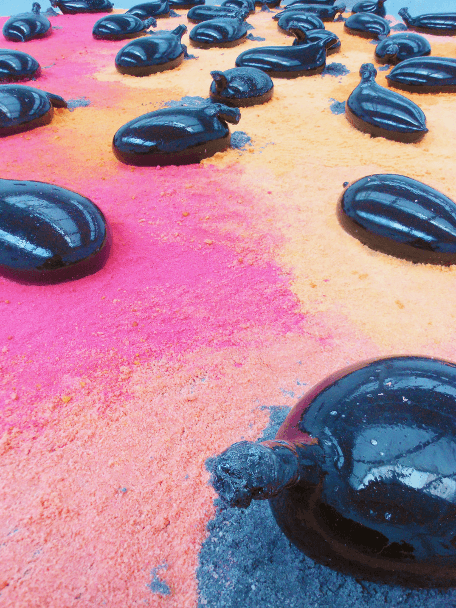 Q: Why is imagination important to you?
A: Social imagination can be difficult for me in understanding speech due to verbal processing delay, as well as facial expressions and body language. Through creative imagination I explore alternative episodes where people reach human interaction and allow myself and others in fantasy landscapes to be accepted or to be protected. Precious Boys#2 for example isan imaginary landscape for emotionally suppressed men to retreat and find solace in. I communicate empathy through my artworks.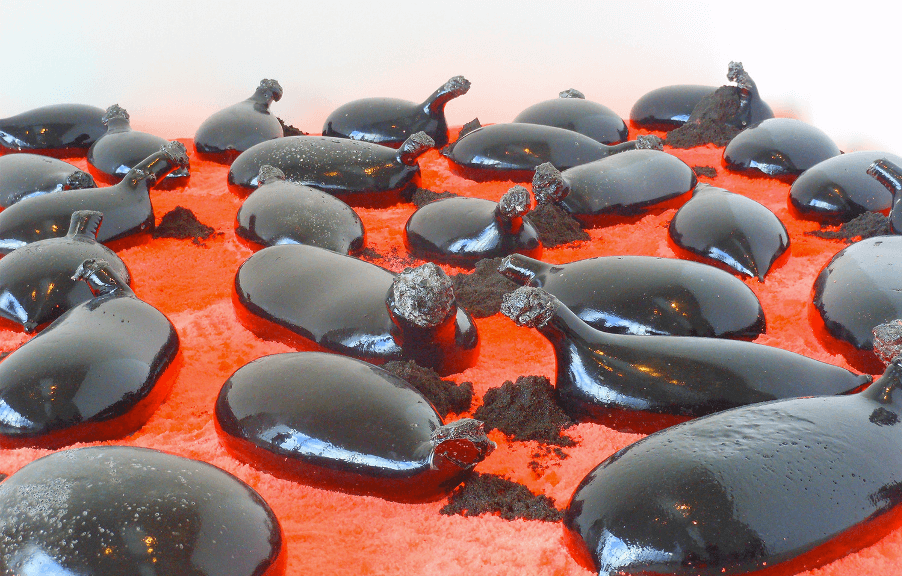 Q: What inspirations have informed your work?
A: I identify with the Beat Generation poetry of Allen Ginsberg or the novels of William Burroughs. They are verbose, esoteric, harmonic yet immediate in their experience of senses. Similarly Lana Del Rey for her approach to lyrics, singing in a way that actually communicates the experience of feeling a fabric or smelling a perfume. As someone with hypersensitivity and sensory processing issues, I try to approach these aspects in my work.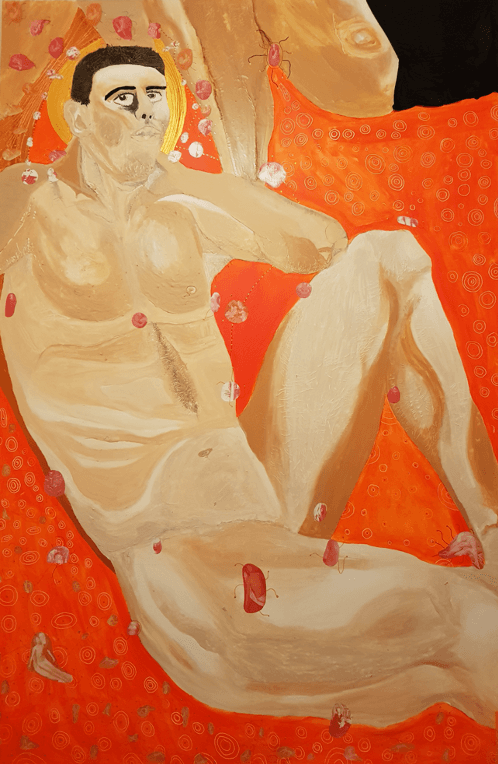 Q: Which work in your collection do you have a fondness for?
A: I recently produced a painting Intimacy In An Age of Physical Absence 2020, exploring isolation and how modes of intimacy have been depleted in the coronavirus pandemic. I feel connected to the longingness of the figure in the painting and the wider sense of anxiety. Being queer and ND the experience of isolation seems in balance.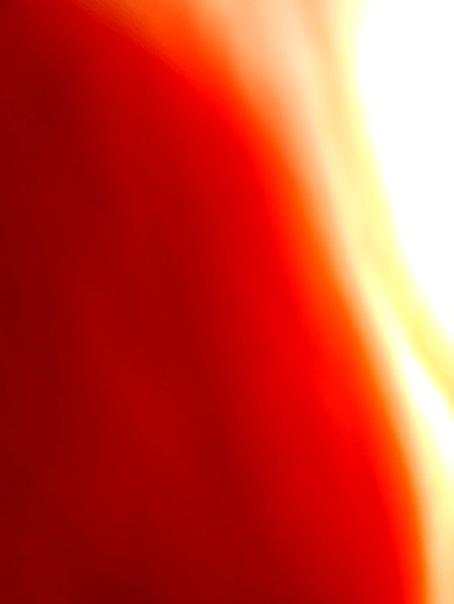 Q: How do you explore art and technology in your practice?
A: I follow logic and evidence and at the beginning I constructed accounts on dating apps observing conversations around loneliness using pictures online to inform compositions of paintings. I also use smartphones to photograph bodies or produce extreme abstract details of limb movements using microlenses about our perception of touch, or manipulate images using photocopiers to isolate muscle mass and invert or exaggerate bone structures.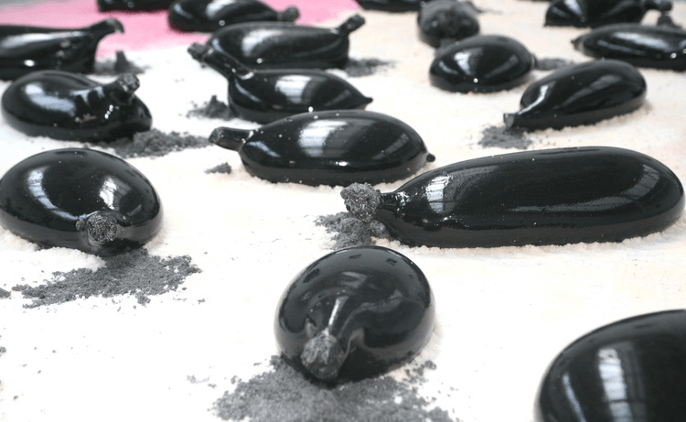 Q: How has social media helped your practice or influenced you as an artist?
A: For me Instagram has opened up a whole portal to facilitate and expand elements of my practice. It has enabled me to project my persona in a performative way or to directly communicate with other artists for advice or research in a way that is personally accessible. In a different way, it's enabled me to observe the way people construct or perform roles online to get validation or affection, providing source material for paintings. I expose all these ideas in my artwork and self-image.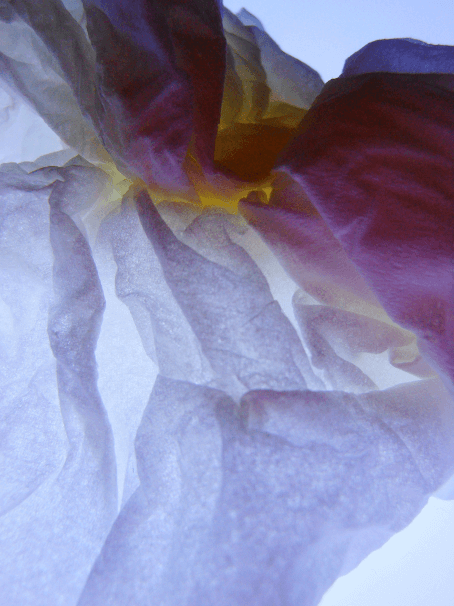 Q: What is your creative process and stages in producing work?
A: For paintings I oscillate between sketches, photographs, and poems as transcriptions of sensory memories regarding touch and scent through forming sample swatches. I use all of these to compose forms. Finally I apply layers of collages. On the surface works appear alluring but in detail this is where I communicate themes like sexuality, gender, abuse, war, death, loneliness and body image.
Q: How do you know when a work is finalised?
A: As I am process driven I've recently began recording the progress of paintings, regularly taking photographs at each stages from conception to realisation. From this I produce videos so that I can see at what point a work may lose its potency. As my work involves many layers slight adaptions change the entire outlook. When a work becomes detached from your vision and fights back yet still holds a message that's when I release it.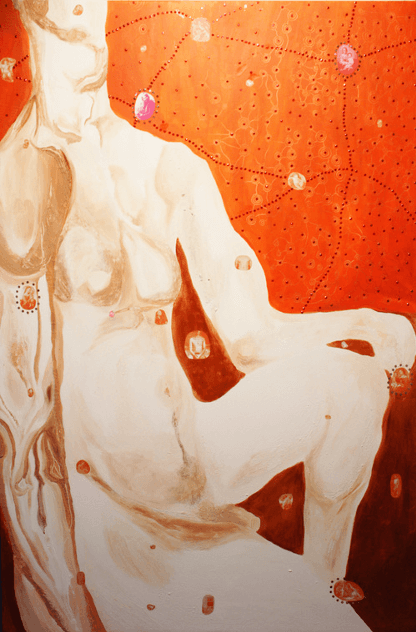 Q: Why do your figures appear fragmented and distorted?
A: Often I can feel my bones vibrate when moving so I see bodies as moving networks and technological circuits. I want to communicate the heightened sensation experience of my body or another's. I use painting primarily as a medium as it offers more opportunities to examine sensations through materiality, which I couldn't communicate through a photograph or digital technology, otherwise this would document what the tool observes.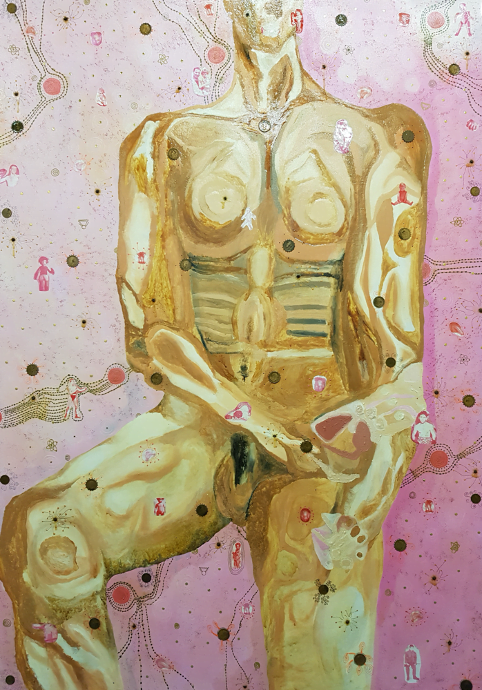 Q: What goes into your choice of materials?
A: Being ND materials become representations of emotions, and whilst I was at art school I received art psychotherapy which helped me understand these reasons. In my early work I fixated on coffee relating to memories of parents consuming it in hospitals as a metaphor for hope. I use a range of materials from body enhancement supplements, flavourings, alongside traditional pigments to confront anxieties about bodies, sexuality, and adolescence.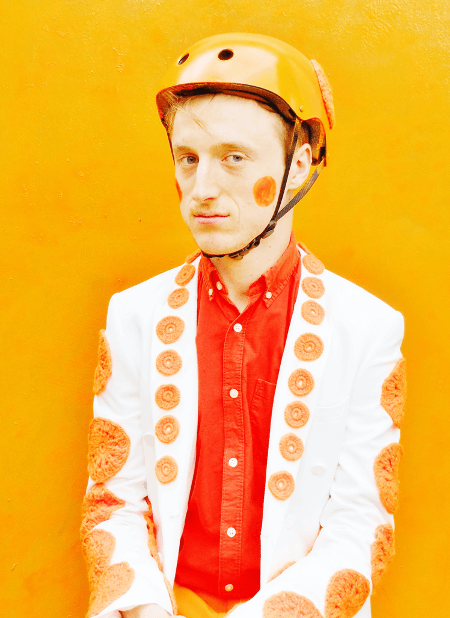 Q: What is the reason behind your personas?
A: My Mother dressed me in bright colours to be seen in a crowd and following bereavement Orange became an obsession. Like in Peter Pan the thimble became a substitute for a kiss. For me Orange and my artworks become the channel for affection – I am seeking safety and security. My personas are also useful in confronting how society infantilises those with neurological conditions, analysing risks of adolescence, and exploring queer culture's obsession with youthfulness.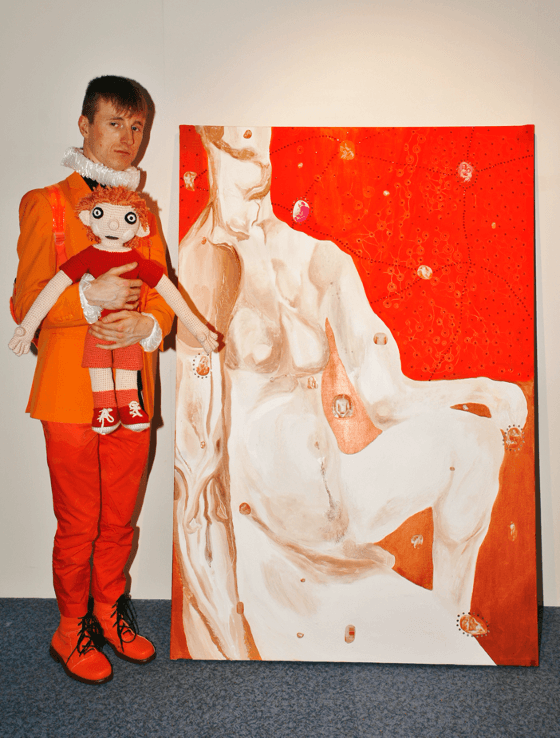 Q: If you could own any artwork what would you collect?
A: I have a particular fondness for Louis Fratino's paintings. They are extremely tender and honest about his relationships and encounters with men in our increasing digital landscape.
Q: What artists are significant to you?
A: I adore Grayson Perry and Tschabalala Self's utilisation of fabrics and textures which gives me a lot of Neurodivergent stimulation. I'm drawn to works with a lot of emotional charge, identifying with the Outsider artist Shinichi Sawada who is autistic and mute who creates ceramic creatures. Shortly after art school and therapy in 2016 by chance I saw Sawada's work in 'Radical Craft' at Southend Museums. Following a proposal I was offered my first solo exhibition at Southend Museums.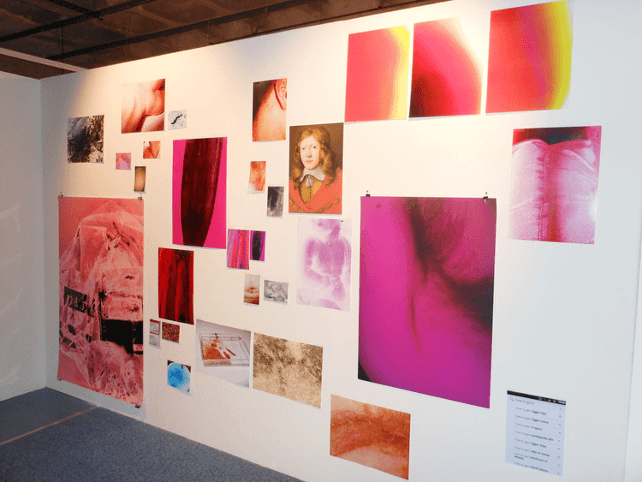 Q: How was the experience of having your first solo exhibition 'Precious Boys'?
A: Southend Museums allowed me to curate a show exploring body images of men, displaying work produced during art psychotherapy, works responding to their collection, alongside psychotherapy notes on trauma therapy. Through this I learnt to test ideas around displaying my work in a different environment.
Q: What is the integral part of an artist?
A: Initially in a health context I produced works to help me understand myself. I feel it is more reflective to pursue works which are honest about experiences of yourself, others around you, or subjects which interest you. Authenticity arrives from this as opposed to what others expect of you.
Society has conditioned and attached our emotions and worth to expectations. Arrive at everything as an opportunity to learn. Be vulnerable. Be honest. Mistakes become our future work and ultimately become portals to discovery.
To learn more about Neurodivergence and art you can see George Morl's work on his Instagram account and website.
www.instagram.com/edvardoshadalow
©2020 George Morl & Emily Jayne Boyd