Shaylin Shaylin Wallace is a digital collage artist creating Surrealist works. Her layered images are fused by her imagination exploring the past, future, and present. The representation of black figures is extremely important in her work.
Words cannot truly explain the magic found in Wallace's abstract creations, which give the viewer a personal, profound spiritual experience. The Art of Surrealism is to bend the barriers between the unconscious mind and reality, and Shaylin's work does precisely that.
Discovering Surrealism in 2014, and driven by her passion for art Shaylin began creating her first compositions in pics art. The artist swiftly moved on to teaching herself Adobe Photoshop, which started an enriching journey into digital art.
Surreal is when you create something unreal, but it looks as if it could be real and that's what I love about it

Shaylin Wallace
Wallace now specializes in digital art and portrait photography and provides graphic design services for businesses under the name SMW Visuals. In this interview, Art Plugged will be getting to know more about Shaylin's creative process, inspirations, and more.
Q: First things first, why do you do what you do?
I make my art because it's my passion. When I first started manipulating photos, I used it as an escape from reality. It was my escape, my haven from the world that surrounded me. I always knew that I wanted to be an artist, but little did know that my passion would have been creating surreal compositions in Photoshop. I love making art for myself and others. It makes me happy, and I believe that it's my destiny to share my art with the world and to connect with people through my work.
Q: What is your inspiration?
My inspiration comes from things that don't exist, such as the unknown. I like to create things that have never been made before. I create something based on ideas and visions I get when looking at stock photos. Salvador Dali was a massive inspiration for me. His work was the reason why I fell in love with surrealism in the first place.
Q: What is your creative process when you're creating?
My creative process is very unconventional. I always start by scrolling and looking at stock photos for hours. While I'm looking, that's where my ideas start. With specific images, I will get a vague vision or idea in my head when I'm looking at photos. Then, with that said image, I will download it along with other purposes that go with the idea that popped into my head. After that, I'll open Photoshop and get to creating!
Q: Which is your preferred surface for working on?
My preferred surface to work on is definitely my desk. I have spent these past few months working in my bed and I know that sounds heavenly, my back started hurting. I finally purchased a desk for my bedroom a few weeks ago and put it together myself. It was probably one the best investments I could have ever made because I am even more productive than before, plus my back doesn't hurt anymore.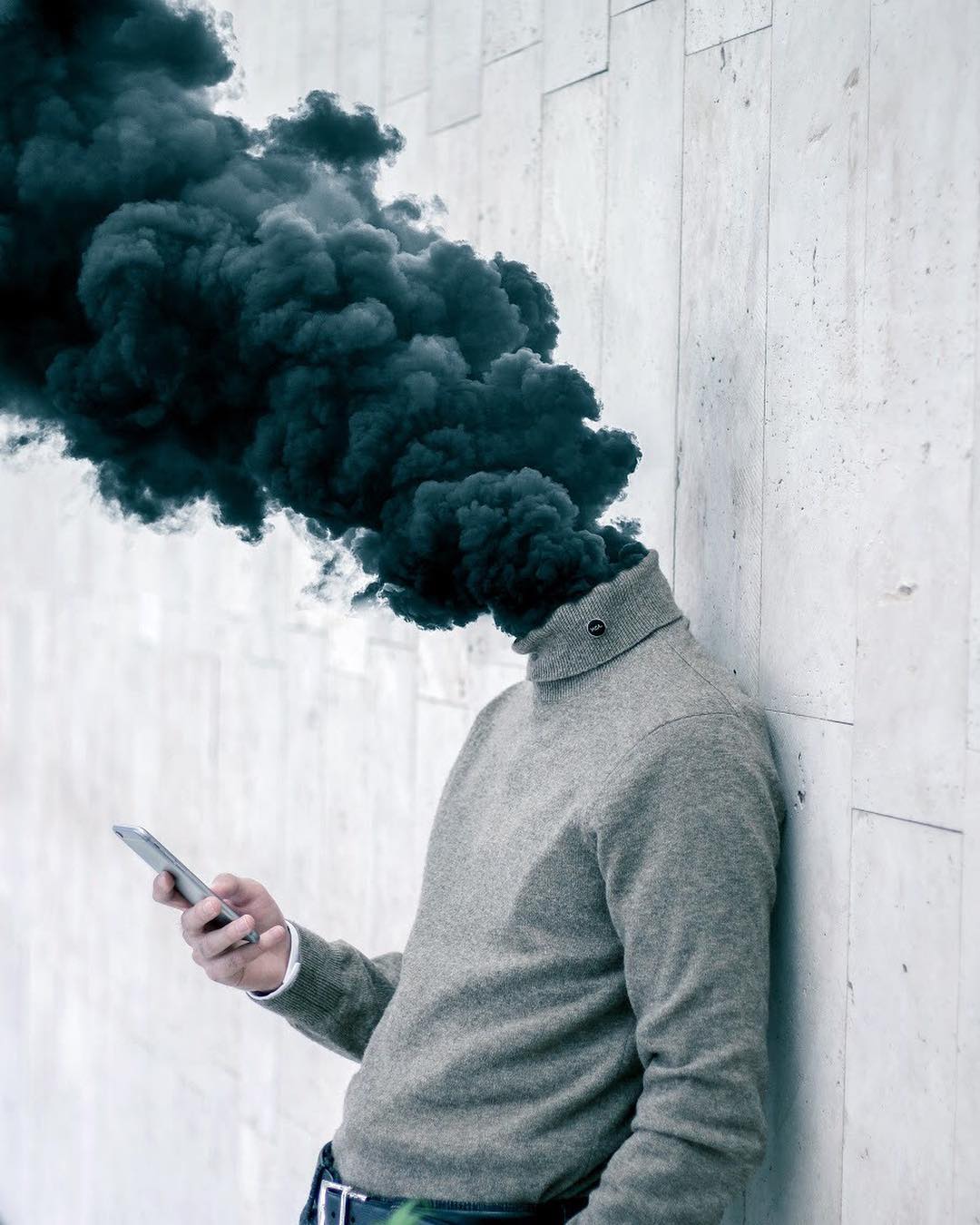 Q: What would you say is an integral part to the work of an Artist?
An integral part to the work of an Artist is their intention behind their artwork. I feel as though many artist start to create for others and by that I mean they will start making things that may seem popular, rather than creating artwork they love themselves. Everything I create, I create for myself whether or not if people will like it or not. I just want to share my creative ideas with the world and if people resonate or love my work, then that's a bonus and a blessing.
Q: What artist inspires you the most?
Salvador Dali inspires me the most. There's something about his artwork that just wows me. His ideas are so surreal and imaginative and complex at the same time. I can't tell what was going through his head while he making his art, but I know he was doing what he loved.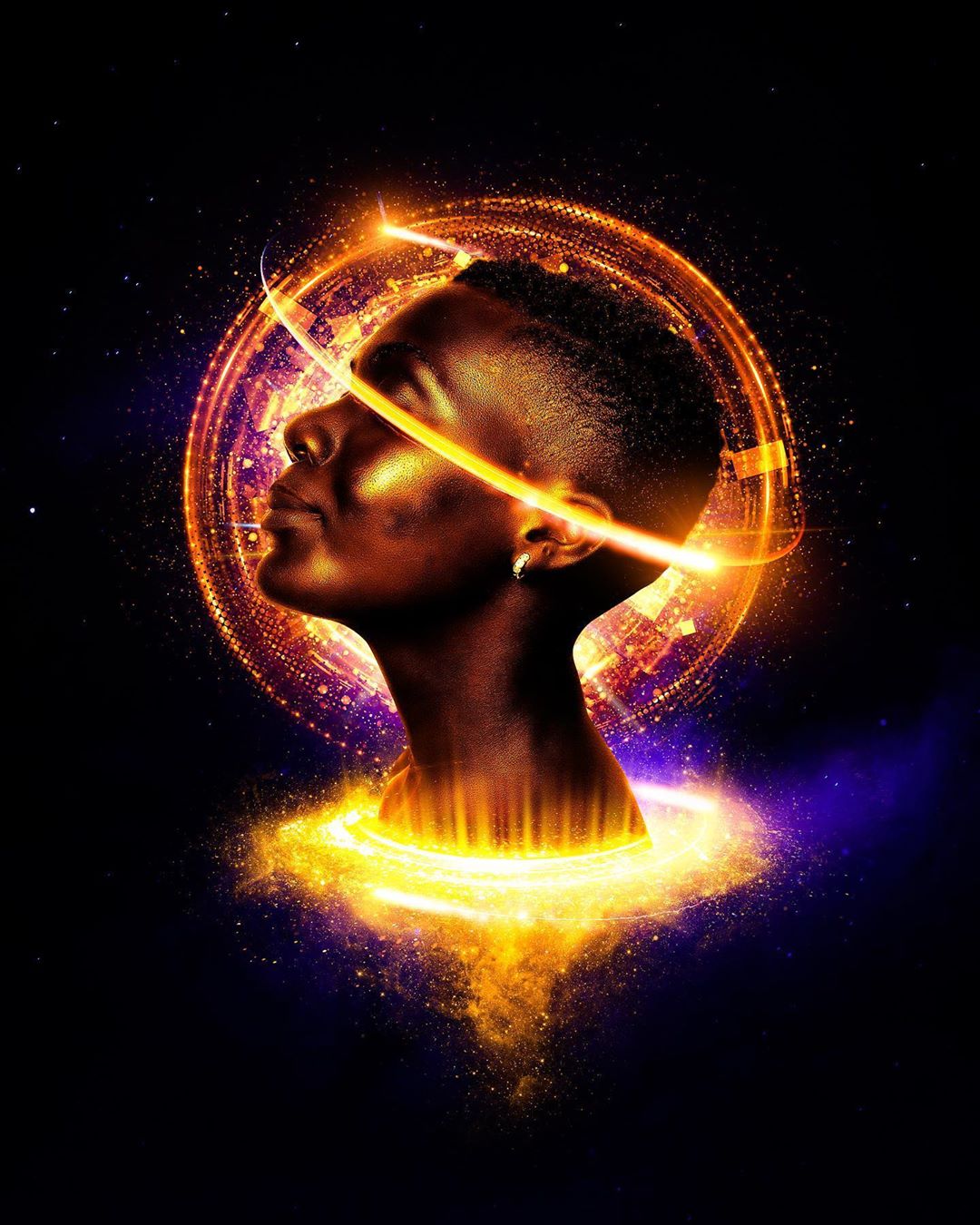 Q: What is the reason behind your use of surrealism in your work?
The use of surrealism in my work is my way of bringing my imagination to life. I was never the best at realism when it came to my art classes, but surrealism came naturally to me. Surreal is when you create something unreal, but it looks as if it could be real and that's what I love about it. My works of art have people questioning whether my artwork is real or not and it gets them thinking, interpreting and using their imagination. I feel like when most of us grow up, we loose or lack imagination, but my works shows that you're never to old to use your imagination. That little kid we used to be is still inside us.
Q: How do you know when a piece is finished?
I know when a piece is finished when I feel that there is nothing more to add. Once I finish making the artwork in Photoshop, I'll then export and then upload it into Lightroom. In Lightroom, I'll add one of my pre-made filters to my piece of art and then I'm officially done.
Q: What is your favourite piece from your collection?
A: It is so hard to pick a favorite piece from my collection right now because I love them all haha. But based on the way I'm feeling right now, the one I absolutely resonate with right now is Field Of Justice. I made that with my heart and soul and with the intent to show how my fellow Black people are strong, individually and together. We have been fighting for so long. So many people have died in this fight and so many have died innocently, both in the past and currently today. Even though we are still fighting, it's all worth it. We are getting our justice, our freedom, our rights to be part of the world. We are strong and we are united.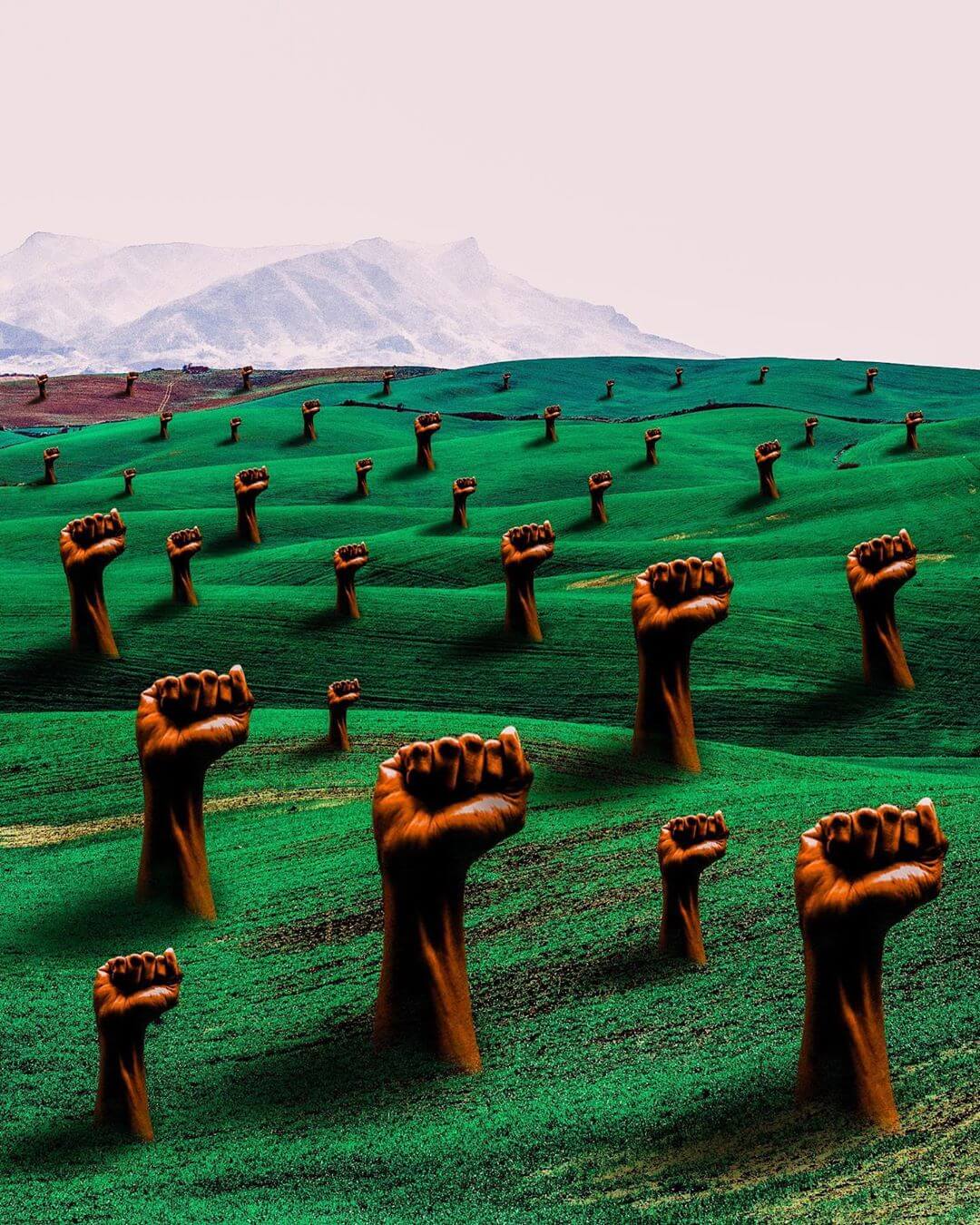 Q: How did you feel when you did your first solo exhibition?
A: My first exhibition wasn't a solo exhibition, but it was still one of the best moments of my life. It wasn't the biggest, fairly small, but that didn't matter to me. I was able to watch people look at my work and hear their positive comments and priceless reactions. I was able to talk and connect with them through my art and it was the best feeling in the world. After that day, I knew that my artwork is going to be in galleries all over the world and that I will be able to reach and connect with more people.
Q: What is the most rewarding thing for you about being a part of the Art Industry?
A: The most rewarding thing for me about being a part of the Art Industry is that I am living my dream, pursuing my passion everyday. Many people in this lifetime can't say that they are living their dreams or that their dreams have come true, but I can. Also, the most rewarding thing is to connect with people, to uplift them with my artwork. Everyone has their own story, their own struggle, their own history, so to be able to hear that my work reminds them of something or has helped them in any type of way means the world to me.
Q: Is there anything that worries you about how social media is affecting the promotion of artists?
A: Social media does affect the promotion of artwork. Instagram's algorithm prevents people's followers to see their work which may result in less interactive followers and less likes. This is very negative for artist, not being of the numbers game, but mentally. People tend to connect the number of likes on a picture to the actual work of said picture which is sad. Artists and basically anyone with a social media account needs to understand that likes, followers, anything involving numbers does not matter. What does matter is the the quality of one's content and whether they are doing what they love.
Q: In your opinion, do you have any advice for artists on how to manage their social media image? Or does it even need managing?
A: I would say to post when you feel like it. If you start to feel overwhelmed by not posting every single day, then post updates or behind-the-scenes on your story or main page. Don't just start posting because you feel pressured by other to do so. Do what feels right to you. If you want to post everyday, make it a fun challenge.
Q: Are there any places where you feel Art and Technology really shouldn't overlap?
A: I don't think there are any places where I feel like Art and Technology shouldn't overlap. In fact, I think in today's day and age, they go hand and hand. Artist have the advantage to show their art through so many platforms which gives them exposure to different artist, and even galleries. It's a great way to make long-lasting connections with artist who use the same medium or have similar styles, but best of all we can connect with people who are completely different than us.
https://www.instagram.com/smwallday/
©2020 Shaylin Wallace