Visual artist Shantell Martin's artistic journey is a story of triumph, beginning with humble beginnings in the unassuming neighbourhood of Thamesmead to garnering worldwide acclaim as an artist. With a simple yet powerful description of her work, Martin once said, "I draw. I draw on everything".
A testament to a practice that sees no obstacles as Martin deftly imbues each canvas – or indeed, any available surface, from Camaleonda Sofa's to walls, sneakers to other people's skin, including the New York Ballet and WTC (World Trade Center) and collaborative performances with music artist Kendrick Lamar and more.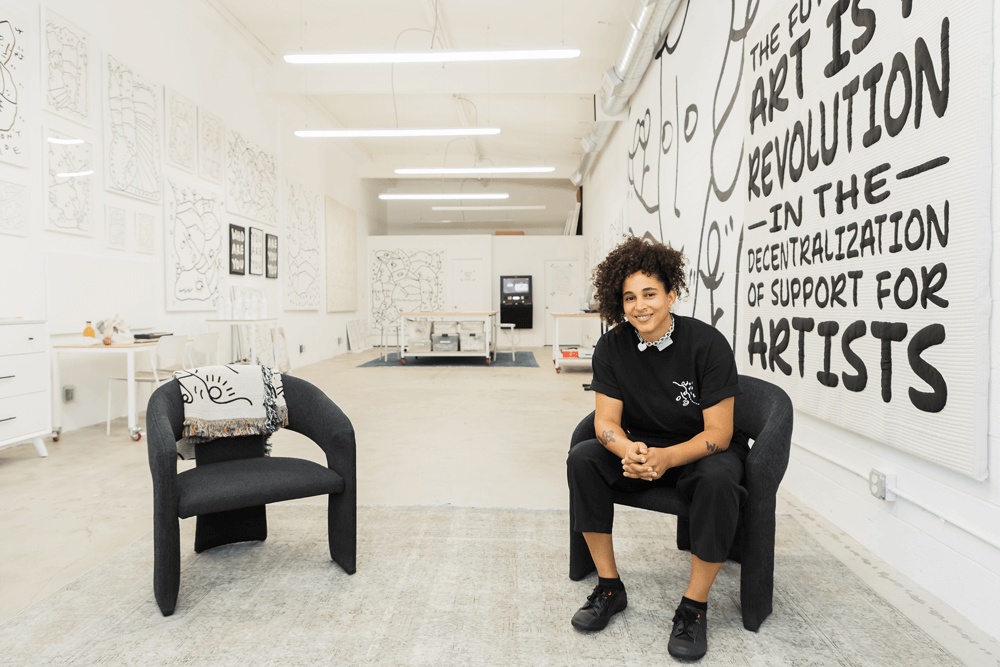 My drawing style is predominantly black and white, bold, and a mixture of stream of consciousness intertwined with almost an algorithmic drawing approach

Shantell Martin
Martin's stream-of-consciousness allows her pen to flow and yields a visual dialect distinguished by stick figures, words, faces, and gestural lines encompassing emotions, ideas, meaningful messages and coy questions such as "Who are You?". Informed by her multivalent perspectives, choosing only to work in black and white using black pens on white surfaces, which she paints herself, is an apt metaphor for her existence.
As well as an artist, Martin is an intuitive philosopher, cultural facilitator, teacher, choreographer, songwriter and performer. Now based in New York, Martin's career started in Japan, working with DJs and musicians to add visually striking live-drawn images through digital projection, which enhanced their performances.
In addition to an impressive portfolio, Martin has released a font in her iconic drawing style. Shantell Sans is a marker-style font built for creative expression, typographic play, and animation. Martin, a self-proclaimed dyslexic, has an intriguing connection with fonts and typography. She explains, "I always wanted to reclaim that space due to my dyslexia and defeat my past challenges." Shantell Sans is a natural extension of her artistic expression and something she has always wanted to do.
Along with exhibitions and commissions for museums and galleries, Martin frequently collaborates with international Brands. In 2020, she had a retrospective NEW/NOW, the most extensive installation of the artist's work, spanning over 20 years of her oeuvre, from studies in London to the present.
The power and aesthetic value of drawing can be found in its ability to capture the essence of a subject with minimalism and elegance, allowing artists to articulate emotions and perspectives through their work. Martin has harmonised diverse cultural influences into a cohesive language that continues to draw audiences to her creative approach. In this interview, we learn more about Martin's work, process and what's next for her as an artist.
Q: Shantell! How are you doing? Thank you for taking the time to speak with us. Can you please introduce yourself to those who do not know you?
Shantell Martin: My name is Shantell and I'm from London. I like flying kites and draw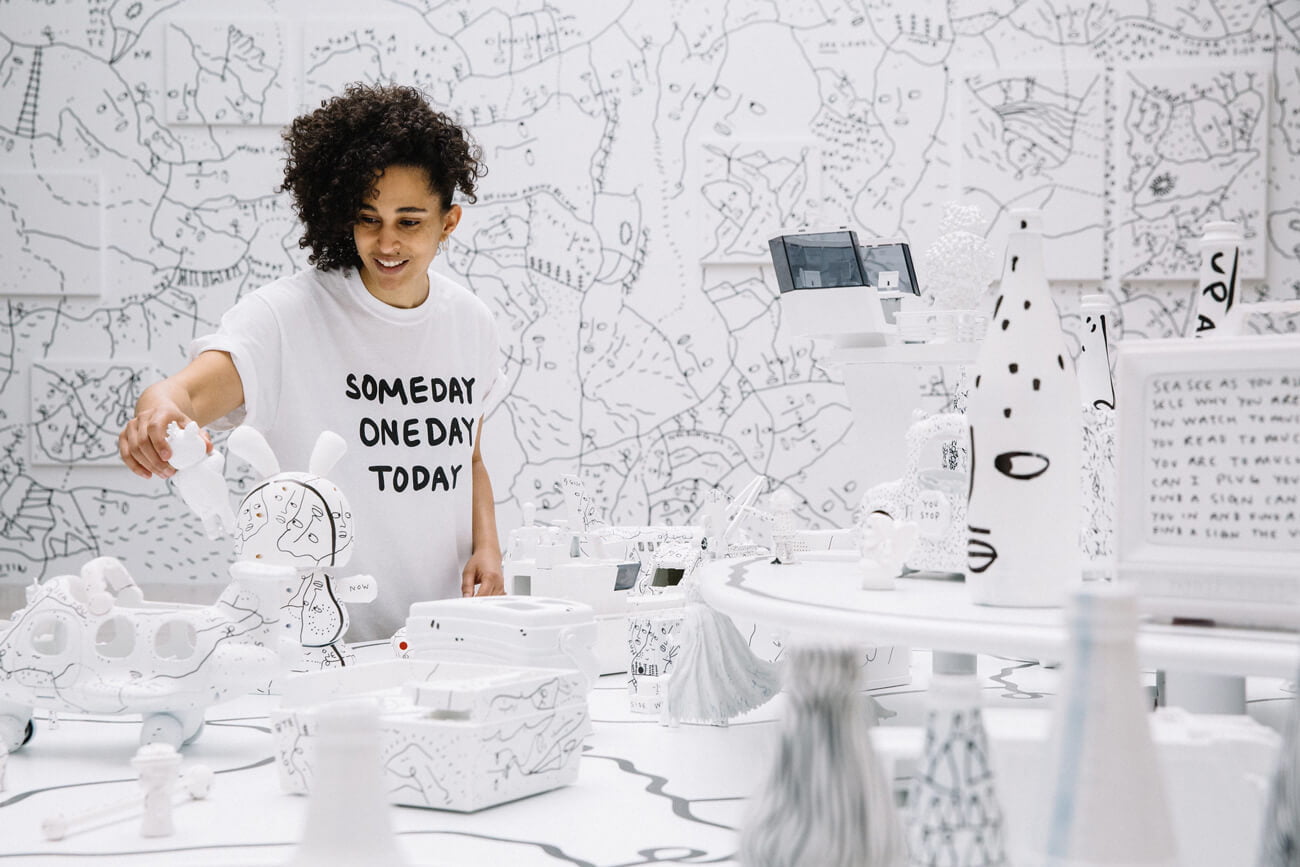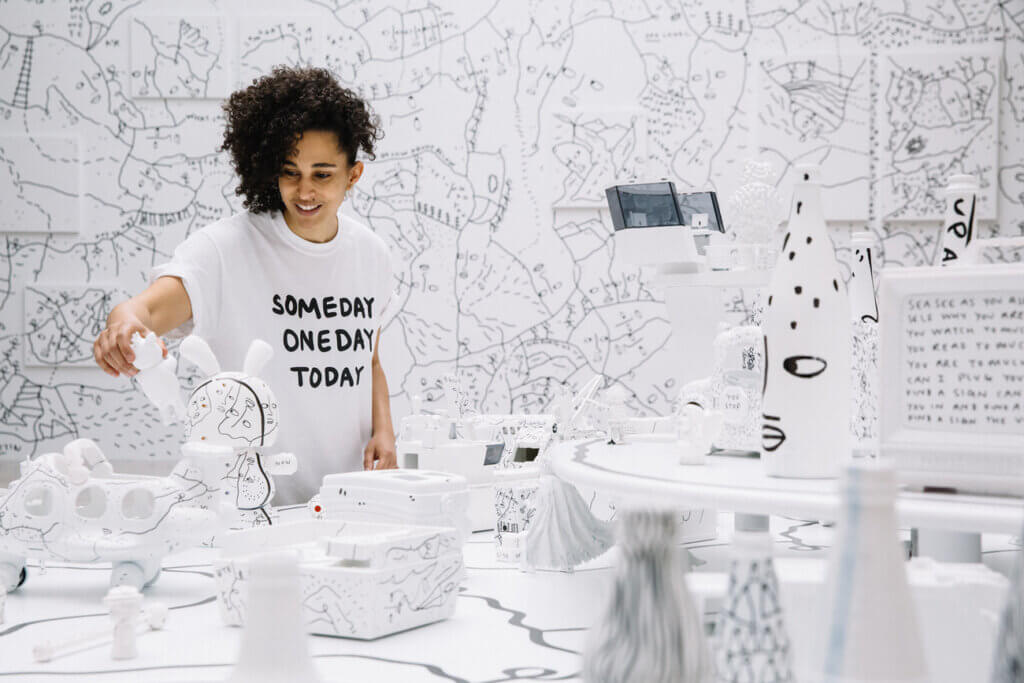 Q: Can we discuss the journey that led you to become an artist, including the key moments and experiences that inspired your artistic endeavours, influenced and shaped your life, and what drove you to pursue a career as an artist?
Shantell Martin: I'm still struggling with whether I'm pursuing a career as an artist or not. This is a question I've given a lot of thought to. You can actually check out a series that dives a little deeper into this called "Come What May" on my YouTube. There are three major chapters in my life: 1) growing up in London 2) moving to Japan and starting my career 3) moving to New York and using my voice as an artist and philosopher. I'm in a bit of a transition now… on to Chapter 4 and trying to figure out what that really means. I hope to incorporate more live performances into my practice, take on more speaking engagements and just see where things take me next.
Q: You are well-known for your large-scale black-and-white ink marker works, which feature streams-of-consciousness drawings full of stick figures, words, faces, and expressive lines. Can we delve deeper into your practice, drawing style, influences, and the essence of your drawings?
Shantell Martin: My drawing style is predominantly black and white, bold, and a mixture of stream of consciousness intertwined with almost an algorithmic drawing approach. I've always loved drawing in black and white since I was a child. This was amplified when I moved to Japan and joined the club scene. There are definitely a lot of recurring lines, words, and characters in my work. In many ways, these are related to people, places, and ideas in my life. Just like those things, some staple and constant, and some are more transient, coming in and out of my work. It's a mixture of meditation and relaxation, and the words just come to me.
Q: You've had a highly successful career in the arts, marked by significant moments such as countless collaborations, exhibitions, and many other accomplishments. Of all these moments, what would you say is the most memorable, and why?
Shantell Martin: It's really hard to say. It was a really nice experience sitting in the Boston Opera House and watching the world premiere of the ballet that I choreographed, "Kites." That was pretty cool.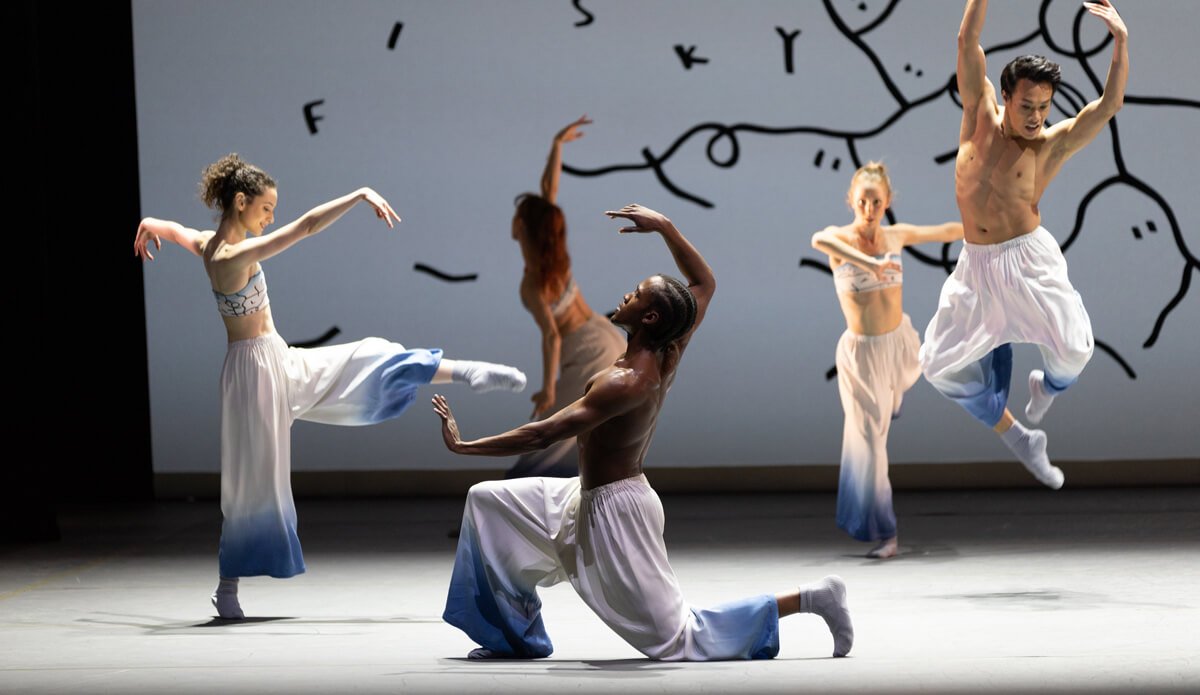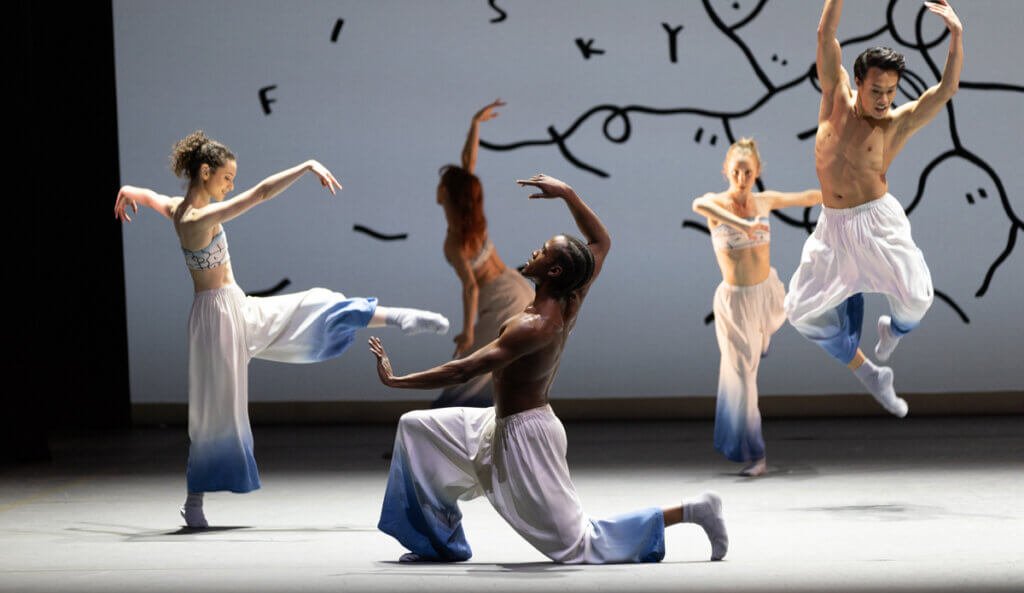 Q: You have just released your Shantell Sans font inspired by your signature marker style. What inspired you to create your own font?
Shantell Martin: It's been on my list of things I've wanted to do for many years. A couple of years ago, I finally had the time to consider how I would make it happen. Being someone who is very dyslexic, I've had an interesting relationship with fonts and type, so I wanted to reclaim that space.
Q: As a "proud dyslexic," having your handwriting made into a font must be quite a poignant experience.
Shantell Martin: Can you tell us about that? I would say it's more like an idea I wanted to execute. It's one of those ideas that has been calling me for a long time, so I wanted to find a way to do it.
Q: How do you see your art contributing to the conversation of contemporary art?
Shantell Martin: That's not really a consideration of mine. I'm just out in the world, doing, making, and sharing, and to me, that's kind of more important. I'm happy just making it.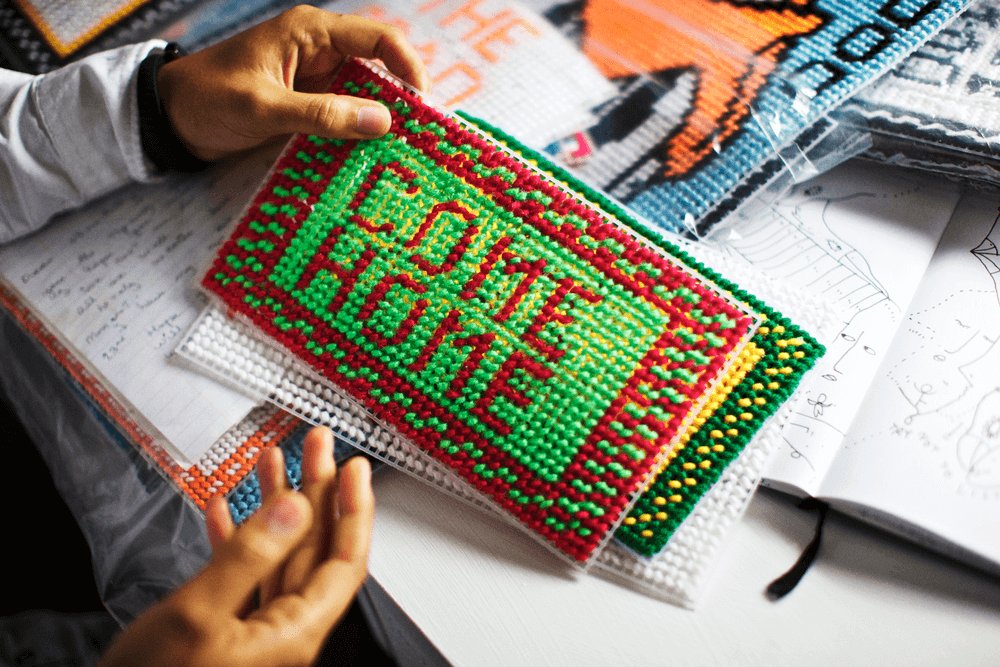 Q:The studio is the sacred temple of creativity. What are three things you can't live without in your studio?
Shantell Martin: Music (there's always a keyboard), my robot vacuum, and a label maker.
Q:What's next for Shantell Martin?
Shantell Martin: Luggage tags, and present word live performances.
Q:Lastly, what does art mean to you?
Shantell Martin:  Art is just a way of connecting and sharing ideas. For me, it's a way to understand the world and why I am here. 
Download Shantell Sans here
https://www.instagram.com/shantell_martin/
©2023 Shantell Martin