Quick to correct himself after taking up the "artist" title, Savvas Verdis insists that "actually I am more of a machine operator". Regardless of his label, Verdis makes undeniably beautifully crafted, technically onerous, rubber stamp artworks which are nothing short of delightful.
From an architect with a passion for model making, to showing his work at The Other Art Fair 2019, Verdis' career is only going up.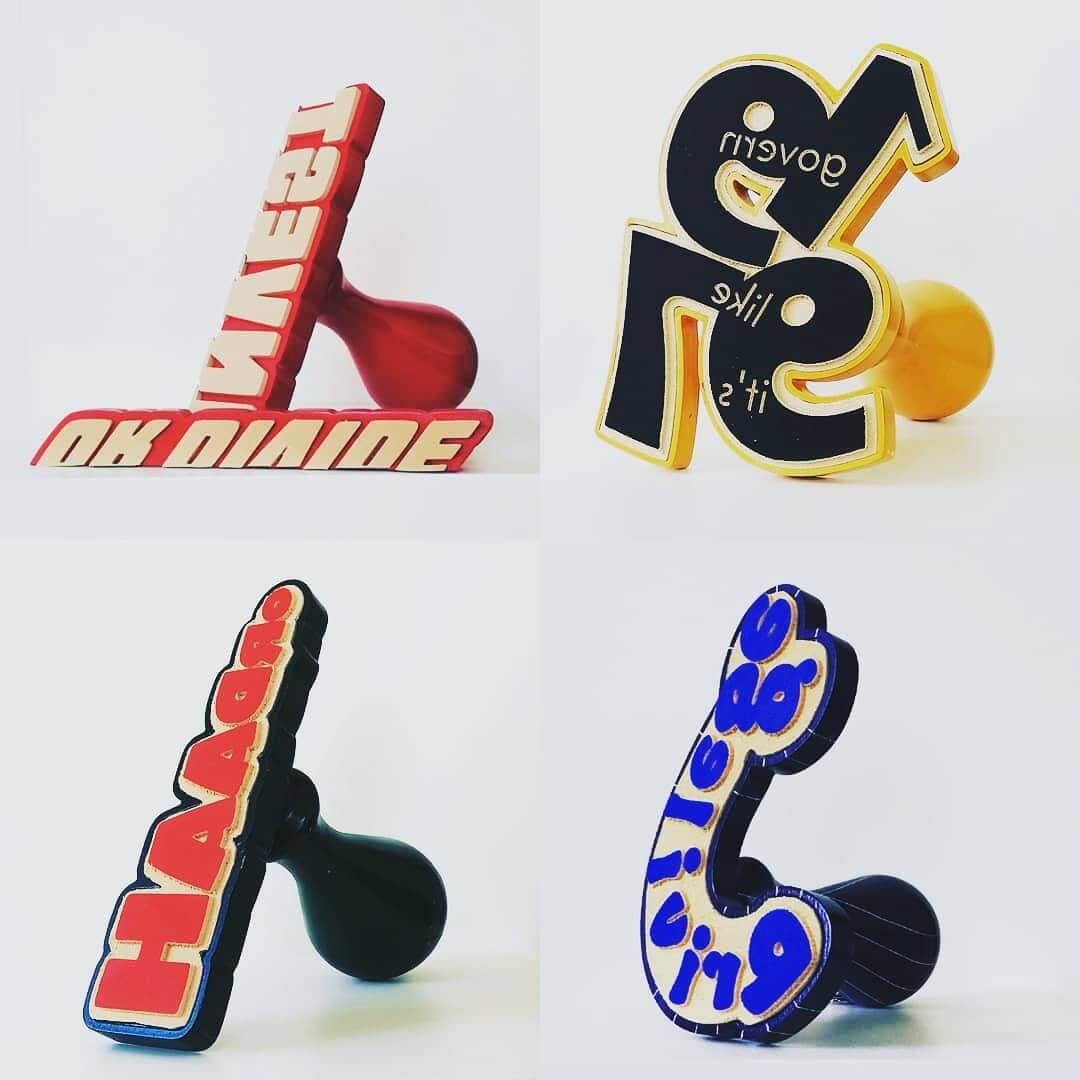 Verdis' work is satirical, liberal, and tongue-in-cheek. The "very official form" of the rubber stamp lends him the perfect platform on which to play. A recent series sees four of the key players of the 2019 election given their own slogan stamp: Corbyn's reads "invest or divide", Swinson's "govern like it's 1997", Bercow's viral catchphrase "ordaaaah" is immortalised, and Rees-Mogg's stamp is simply "privilege" carved into a curved penis.
"The idea is that this is their own stamp containing their own words with which they can stamp the reality around them," says Verdis, who has also created emptying hourglass stamps of Boris Johnson and Donald Trump.
While the stamps have the potential to make prints innumerable (artworks in their own right), Verdis sees the stamp itself as the key artwork. In an exclusive interview with Art Plugged, I talk to Verdis about the ignored economic impacts on the working classes, his 1930's storage space turned studio, and the influences of Patrick Thomas, a mid-life crisis, and the death of his father.
Q: First thing's first, introduce yourself! What do you make, how do you work?
A: Hi I am Savvas _ I am a rubber stamp artist based in London. Actually I am more of a machine operator as I machine all components of the stamps on CNC machines. My studio – actually it's a 90cm x 300cm storage space- in a damp basement of a 1930s block of flats in Baker Street where I live has two very loud machines where I carve both the rubber and the wood. It's very loud but a combination of some good sound insulation and the occasional bottle of wine has kept the neighbours happy.
Q: What would you say your artistic background is? How long have you been working?
A: I initially trained as an architect and was absolutely crap at it but what I did enjoy was making models, so much so that I would borrow the student ID card of my best mate so that I could gate crash the engineering department and use their metal cutting equipment.
Q: What drew you to stamp making?
A: A mixture of a mid life crisis and the death of my dad. The mid life crisis made me buy a small milling CNC machine with which I started making little wooden toys and small wood printing blocks for my kids. The death of my dad was a quick and traumatic experience but I did spend one last special day with him where he uttered to me one final word that personified him.
I wanted to make something to remember him and decided to make a rubber stamp with that word as if this was his last imprint in my life. Most of my stamps contain a single word or sentence that personifies an individual or institution that can be stamped on stuff – photos, newspapers, speeches, walls.
Q: You don't only make works using the stamp, but the stamp in itself is a finished artwork too. Why is it important to you to have made a whole, displayable stamp (with handle et al)?
A: I would say that the main work is the stamp – that is the art work. Typically the rubber stamp is named after a person. So I've got your Donald Trump and Boris Johnson usual suspects stamps – the idea is that this is their own stamp containing their own words with which they can stamp the reality around them.
I am a terrible print maker and usually make one off prints using the stamp on cheap posters. Most of the stamps are curated pieces and end up in collections but I love the idea that they could be used by others in the future to create more artworks.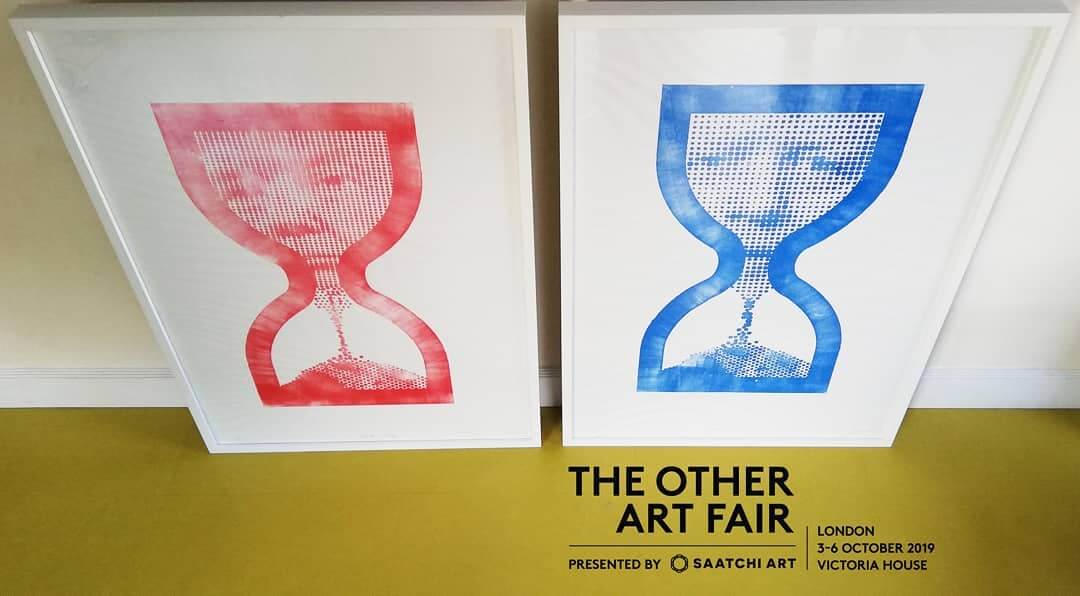 Q: What are the biggest themes in your work?
A: Most of the rubber stamps I make fall under the political or protest art theme. I love taking the piss of political figures and political institutions through the very official form of the rubber stamp.
Q: What is your favourite piece you've created?
A: The 'Rob Wallace' stamp captures a sentence that I read from this biologist in a recent interview in the Guardian. The sentence literally stuck with me for weeks before I decided to make a stamp for him.
"Meat is not cheap if its costs one million lives" captures the tragedy of COVID-19 – our never ending encroachment of natural habitats where the borders separating livestock animals and wild animals is trespassed by viruses.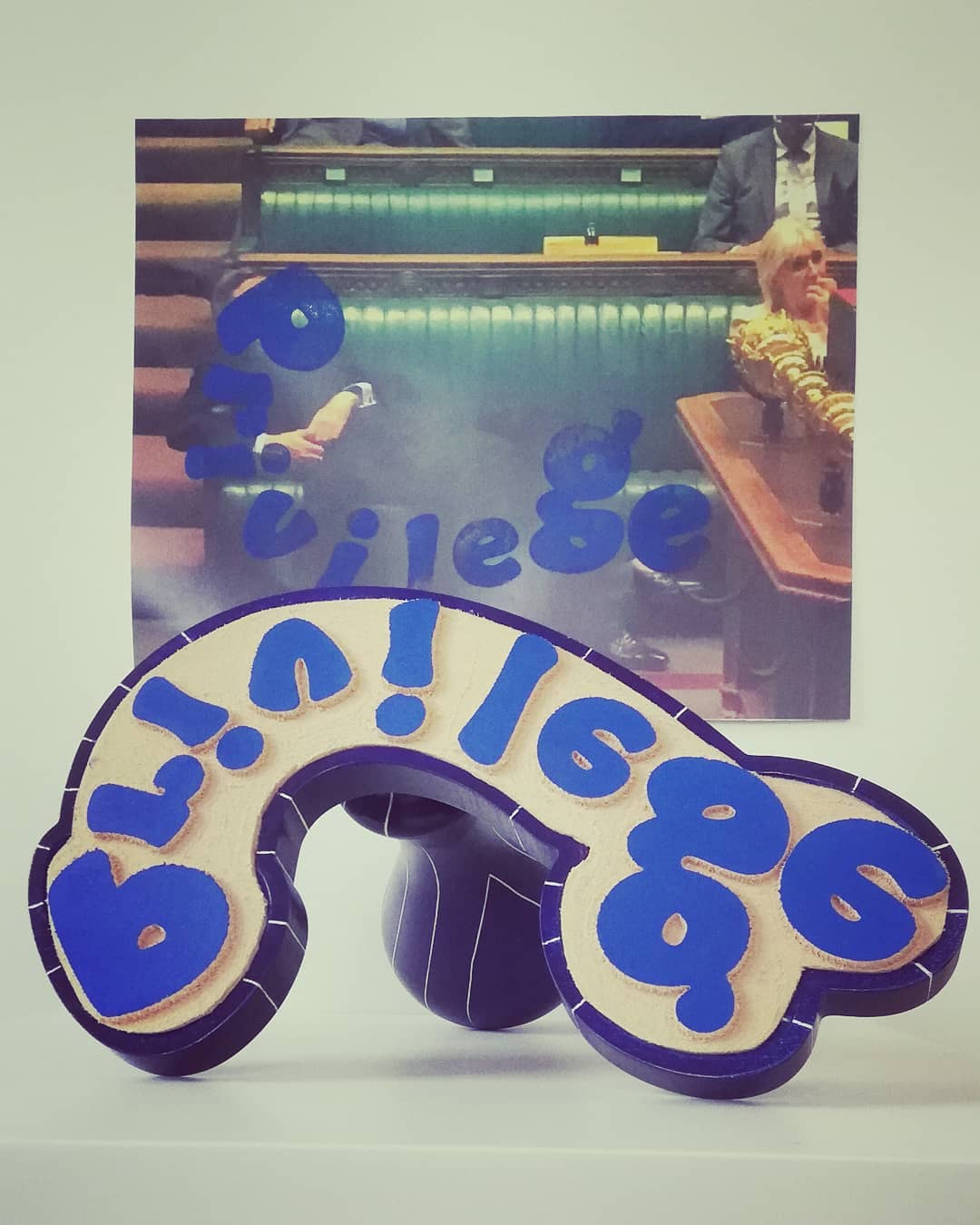 Q: Who are your biggest inspirations?
A: I get a lot of inspiration from typographers and graffiti artists. I always look at the composition and spacing of their letters. Most of my stamps have letters and this is all that I have to play with. If I was to pick one, it would be Patrick Thomas working out of Berlin. His big imprints on newspapers always stick with me.
Q: How do you strike the balance between being an artist and being your own salesperson?
A: I don't. I am a terrible salesperson.
Q: Social Media as a tool for artists – pro or anti?
A: Pro – this is how we first bumped paths and I was able to share my story with the public for the first time.
Q: What are you angry about right now?
A: Before COVID-19, I was angry with people that wanted to change the world for the better without thinking of the short term costs on working classes.
https://www.instagram.com/savvas_verdis/
©2020 Savvas Verdis