PEJAC: 6 Feet Under
9th November 2023 – 18th November 2023
18 East 50th Street,
NY 10022
Spanish artist Pejac, celebrated for his socially and environmentally conscious art, masterfully intertwines themes of nature, social justice, and humanity, employing various mediums and techniques such as painting, sculpture, and street art. His work is distinguished by its defining characteristics: simplicity and a potent ability to convey impactful messages through subtle, thought-provoking imagery. He often employs trompe-l'œil, a technique that creates highly realistic optical illusions, making two-dimensional surfaces appear as three-dimensional spaces and objects. This deceives viewers into perceiving the painted elements as real.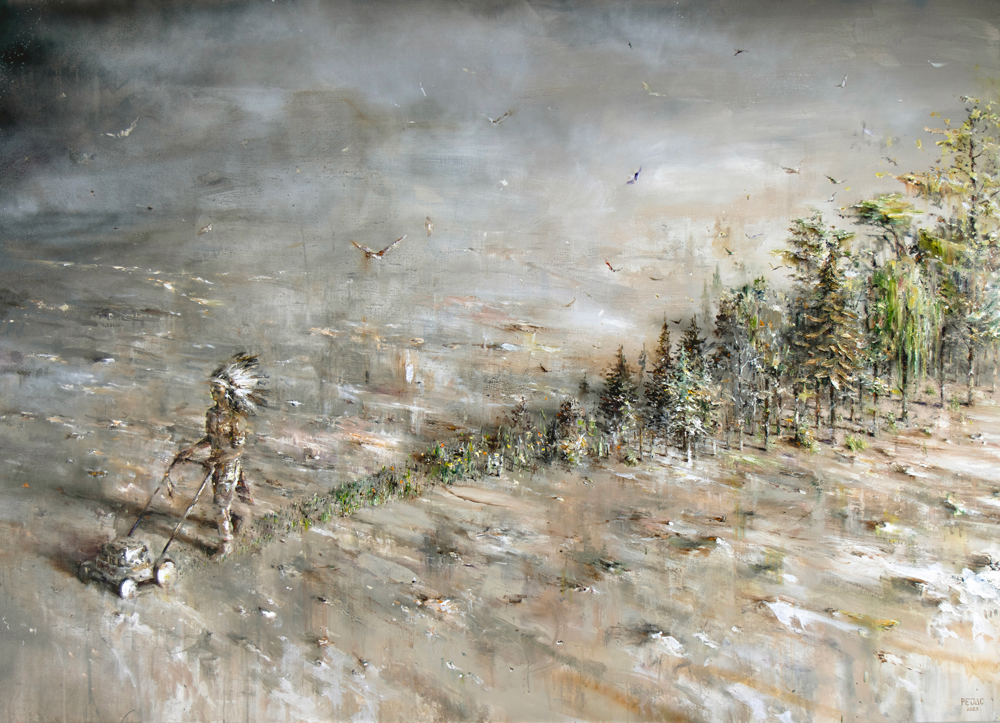 Recently, Pejac announced his upcoming New York exhibition, "6 Feet Under," on his website. The exhibition, curated by Martin Klipp, will be on view through November 18th and will feature 19 original works. It centers on three thematic acts that take the viewer on a journey referencing the destruction, dystopia, and renaissance of our planet—consequences of global warming, rising seas, and human intervention. Pejac's body of work for this exhibition showcases a range of mediums and techniques, including a burning method known as pyrography, sculpture, and gold leaf application.
The name "6 Feet Under" comes from one of the exhibition's featured highlights: an installation that gives a nod to Monet's 'Water Lilies,' disrupted by shark fins. This piece is located one level down, where the artist has transformed an underground pool, which fell into disuse after the pandemic, into a canvas for his work.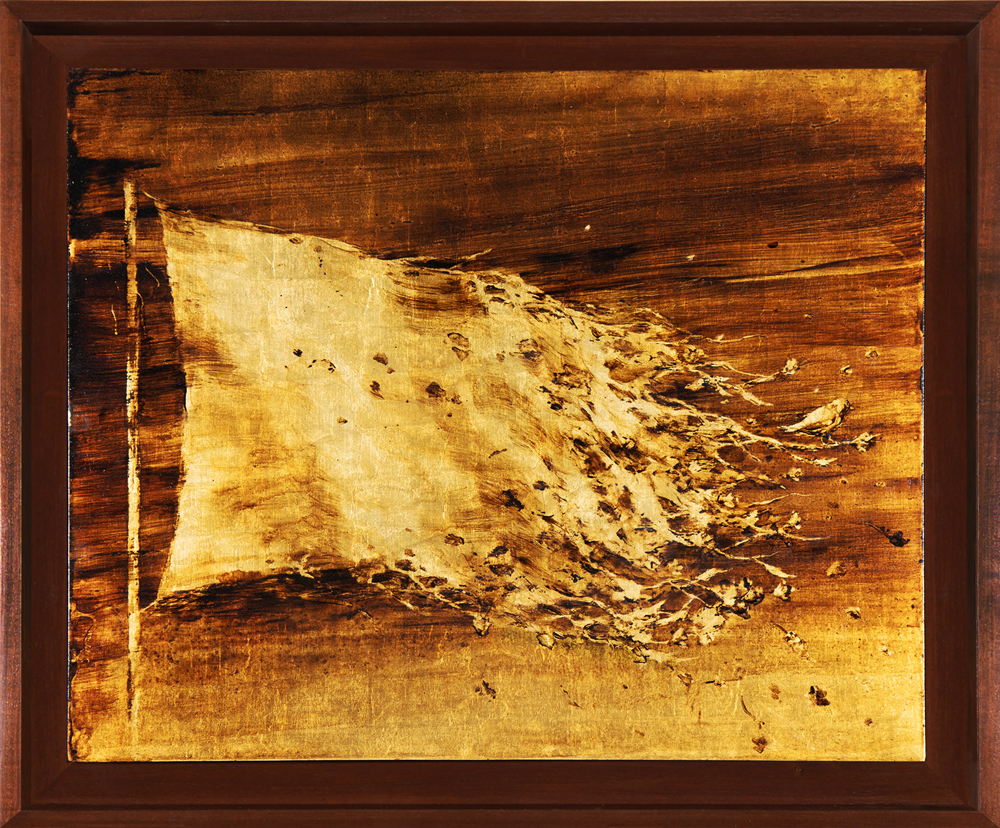 The exhibition features key works including:
Social Warming, which addresses the destructive relationship between humans and nature. When the artist sees large crowds of people, he thinks that the Earth always loses in the end.
Hope, a depiction of a flag made of fine gold leaf symbolizes the contradiction of our times. From a distance, it appears to be a rag with holes, torn apart, representing the disunity of a society in increasing decline. However, as you get closer, you realize that what seemed like tatters are flowering branches, with a bird perched on one of them. It's a flag of hope.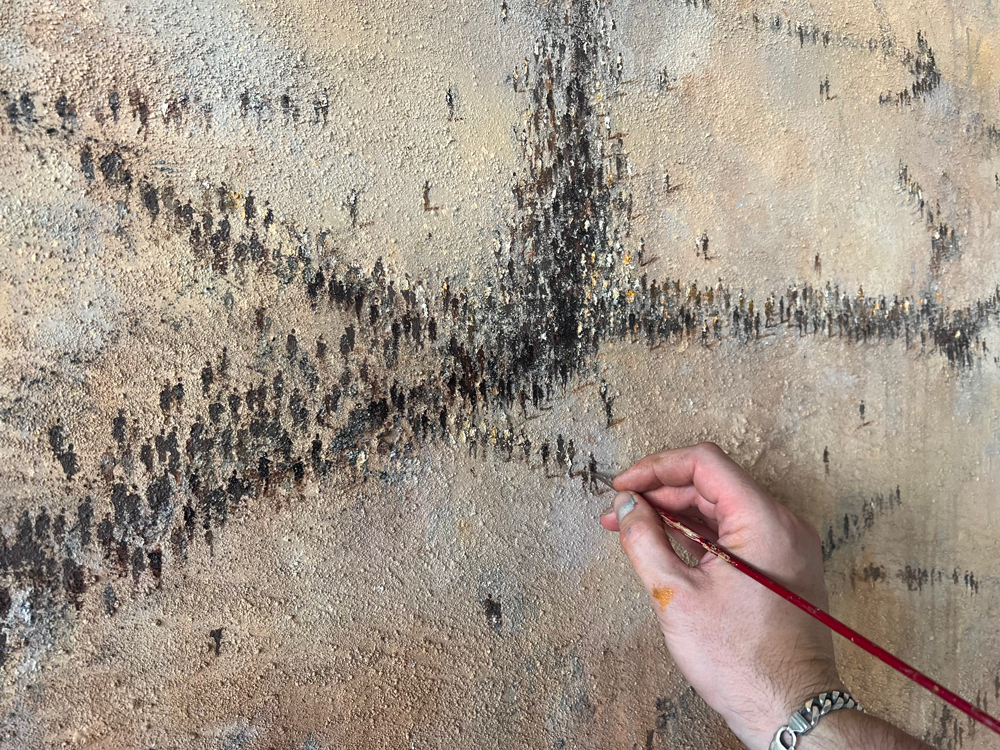 Crack is a piece where the artist wanted to play with the idea of representing a visual that appears one way but changes completely in meaning when you dedicate enough time or get close enough. Here, you see the typical scene of birds perched on wires, or so it seems. However, when you approach, you realize that each wire is the edge of a broken piece of glass. In each of the four pieces in this 'Crack' series, he does not depict a single tree; these glass edges are the only option left for the birds to rest.
Fins is a series of three works conceived on artist palettes that pay homage to Monet and his Water Lilies. The tranquil scenes are punctuated by bronze shark fins, drawing parallels to the rising temperatures of our waterways that have seen increased shark activity in areas where there once was none.
Zombies, is an exploration of an alternate dystopian reality, that references Salvador Dali but unlike his work 'despuses de, Los elephants' there are no elephants. Instead, giant oil rigs used for fracking walk aimlessly across the desert, collapsing after sucking the lifeblood from the earth. The destructive parallel of the subject matter is underpinned by the process of creating the image with fire, burning the wood canvas.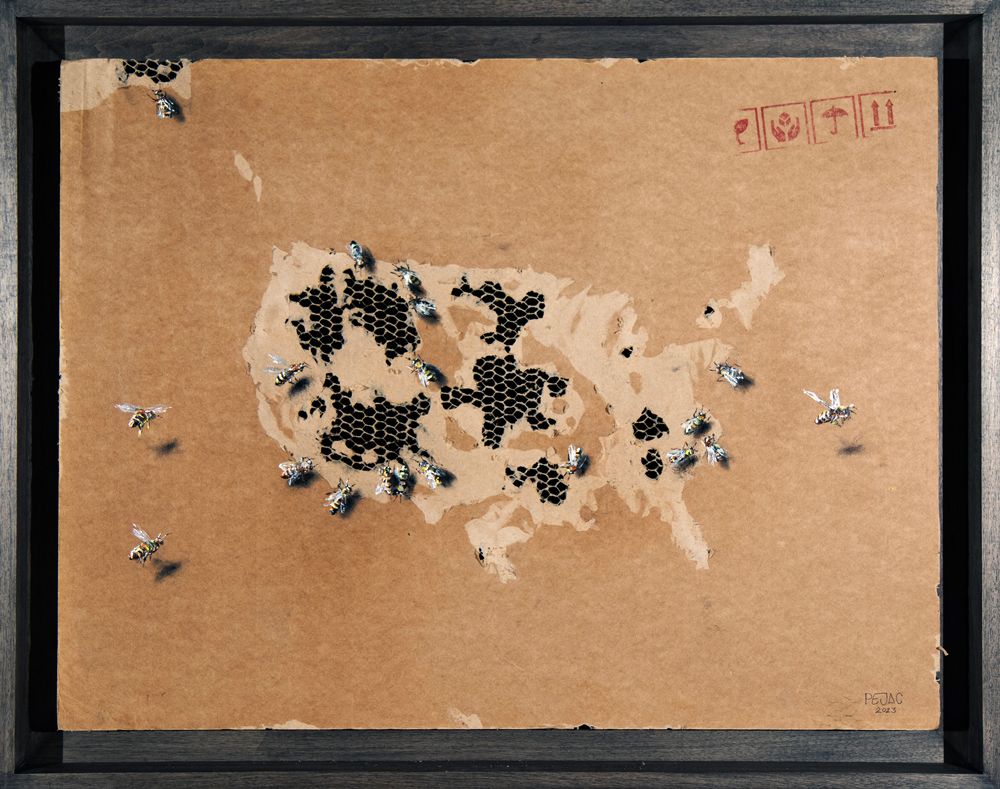 Pejac, born Silvestre Santiago in 1977 in Santander, Cantabria, Spain, embarked on his educational journey in fine arts at Salamanca, subsequently studying in Barcelona and at the Accademia di Belle Arti di Milano "Brera."
In 2015, he participated in Norway's NuArt Festival and created site-specific works in Hong Kong and Tokyo within the same year. His creativity and social commentary also found a canvas in the Husn refugee camp in Amman, Jordan, where he crafted silhouette images by scraping paint from old walls. Pejac has also had solo exhibitions in several cities, including London, Venice (Italy), and Paris, each enchanting audiences with his profound and evocative works.
Pejac: 6 Feet Under' Exhibition opens in New York from 9th November 2023 until 18th November 2023
©2023 Pejec