We have the honour of welcoming Nuno Viegas for our artists inside the industry series. Nuno was born in Faro and raised in Quarteira, South of Portugal and relocated to Rotterdam in 2014. He launched into the graffiti world in 1999 after completing studies in Visual Arts at the University of Algarve. Viegas is also the founder of the Policromia crew an art collective from Portugal. Nuno is a well-crafted artist who balances well between fine art and his discipline graffiti.
It all starts with an idea which can spark at any moment, any place there is no rules or rituals for this with me.

Nuno Viegas
The fusion of these two disciplines shines through in much of Nuno's work, such as shirt mask and glove. These limited edition prints quickly sold out due to the allure of Viegas unique style and notoriety.
He is one artist to keep your eyes on if you love street art and are looking to grace your walls with greatness. In this Interview, Art Plugged we will be getting to know the man behind the art, his inspiration, creativity and more.
Q: First things first, why do you do what you do?
Nuno Viegas: Because I love it, what can you do best with your life other than something you love and gets you out of bed excited every day? I'm grateful I can live this dream, and I'm squeezing it the most just in case I wake up one day.
Q: What is your inspiration?
A: My main inspiration comes from the graffiti scene. When I started painting figurative, in my internship in Holland with Tymon de laat, this subject came up immediately.
It was a natural connection to my roots as a graffiti writer. I got more serious in touch with my creative self when I was 14 years old through graffiti, and it had a significant impact on my life. Graffiti allowed me to experience super lovely moments of my life, and I learned a lot from it. Thankfully I absorbed mainly the positive side of it which I carry with me for the rest of my life.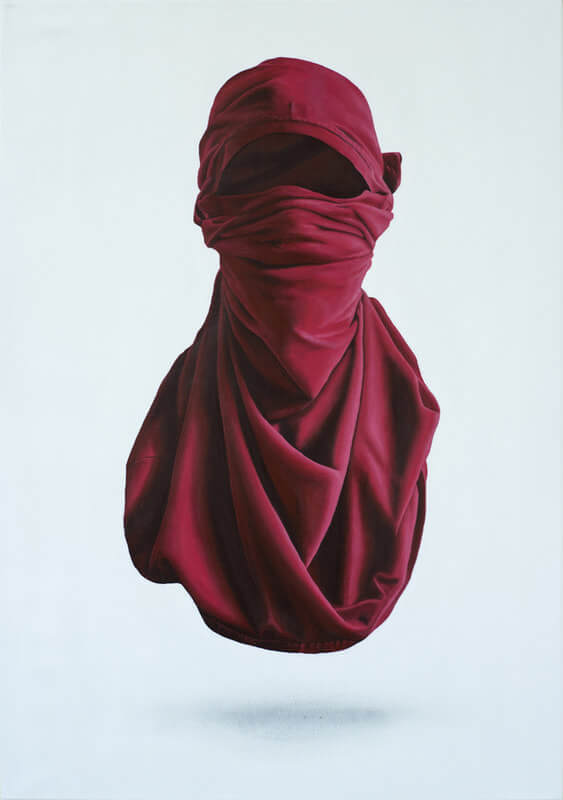 Q: What is your creative process when you're creating?
A: It all starts with an idea which can spark at any moment, any place there is no rules or rituals for this with me. After having the Idea, I visualize the composition and then "sketch" it with a photographic session.
Once I have the shots, I will photo manipulate them to get the final reference for the painting. Then it's all about acrylics for canvas and spray cans for murals.
Q: What would you say is an integral part to the work of an Artist?
A: (Don't understand this question a bit broad maybe, sorry)
Q: What is the reason behind your use of gloves and shirts in your pieces?
A: I always make references and or portray elements from the graffiti scene. I speak about it without doing it. In an era where people mix up graffiti and street art in the same pot, I find it essential to separate them into different containers.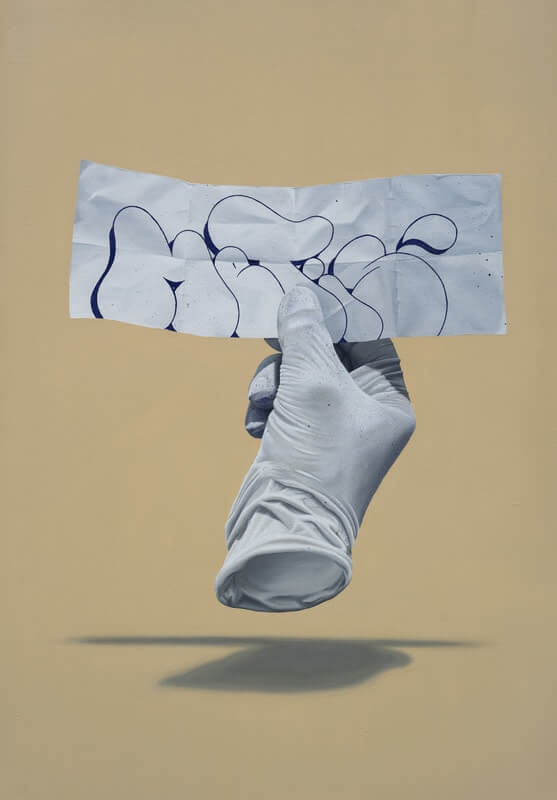 So I go "Magritte style" by saying "this is not graffiti" when I refer to my paintings. This is my trigger to paint about a subject as well as doing it, as it's a permanent tribute to the graffiti scene.
Although this speech is not always evident in my work, I use the opportunity to speak about it every time someone asks me about my work. I still like to know the different interpretations people make about my work. Before I tell them my own, and it is incredible to see the various subjects it triggers. Ultimately I must paint beautiful and pleasant images.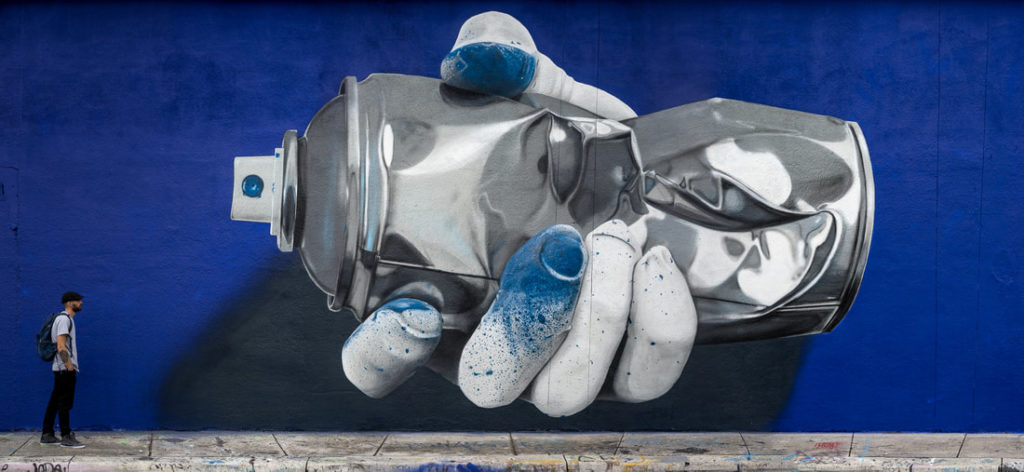 Q: When do you know when a piece is finished?
A: When every detail I can see When every aspect, I see is in the reference image that I'm able to create this in the painting.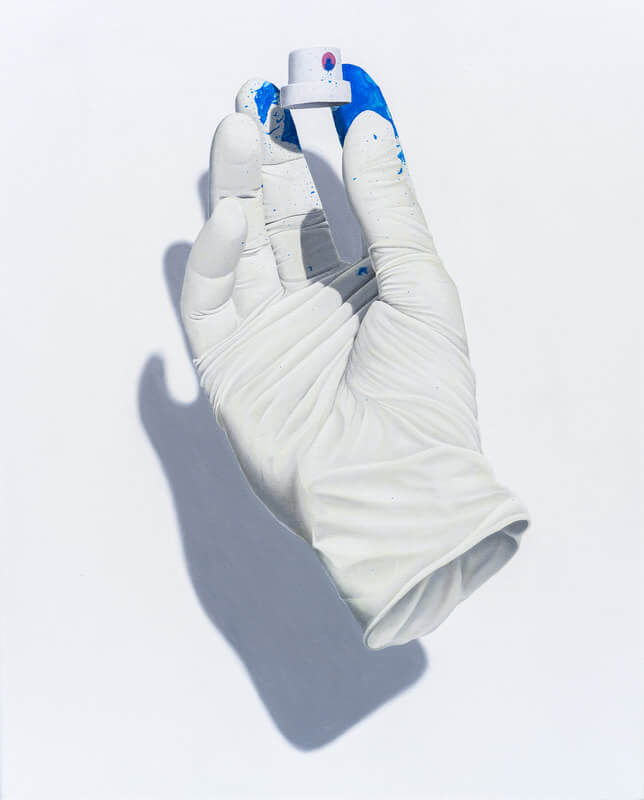 Q: What is your favorite piece from your collection?
A: Hard to name a number one. For me, it is a lot about details, and different paintings have different areas I love the most.
Q: What is the most rewarding thing for you about being a part of the Art Industry?
A: First of all, the chance to enjoy a comfortable life and being happy with what I do. If I feel good, I'll give it right back to the world. Another great rewarding moment I had, which got me into tears of happiness was getting a thank you video from the students from the Ecomoyo centre in Kenya.
The Ecomoyo centre has been doing charity auctions yearly with works offered by the artists. With the funds raised, they built a school from scratch for kids who didn't have access to education due to their remote location. Being part of this project made me realize what kind of power I want to have, and this is it.
Q: What most worries you about how social media is affecting the promotion of artists?
A: There are a few downsides regarding social media, but that would be a whole discussion. As a promoting tool, I believe it has been great for the art community, especially for the artists. I probably wouldn't be writing here for you if it wasn't for social media.
It can be a great tool. I believe artists are much more independent nowadays due to social media. We have direct contact with the collectors, and we are super easy to find. With social media, you can go global without leaving your studio, and that is amazing.
Q: In your opinion, do you have any advice for artists on how to manage their social media image? Or does it even need managing?
A: Social media has made life a lot easier for artists. Essential to take it seriously and to be professional about it. Read and learn about it or if you don't want to learn and can afford to pay for someone to manage it for you, go for it! There are more and more people specializing in social media managing. It is already a profession its incredible.
It takes a lot of dedication and time to have an excellent social media image, and I can understand why some artists hire someone to do it.
As it gives them more time to focus on their creative process, I still do all of it on my own. On top of everything, make sure to produce and share good work. Finally, take high-quality photos of your work, not only for your social media but also for your archive.
Q: Do you have any advice for artists starting and don't know where to begin?
A: I don't think there is a formula. The way things happen will be different for all of us. The best advice I have to give is to believe in yourself and be honest to yourself. Be Good, Do Good, and have fun along the way.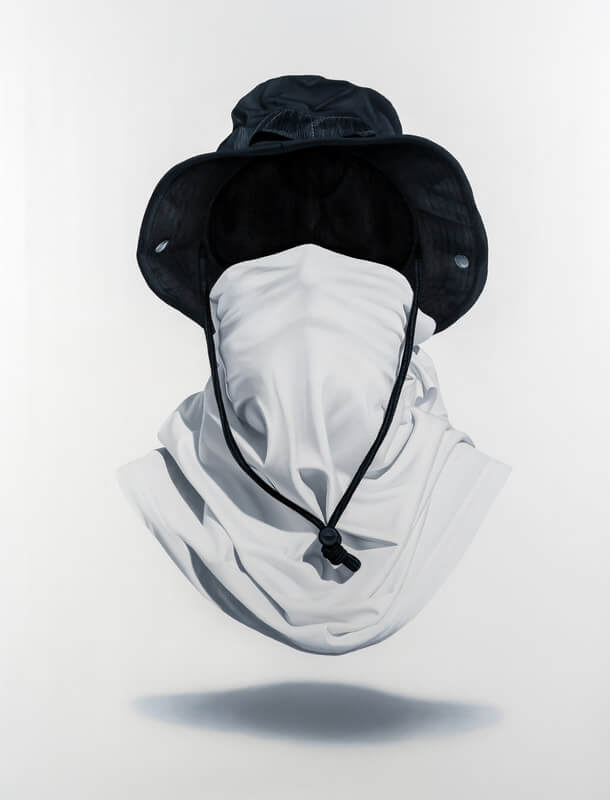 Q: What would you say is the best way of getting your art noticed in the age of the internet?
A: Again I don't think there is a formula. There are a lot of different routes which apply to different individuals. I guess the most popular are: manage to go viral by how super good your work is, by a great production you did, or by something extremely stupid you did.
Another way is to have real and solid connections outside the internet world which will get your name rolling on the internet. Collaborations with other artists is also a great way to expand your network.
Q: Are there any places where you feel Art and Technology really shouldn't overlap?
A: I guess if it weren't for technology, art would barely exist by the simple fact that a mere brush is already a piece of technology. Technology is an array of man-made tools which we should use in our advantage to make our lives better and easier.
This was Nuno Viegas for Art Plugged artists inside the industry; you can follow Nuno on Instagram and head over to his website for his latest works, exhibitions and more.
https://www.instagram.com/nunoviegas.pt/
©2019 Nuno Viegas