Art Plugged is pleased to welcome Mwanel Pierre-Louis, an artist based out of Miami, Florida, born in New York, from Haitian descent. Pierre-Louis is empowering New Contemporary Movement, with his unique fusion of realism and vivid aspects of abstraction.
His works places a strong emphasis on the relationship between subject and colour, drawn from influences, of personal interactions with a reflection of popular essence.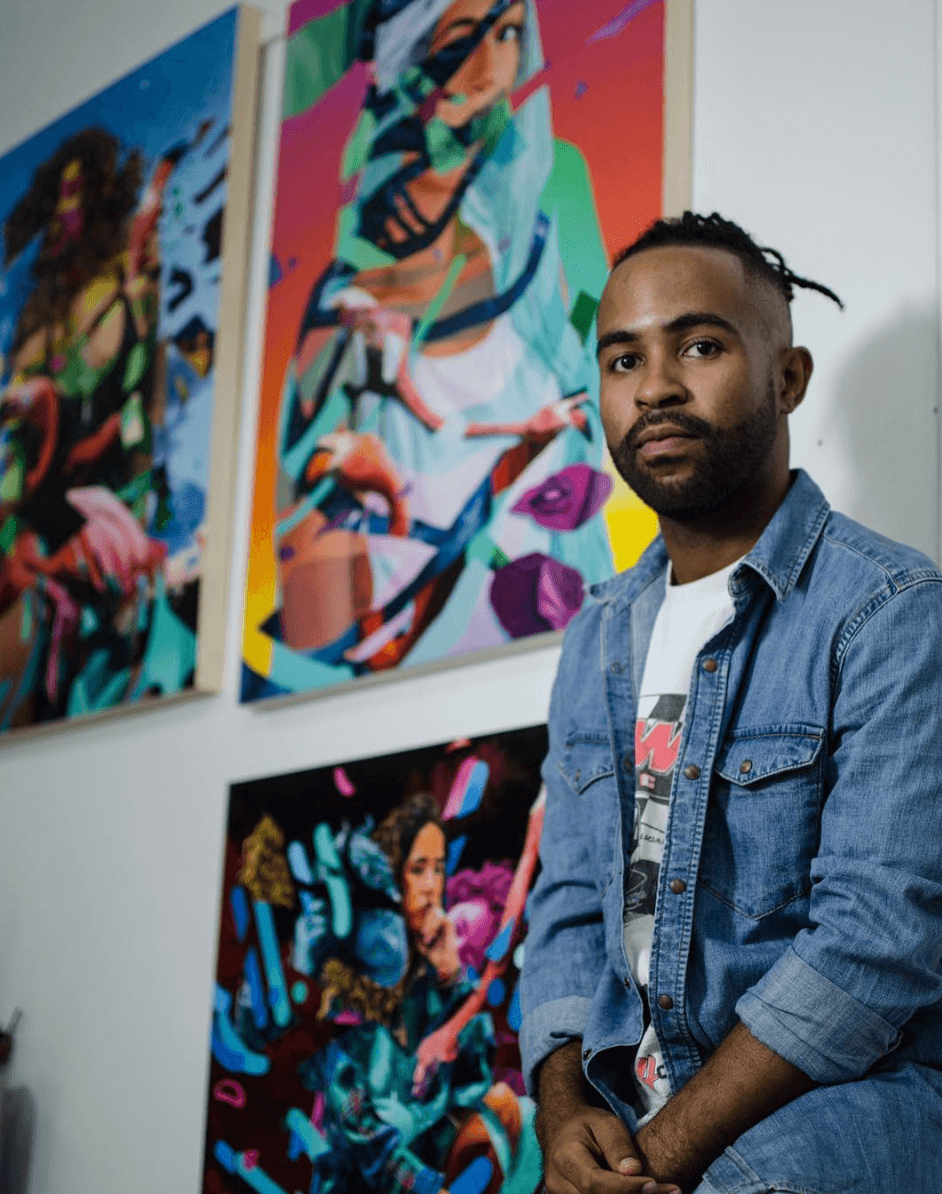 We all come from different cultures, subcultures. So, capturing a tone that makes the work is the magic of the moment.

Mwanel Pierre-Louis
In the last few years, Mwanel's has taken inspiration from his conversations with other people and the connections that are made are prevalent in his works. The underlying structure and arrangement allow an intimate view into these connections. Immersing the viewer in an energetic aesthetic that is hypnotising. This is executed exceptionally well in such works as Untitled #2 and The Duet.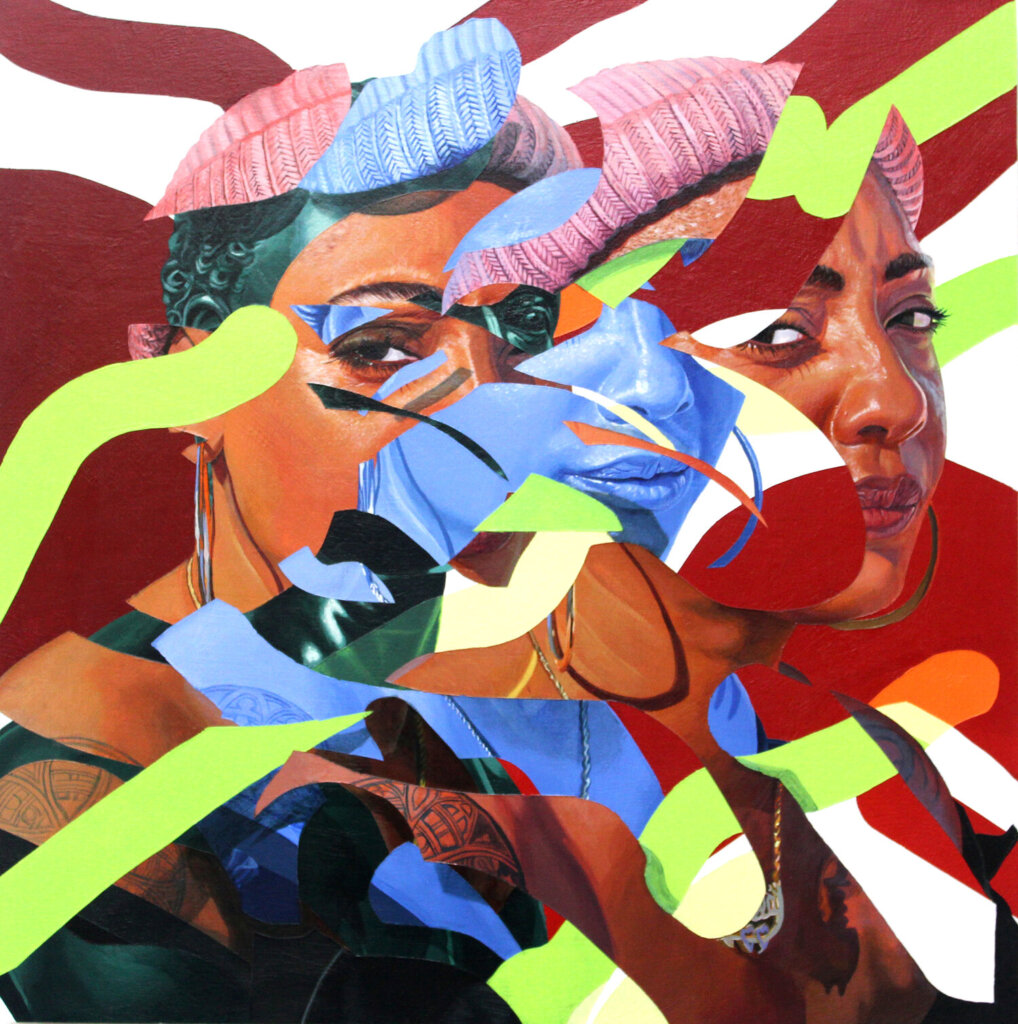 Realism is in the work when idealism is in the soul, and it is only through idealism that we resume contact with reality.

Henri Bergson
When Mwanel is not busy creating abstract masterpieces, he applies his artistic talents to illustrations and murals for some of the world's biggest companies, including Starbucks and Atlantic Records.
He has also exhibited in Scope Art Fair during Art Basel, Miami and in the 5th annual POW!WOW! Hawaii's "Exploring the New Contemporary Movement" in the Honolulu Museum of Art as well as partaking in The Shawn Carter Foundation Gala. In this interview, Art Plugged will be learning more about Mwanel inspirations, creative process and more.
Q: First things first, why do you do what you do?
A: First off, thank you. Secondly, to answer why I do what I do, I want to solve a situation that we all can relate with. We live in weird times of history. We're all human, and we all have the same story to some extent. That's how we can relate on a much grander scale within ourselves. As an artist, I want to make art that can transcend to future generations. Motivate others in all cultures to express themselves as who they are.
Q: What is your inspiration?
A: My inspiration for the last few years was merely about connecting with myself through conversations with other people. But, we all come from different cultures, subcultures. So, capturing a tone that makes the work is the magic of the moment.
Q: What is your creative process when you're creating?
A: Well, everything is creatively processed through my conversations, generally with a friend or my thoughts. But as I create, I write down a few words or word clusters to get things going. Then, I'll place down one or two words that mean something as a whole and make a word web from that. As I'm doing this, sketches are being placed in my sketchbook, notes nook, napkins.
I'll even call up friends or have a camera on me to document what has been on my mind. By using my camera, I'll pose my friends and try to get other angles from my sketches, that help my process extend to further ideas. From that, I'll place the photos into photoshop and mess around for a while, creating multiple versions of the same image. Selecting the model is challenging at times, but I'll usually use my gut to get the right image.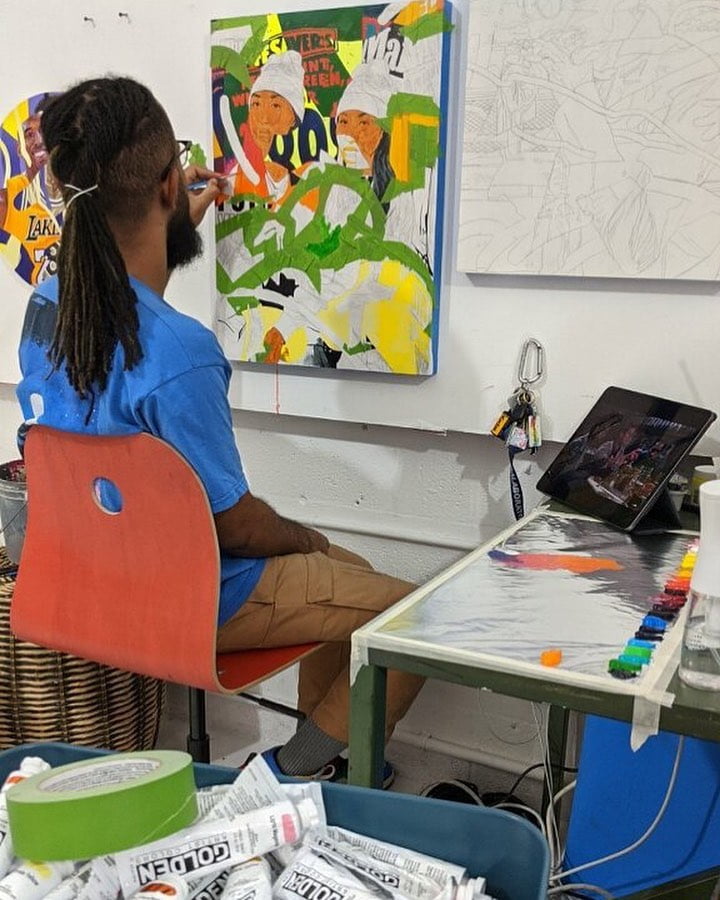 Now from here, I have my image, resketch the image from photoshop and transfer the image onto a primed wood panel with graphite or pen. One trick is to seal the markings with Matte Medium, so you don't lose the graphite. Ok for there, I'll start with the background, middle ground, then foreground in that order, while applying paint, most of the time. It's a rhythm that speeds up my process. My choice of paint was Acrylic for the show. I'll even use tape to section off areas to get crisp lines and gradients within my shapes.
Q: Which is your preferred surface for working on?
I'm preferably a wood panel type of artist—more comfortable surface to paint and cut on. But I'm also like do murals on smooth surfaces as well.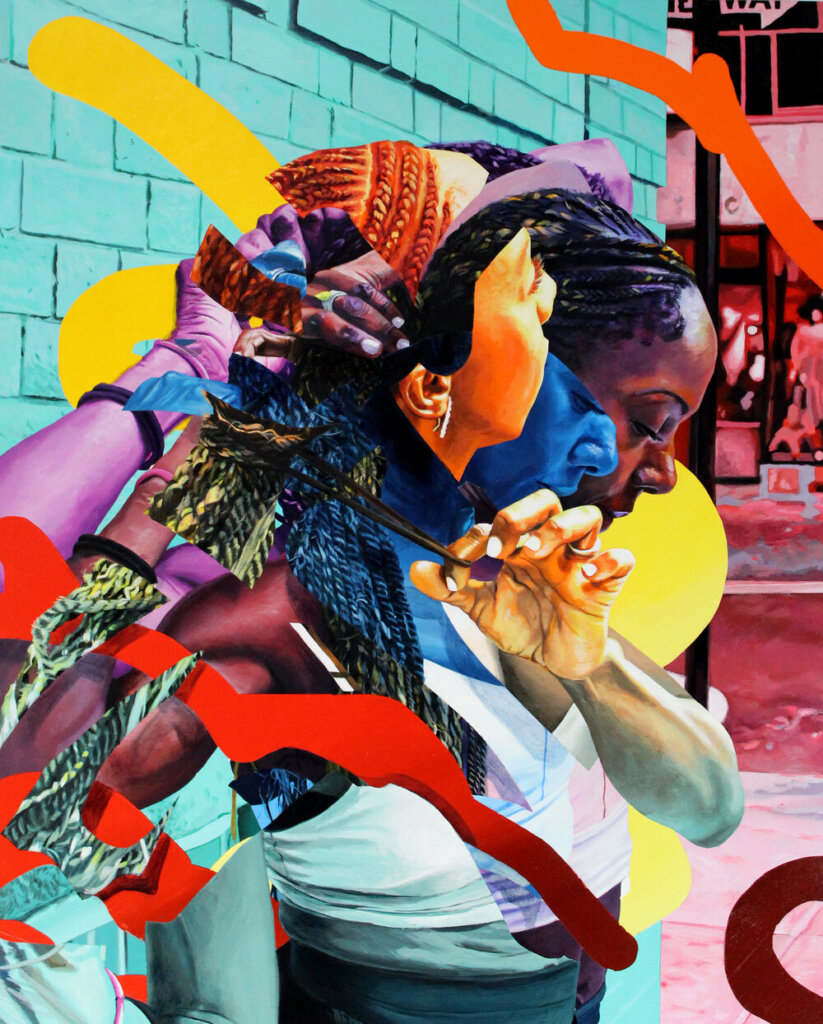 Q: What would you say is an integral part of the work of an Artist?
A: An integral part of the work of an Artist is probably what gets them passionate in the process. As an artist, I'm excited about my level of detail and colour scheme to convey the painting.
Q:What is the reason behind your use of realism and abstract elements in your work?
A: Painting most of my life, I've always felt there was more than classical painting. So through my time of illustrating art, digitally and analogue, I've experimented with different methods and finally got to a point where I felt what spoke to me. The use of the abstract elements expresses the space and mood within the energy of each subject I paint. Which also allows me to use composition more. Also, this is another phase of my work. It evolves over time, and I'll be in a different creative space.
Q: How do you know when a piece is finished?
A: I have a hunch these days when I'm entirely done with a piece. I have things to a science where the sketch to final is somewhat similar, and I don't need to second guess the process.
Q:What is your favourite piece from your collection?
A: There were a few pieces that spoke to me, but my favourite piece from my show was "Untitled #2". That piece took some time, but it was a passionate and highly detailed piece that oozed out so much energy once it was completed. Most likely, most energy I put into one of my smaller paintings. There's so much happening, but it's so bright and so vibrant.
Q: How did you feel when you did your first solo exhibition?
Where I do start, I was very excited, anxious and determined. I felt like time was moving a whole lot faster than I thought. It was a year of preparations and process, but the real painting sessions were made within six months. I was motivated and pushed myself every day with a new section in a piece or a new idea while painting. It was a mission, and I moved to another city and studio as well to make this solo show.
So my mind was in an isolated area; I had more time to attack my paintings without outside noise. The one thing that I expected was isolation, which I'm more comfortable being in these days. But it was hard to be in a studio for 13 hours a day, pushing paint around. I did experience more outside of the studio to bring more energy to my work. But when things were coming to a close, pressures from deadlines become the joy of completion. Weight was lifted before shipping everything to my gallery, Thinkspace Gallery.
Q: What is the most rewarding thing for you about being a part of the Art Industry?
A: The most rewarding thing being apart of the art industry is seeing that we as an industry are closer than ever. We are willing to help one another by being admirers and colleagues by our talents and passions.
Q: Is there anything that worries you about how social media is affecting the promotion of artists?
A: Social Media worries me to the point that you can compare yourself to others. That motive is toxic at times, but I've learned to check myself at the door before going to work. There's even an influx of artist that are just in it for the money and not trot the craft. So I'll see tons of one-timers on social media that make noise and then they're gone. A ruined algorithm system is made. But again, I'm not worried, I'll keep creating in my space and keep posting what I preach.
Q: In your opinion, do you have any advice for artists on how to manage their social media image? Or does it even need managing?
A: I have one or two things to say, be consistent and wholesome to what you're posting. Get into a rhythm of posting at specific times of the day. Also, you'll gain tons of social media friends. You'll need to be on each other sides and support one another. That's what I've been doing this whole time.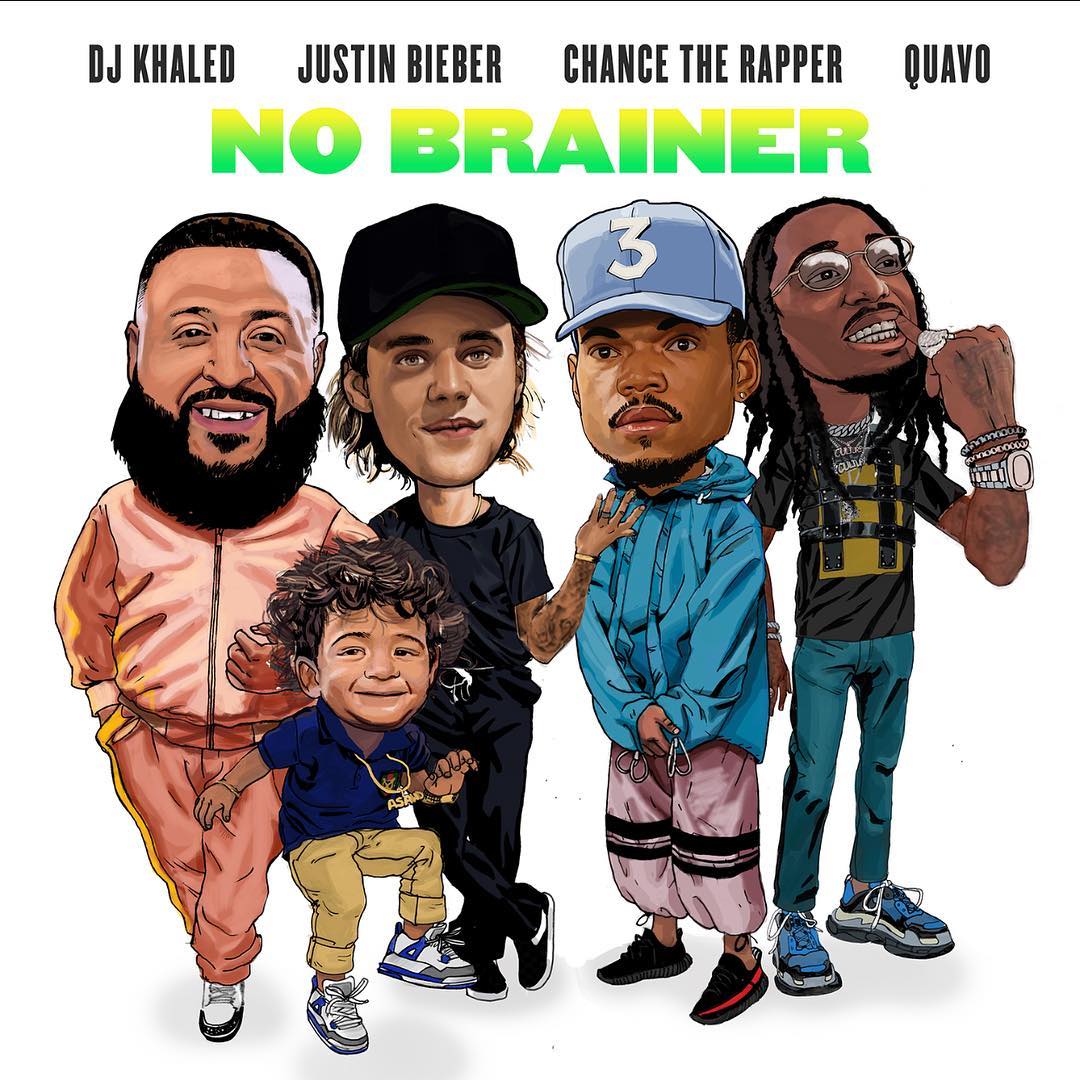 Q: Do you have any advice for artists starting and don't know where to begin?
A: My advice that I preach to upcoming artists at times is to dive in. You'll find your voice in the process of finding what that thing is. In due time, you'll have periods of repetition of style or ideas, you'll see your voice growing. Just continue from there.
Q: What would you say is the best way of getting your art noticed in the age of the internet?
A: Instagram, Twitter, Tumblr, and Facebook. Submitting to art blogs are a great way of getting work out there as well.
Q: Are there any places where you feel Art and Technology really shouldn't overlap?
A: I haven't thought about where art and technology shouldn't overlap. I've been working so much on content these days, not thinking about the overlapping of many things. But I had to really think. In these weird times, face mapping has been in effect.
Like where you replace a face to another face, to make situations seem real. I've seen fake videos of celebrities portrayed in a different light due to this. It's weird how technology is being used and manipulated these days. We have to do better.
https://www.instagram.com/mwanel1_l/
All Rights Reserved © Copyright Mwanel Pierre-Louis 2020