Inspired by childhood experiences, Adaeze creates expressionist figurative paintings of quirky images. Her artistic gifts were recognized early in life, she had inclining to draw and paint, "art was my favorite subject in school as I always had excellent grades, and my paintings would often get exhibited in school competitions."
Adaeze grew up in a household where the nature of her parents' work schedule resulted in a constant migration cycle. At every location, she felt time fleeting away as she tried to bond with people in her new environment. Solitude was often not far away, hence she turned to art as a vehicle to preserve the memories of people, experiences, and places. Adaeze's passion for art continued to blossom through
independent study as she attained a bachelor's in business management.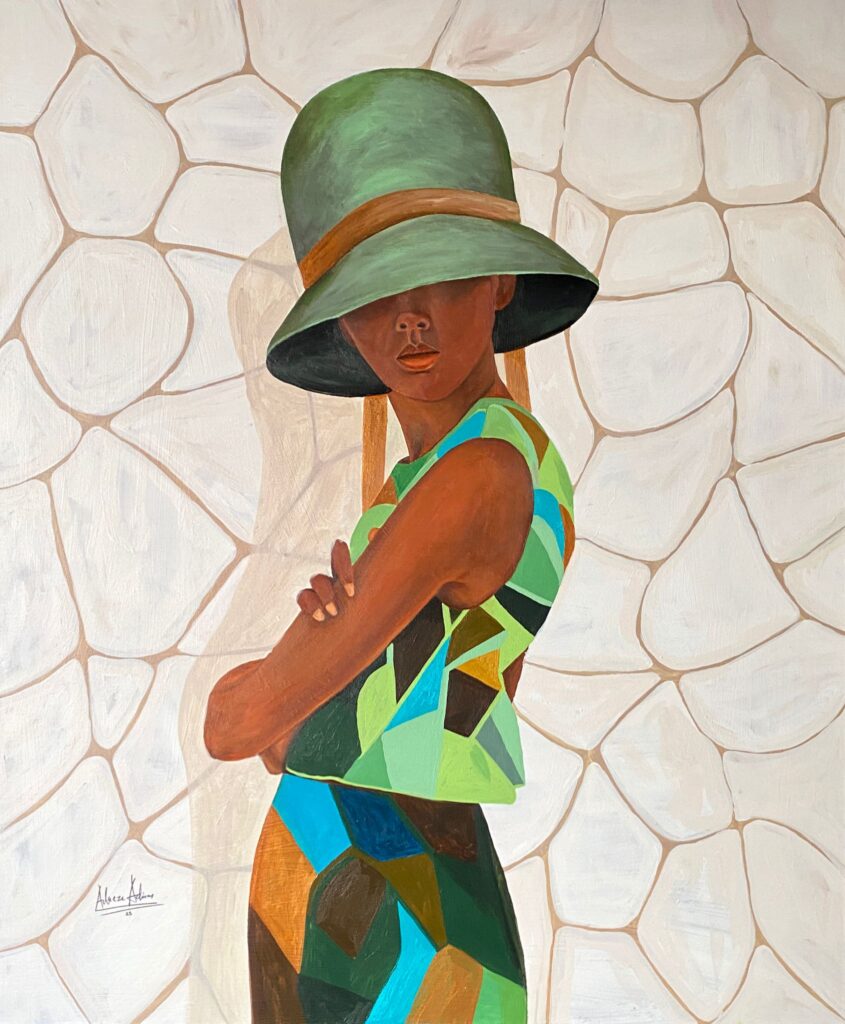 Adaeze's paintings are typically composed of young people in living spaces sitting, standing, or reclining. She is a lover of color and its power to convey potent messages. From the apparel on the figures to other objects in the picture plane, yellow hue dominates through her work. Adaeze says, "Yellow is my favorite color and a part of my visual vocabulary. It gives me warmth, and I use it to suggest the friendship I share. Paintings became a medium for paying homage to friendship." The artist's faith emerges in the Hand in the Glove series in her quest to explore the relationship
between God and man. The use of yellow gloves as a symbol shows "how deflated humans could be without the spirit of God in us," she notes while asserting that humans are powerless like empty gloves without God.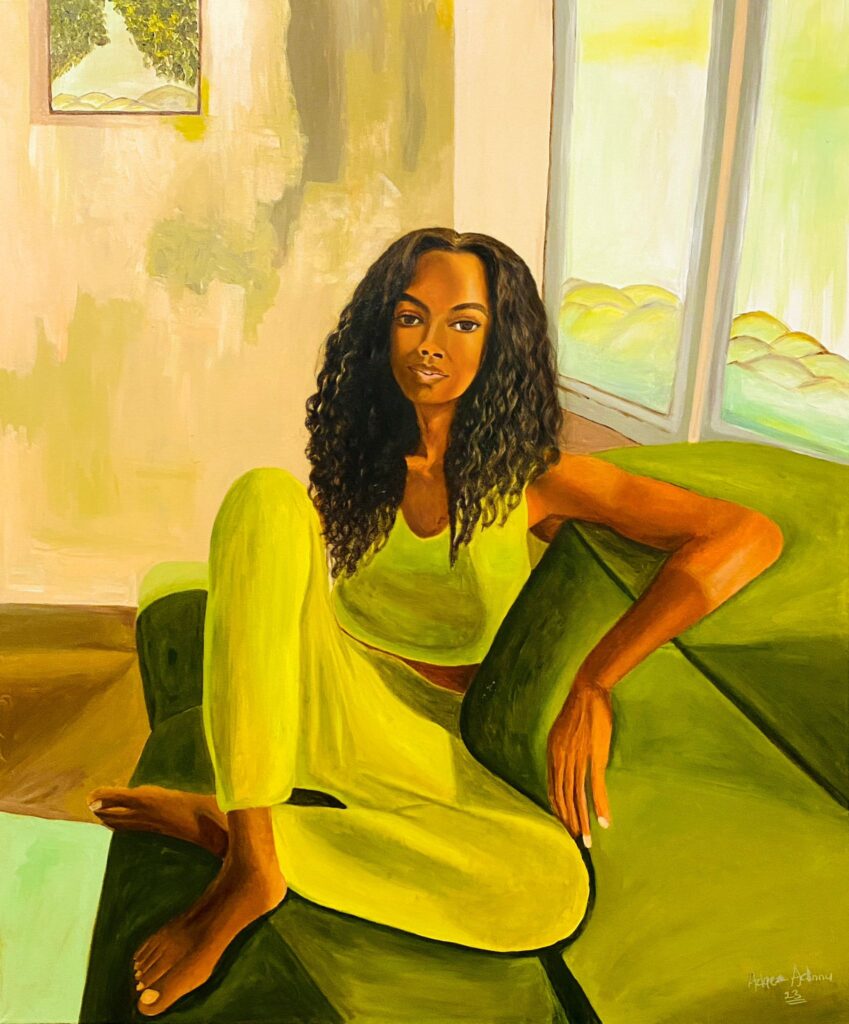 Adaeze's most recent body of work, which is titled "Living the Moment," reflects a state of being. "There was a time when I allowed what isn't to becloud my mind. It was as if I wasn't doing enough. But after reflecting, I realized that life is about how and what I speak to myself." In a painting titled "Rainbow of Possibilities," she portrays a young lady lounging on a sofa, in a room where iridescent light baths both body and space. Could this work be a veiled portrait of the artist? Could she be referring to the life unfolding before her? Or could it be that she has come to a point where life has presented her with a rainbow of possibilities.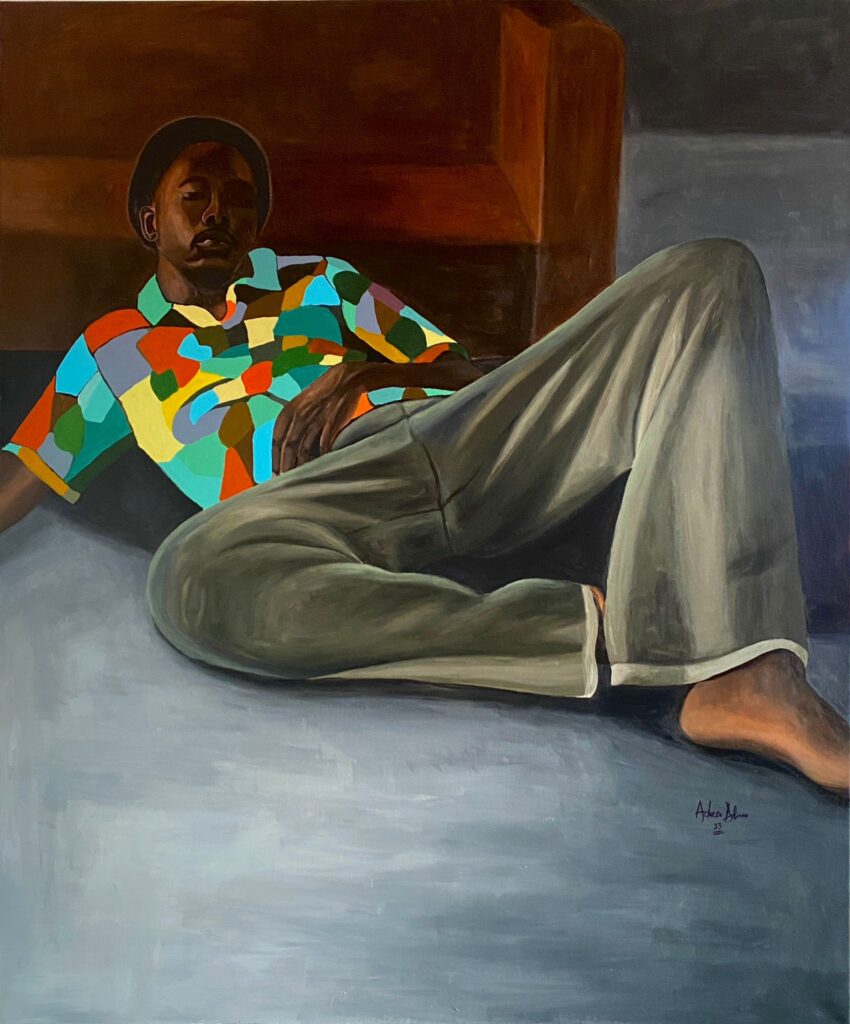 Adaeze's expression of hope in two of her works makes her deep belief in providence apparent. In Vision of Hope, a young African man dressed in a fur coat stands defiantly in front of a building in the background. He stares into the future as if pondering what lies ahead as he sojourns in the new land to get an education. Beneath the Surface is a portrait of a young African woman crowned with a beautiful
braid and a golden hallow. Peering under the braids are her pair of golden eyes.
In "Silver lining" the artist communicates the feeling of longing that settles upon a migrant as he settles down, life becomes physically and emotionally divided between his new home and the home he left behind. Adaeze is living the moment, her energy indicates she is an artist who will continue to explore new ways of expressing her thoughts.
©2023 Adaeze Adinnu