Mexican-American visual artist Mauro Martinez effortlessly blends traditional art with the never-ending onslaught of online imagery. His paintings are not just humorous, but they also brim with metaphors and irony, capturing the essence of internet culture while simultaneously critiquing our connection to online imagery and its signifiers. As somebody once said, "The internet used to be an escape from the world, now it is the world.
In Martinez's Sensitive Content" series, his most well-known work, a sarcastic take on the absurdity of social media censorship, depicts a blurred image topped with a warning layer, poking fun at the values and restrictions surrounding censorship. A witty and insightful commentary reminds us of the inherent tension between order and free expression on online platforms.
I'm primarily interested in people and what they're up to. At the moment, memes and images are our most powerful tools of communication

Mauro C. Martinez
Martinez's work embodies the essence of society's digital consciousness. It evokes a sense of amusement and amazement at the peculiar and comical aspects of the digital era, leaving one to ponder, "Is this the extent of our progress?" It is undoubtedly a must-see for those seeking to stimulate their senses. In this interview, Martinez shares insights into his creative process, sources of inspiration, and other aspects of his work.
Q: Mauro! How are you doing? Thank you for taking the time to speak with us. Can you please introduce yourself to those who do not know you?
Mauro Martinez: Howdy! Thank you for having me 🙂 My name is Mauro Christian Alejandro Martinez, and I'm painting the internet.
Q: Can you walk us through the journey that led you to become an artist? Which pivotal moments and experiences influenced your decision to pursue art as a profession? In what ways have your artistic pursuits shaped and impacted your life?
Mauro Martinez: Like many artists, I got my creative start young and kept some sort of creative practice. In my case, it was a sketchbook. I wanted to be a wrestler, a pro skater and a chef long before coming to grips with my fate as an artist.
After I eventually did, it turned out to be the best decision I could have made. I took my first painting class at the Art Center College of Design after leaving a rehabilitation centre in San Antonio, Texas, for heroin addiction. Prior to that painting class, I had only ever worked with pen and ink. In fact, I was there to study illustration so that I could be a comic book artist. During a Thursday class, I got a call from a close friend who told me one of my younger brothers had passed away from an overdose.
Q: Your work often depicts themes of digital existence, including social media, memes, and internet culture. Can we delve deeper into your practice, influences, why you chose to explore these particular topics, and why they are important to you?
Mauro Martinez: I'm primarily interested in people and what they're up to. At the moment, memes and images are our most powerful tools of communication, so people, they're something we tend to share. My paintings explore images as cultural signifiers and sometimes even serve a diagnostic function to gauge cultural temperatures.
Q: Continuing from this, what was your first internet topic or meme that inspired your first works?
Mauro Martinez: I'm pretty sure the first was a small 8×10, and it was primarily a visual exploration using the classic Impact font and text that reads "When the bae" repetitively.
Q: At London's Unit London, you currently have an exhibition called RateMySetup which explores humanity's dynamic relationship with technology, Inspired by the subreddit Reddit "RateMySetup". Please tell us the essence behind the exhibition and give us a sense of what visitors can expect to experience.
Mauro Martinez: Through a refreshingly sympathetic lens, the exhibition offers a perspective about our varying degrees of enmeshment with digital technology. Visitors can expect to leave feeling much better about their gaming and doom-scrolling habits!
Q: Can we talk about one of the most well-known works, "Sensitive Content"? Can you tell us more about this series, including how you conceived the idea and these paintings' significance?
Mauro Martinez: I started the series when I first noticed the filter in 2019 and have been developing it in different directions since. I've made some of these paintings in response to what I consider significant moments in history, some that address the often arbitrary and absurd nature of the censorship algorithm and others that are more about the material relationship between the silkscreen and the surface of the canvas.
Q: The studio is the sacred temple of creativity. What are three things you can't live without in your studio?
Mauro Martinez: Over-ear headphones, unsweetened iced tea and some sort of podcast.
Q: What's next for Mauro Martinez?
Mauro Martinez: He's going outside!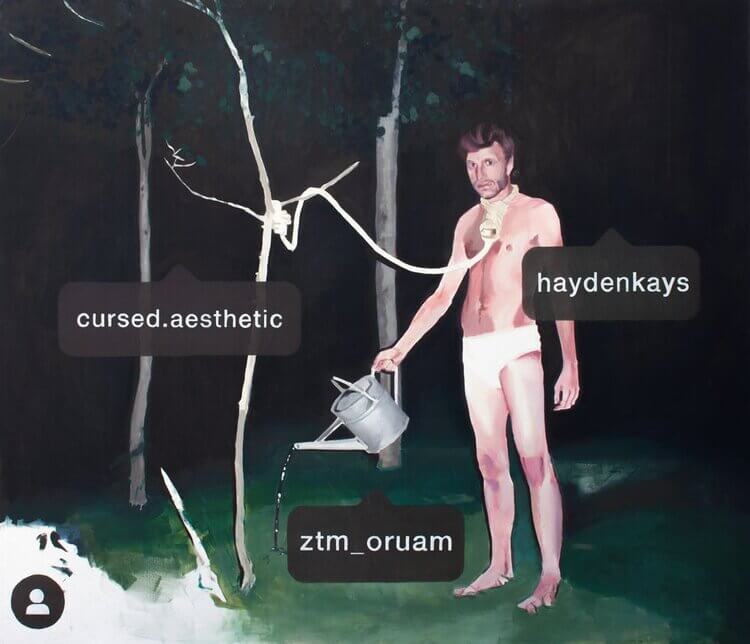 Q: Lastly, what does art mean to you?
Mauro Martinez: Art is something we're all capable of, provided the condition of curiosity is met.
https://www.instagram.com/ztm_oruam/
©2023 Mauro C. Martinez, Unit London