Mat Collishaw: Petrichor
20th October 2023- Sunday 7 April 2024,
Shirley Sherwood Gallery of Botanical Art
Kew Gardens
Kew, Richmond
London, TW9 3AE
A new exhibition of work from celebrated contemporary artist Mat Collishaw comes to Kew Gardens from October 2023. Running in the Shirley Sherwood Gallery of Botanical Art, Petrichor will showcase new commissions alongside existing works, drawing on an array of evocative imagery from the natural world.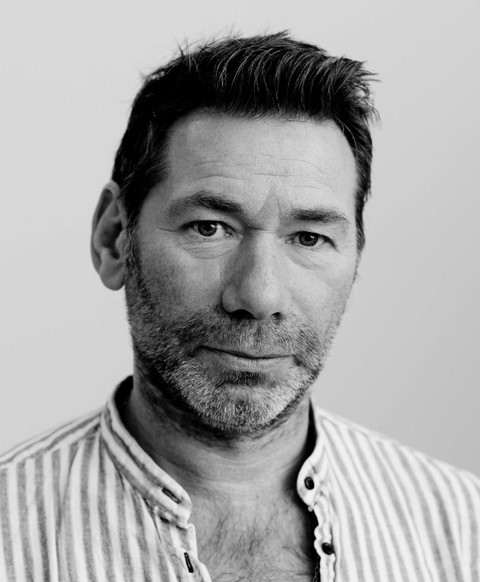 This exhibition will also encompass sculptural installations, using a variety of pioneering techniques to explore the relationship between the natural world, art history, and how representations of nature in art can impact the way in which we see the world around us.
Alluvion
Receiving its UK premiere at Kew Gardens, Collishaw's Alluvion series draws inspiration from 17 th -century still life paintings of flowers. On closer inspection, paintings which at first glance appear to contain flowers are layered with several species of insect, illustrating a natural phenomenon known as Pouyannian mimicry, where a flower mimics a female mate for a pollinating insect. This is most common in orchids, where several species mimic female bees and wasps. Generated using carefully moderated AI, these innovative paintings reverse the insect/flower relationship in a potent visual metaphor for human interaction with 21 st century technology.


Even to the End
Another UK premiere, large-scale projected work Even to the End, will take over Gallery 2 and uses pioneering technology to immerse viewers in a 9-minute sequence inspired by the innovation of the Wardian Case and the transportation of plant specimens around the globe. The video is accompanied by Samuel Barber's Adagio for Strings, a composition which draws inspiration from Virgil's Georgics, a poem about agriculture, propagation, and growth, and how humanity's efforts to cultivate the land is constantly under threat from destructive powers. Even to the End has been created in collaboration with video artists based in Ukraine and presents a poignant journey through the natural world.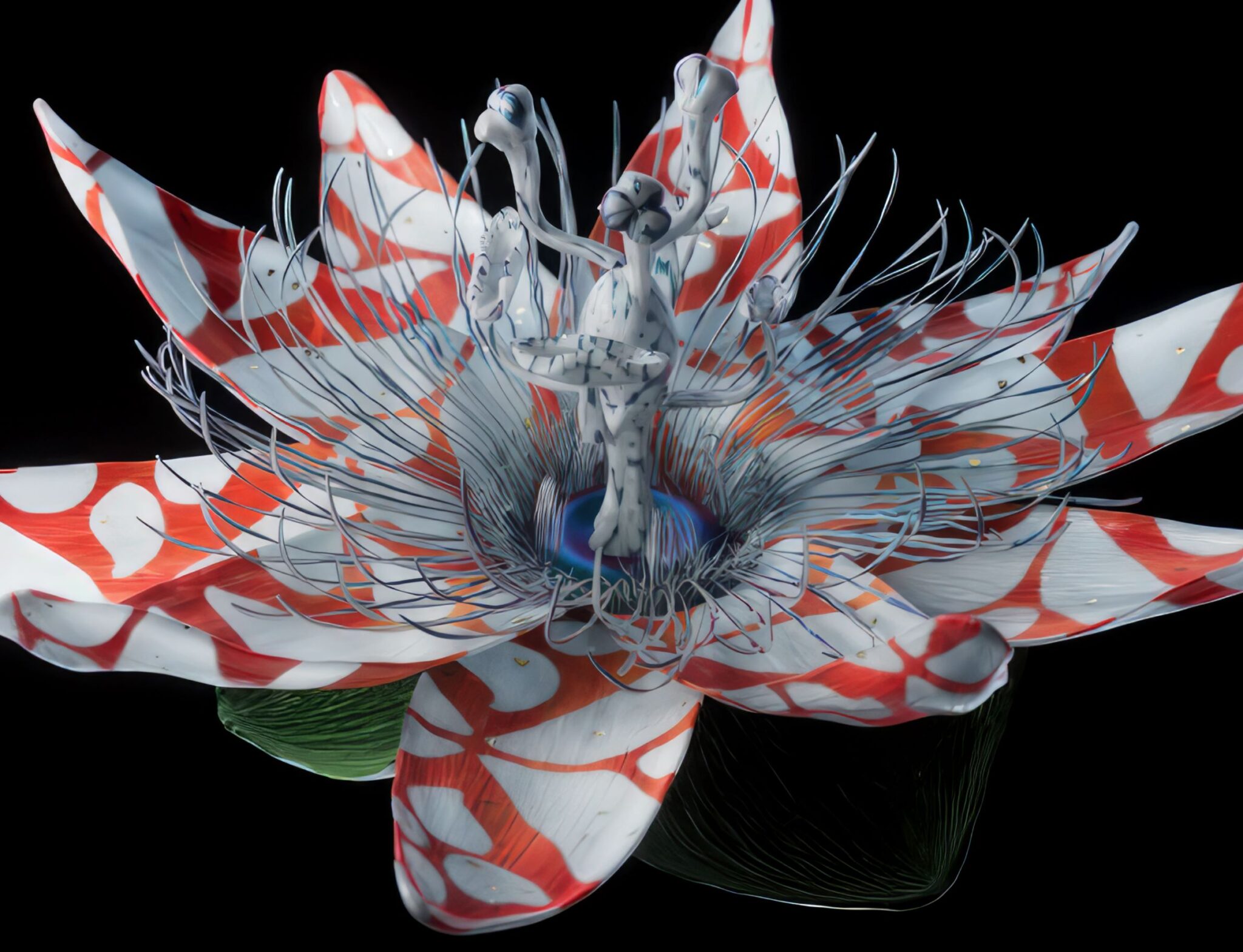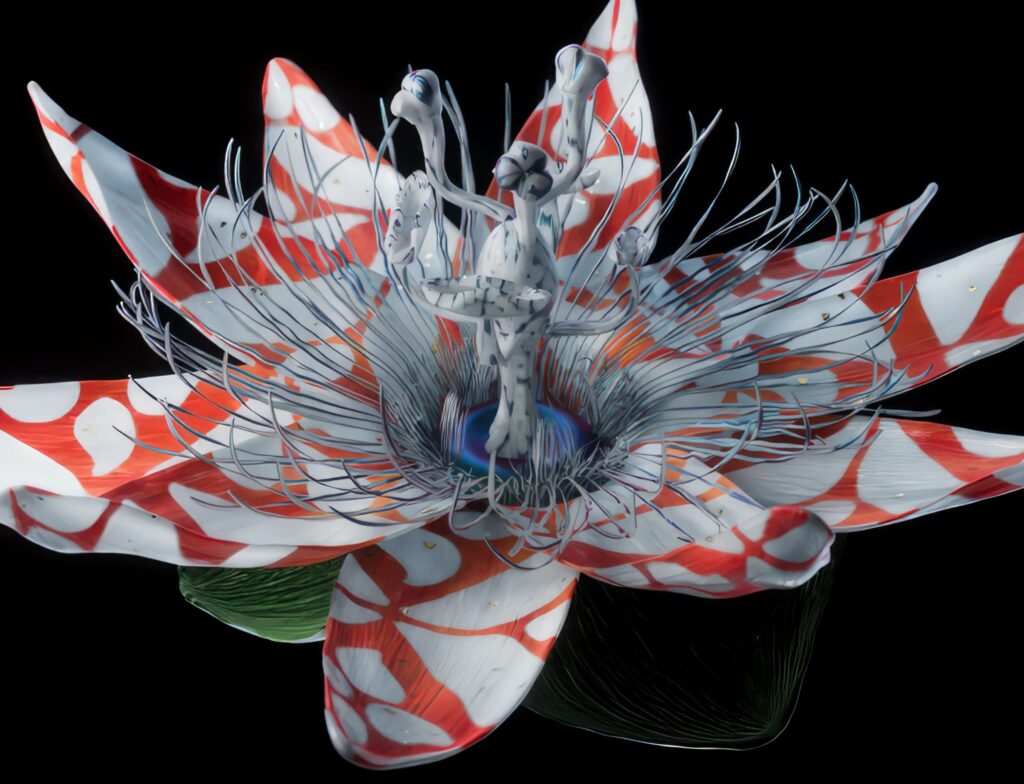 Heterosis
Heterosis is a collection of dynamic NFT's which combine genetic algorithms with blockchain technology to facilitate the hybridisation of mutable digital flowers. The project is inspired by the tulip mania of the 17 th century, a period during the Dutch Golden Age which saw prices for tulip bulbs reach extraordinarily high levels, in what is now believed to be the first recorded speculative bubble in history. This unprecedented hybridisation experience allows participants to cultivate their own bespoke animated flowers, either as breeders or collaborative artists creating increasingly exotic and elaborate blooms for pleasure or as a means towards predicting future value. Heterosis will receive its global gallery premiere at Kew Gardens as part of Petrichor.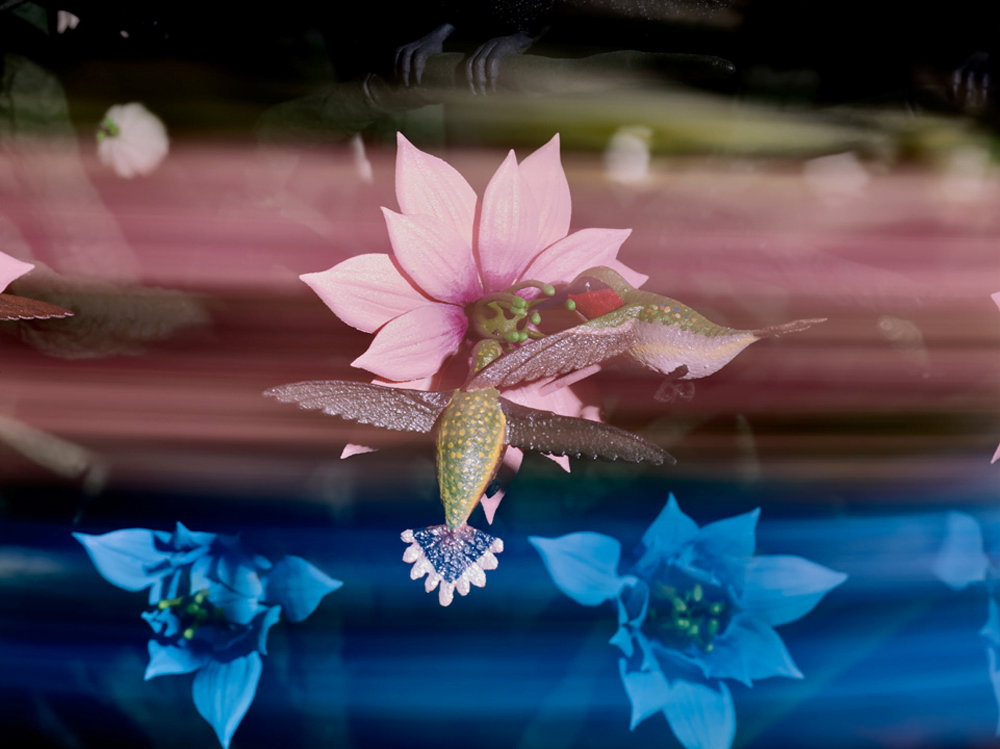 The Centrifugal Soul
Also featured in the exhibition is The Centrifugal Soul, a zoetrope which creates a stunning illusion of motion. Revisiting a Victorian innovation which was the precursor of modern filmmaking, The Centrifugal Soul depicts an animated scene of bowerbirds and birds of paradise as they perform elaborate courtship displays against an ornate backdrop of flowers in perpetual bloom. The Centrifugal Soul explores how aesthetic diversity has evolved through the natural instincts of courtship and evolution and reflects on humanity's seemingly never-ending search for aesthetic appeal.
Albion
Taking the form of an intricate 19th-century 'Pepper's Ghost' illusion, this large-scale piece depicts the Major Oak in Sherwood Forest, which is estimated to have been standing for over 800 years. It is one of the largest oak trees in the country, with a mythical connection to Robin Hood. This slow rotating, almost life-sized animation has been captured using a laser scanner, creating the eerie spectre of a tree suspended somewhere between life and death. This artwork was created at the time of the European referendum and its title, Albion, refers to the ancient oak tree as an emblem of England, a ghost like apparition supported by chains and crutches.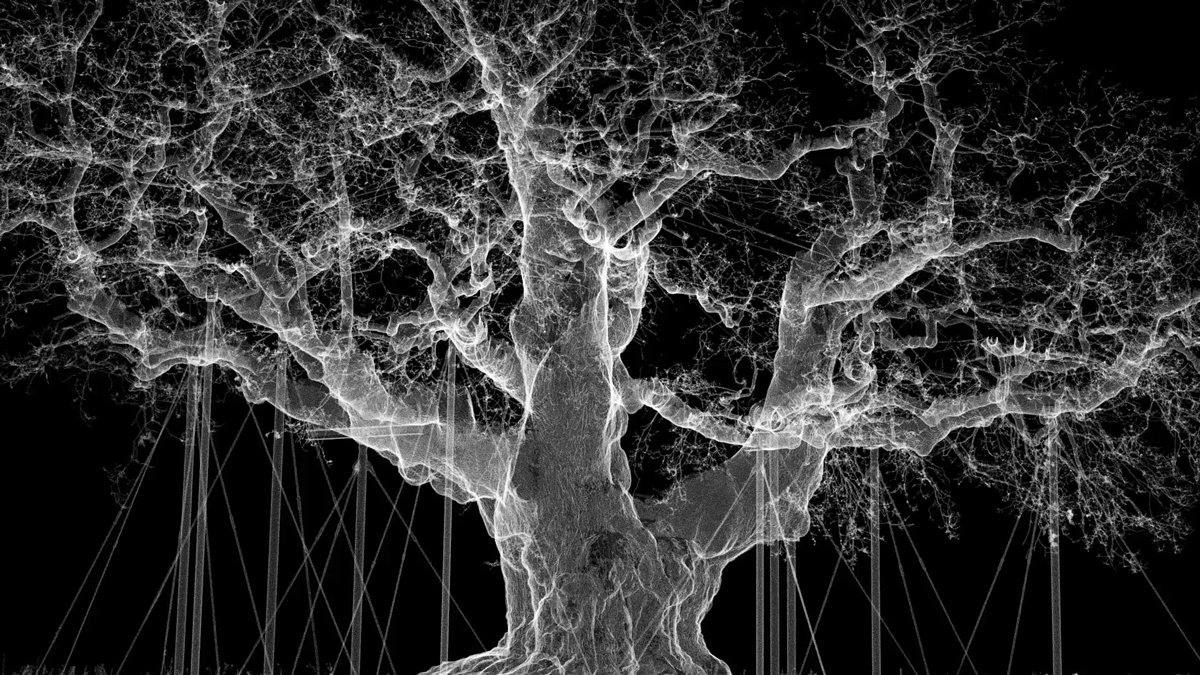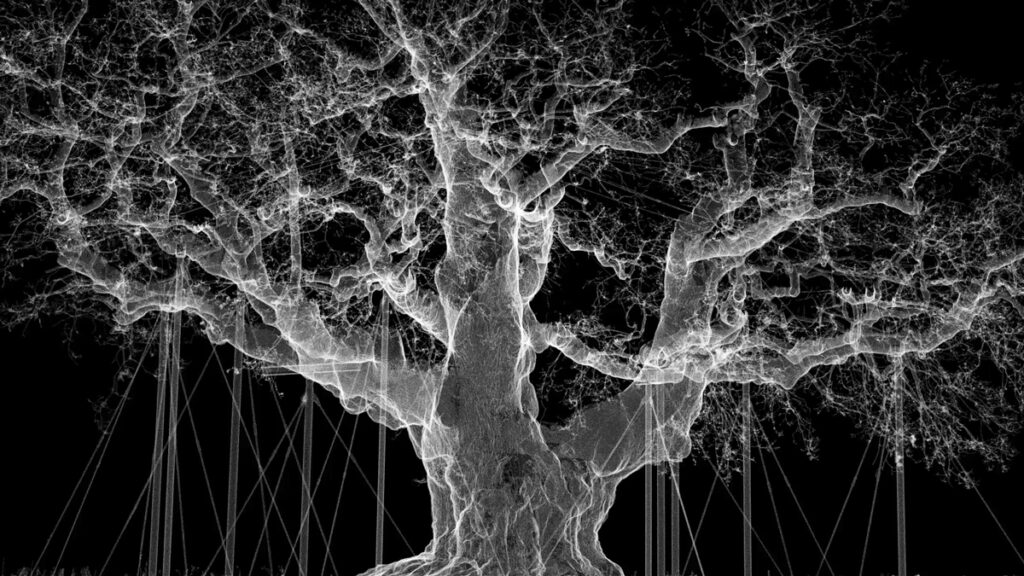 Other works
Other works featured in the exhibition include Columbine and Whispering Weeds, animated versions of Albrecht Dürer's watercolour paintings Columbine and The Great Piece of Turf. Widely regarded as early masterpieces in the field of botanical art, Dürer's paintings are brought to life using animation, bringing these pioneering depictions of the natural world into the 21 st century. Also on display is The Venal Muse, a series of sculptural pieces which draw inspiration from Charles Baudelaire's Les Fleurs du Mal (Flowers of Evil), poetry which explores decadence, eroticism, and lost innocence.
Mat Collishaw says: "I'm delighted to be bringing this exhibition to Kew Gardens, a place that's not only steeped in history and natural beauty, but also provides the perfect setting for my work to be experienced in a new way. The natural world and its astonishing biodiversity are an abundant source of inspiration and provide seemingly endless opportunities for creation.
I've always been interested in how nature is depicted through art, and how this in turn helps us understand the world around us. With its rich horticultural heritage and ongoing commitment to environmental conservation, Kew Gardens is the ideal location for me to explore the intersection of art, nature, and technology with this exhibition."
Young Botanical Artists
Alongside Mat Collishaw's work, Gallery 6 will showcase the winning entries from the Young Botanical Artist Competition, with finalists selected by leading botanical artists including Dr Shirley Sherwood OBE. Open to artists aged 16-25, this inaugural Young Botanical Artist competition has invited entrants to submit a 2D botanical artwork on the subject of Trees. All 40 shortlisted artworks will be on display.
The Royal Botanic Gardens, Kew, is dedicated to harnessing the power of plants and fungi to end the extinction crisis and secure a future for all life on Earth. With Kew's world-leading research, global partnerships and beloved gardens – home to the world's most diverse collections of plants and fungi – Kew is using its trusted voice to shape policy and practice worldwide. As a charity Kew relies on the critical support of its visitors, not only to sustain the gardens, but to protect global plant and fungal biodiversity for the benefit of our planet and humanity.
©2023 Mat Collishaw, Kew Gardens