Maddie Rose Hills'Artist Discussion: 'The Christmas Show', and Tips for New Artists.
Set inside her Victorian terrace, 'The Christmas Show' featured 10 contemporary female artists curated by artist Maddie Rose Hills. Between December 3rdand 10th 2019 (and by appointment only), viewers progressed through the domestic space and were met with private spaces stripped back to their basic functions (a bedroom containing just the bed, or an uncluttered kitchen) to lay emphasis on the slick artwork selections made by Hills.
The panellists for 'The Christmas Show' discussion held on December 3rd were Ocki Magill of Blue Shop Cottage, Kitty Dinshaw of Subject Matter, Hills, and artist Georgia Grinter.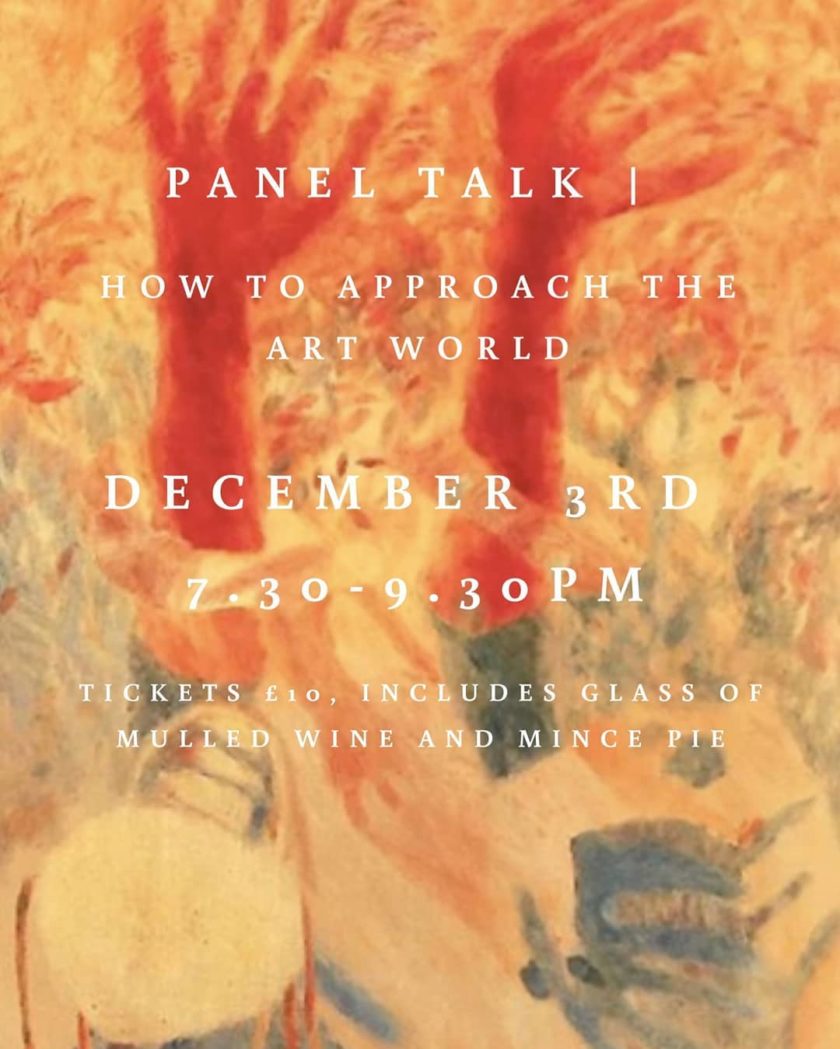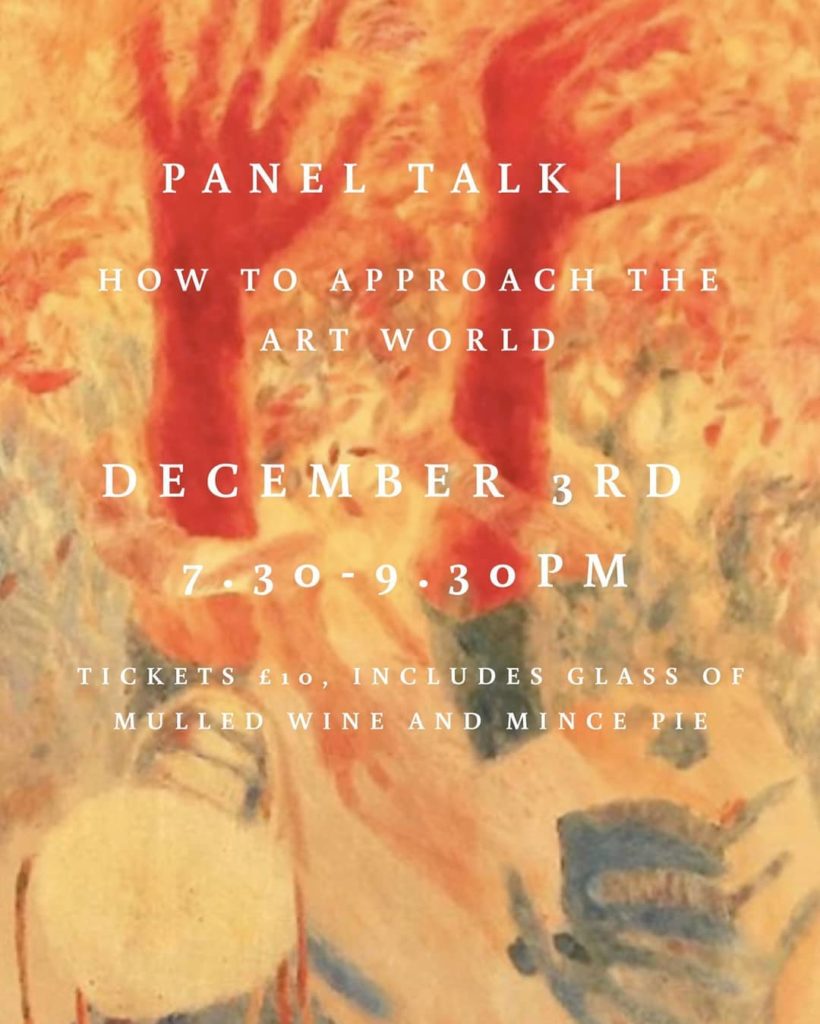 Subject Matter, set up in 2010 is an online art market helping to democratise the art world. Dinshaw remarked on how even within the short life span of Subject Matter, the level of resistance to online-only art platforms has decreased, in line with the rise of apps like Instagram.
Blue Shop Cottage's motto "help artists grow" is the foundation of the enterprise. Magill views the shop space as a commercial gallery in the sense that it helps artists to sell, but the artist-led nature of the space (which Magill previously rented out as a pop-up, but now personally invites artists to exhibit in) sets it apart from the now "out of touch" White Cube gallery.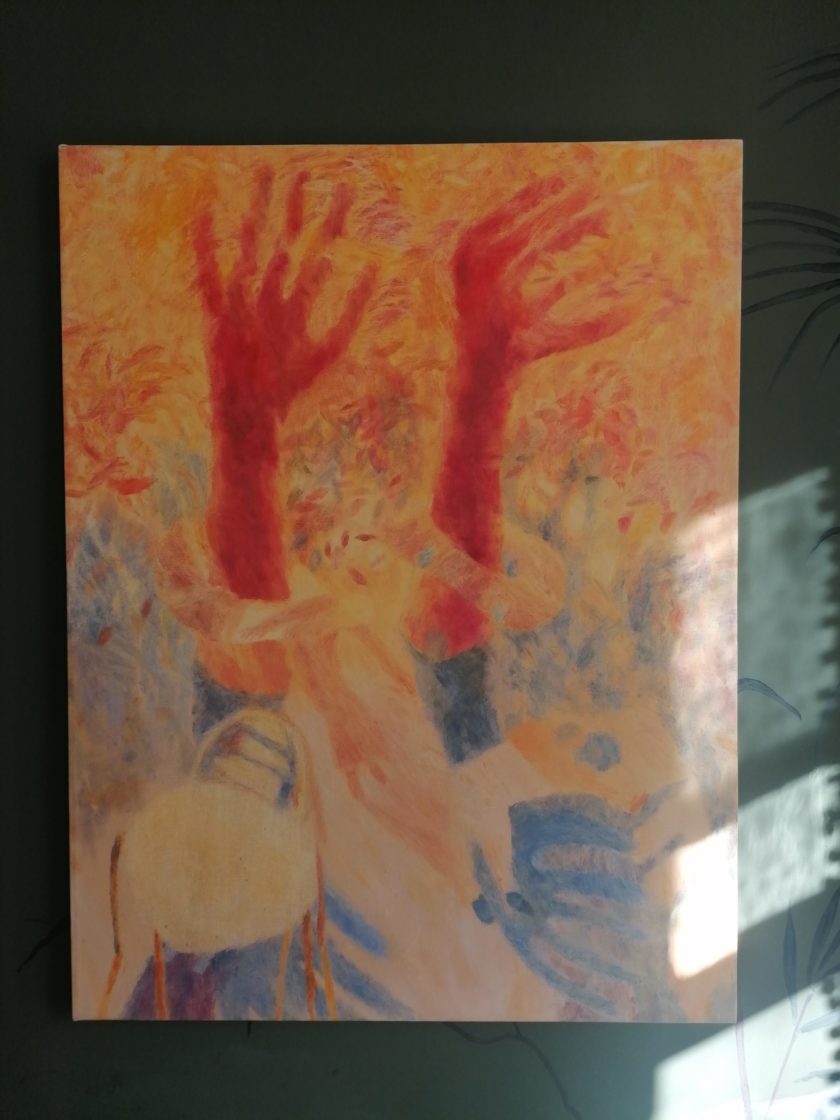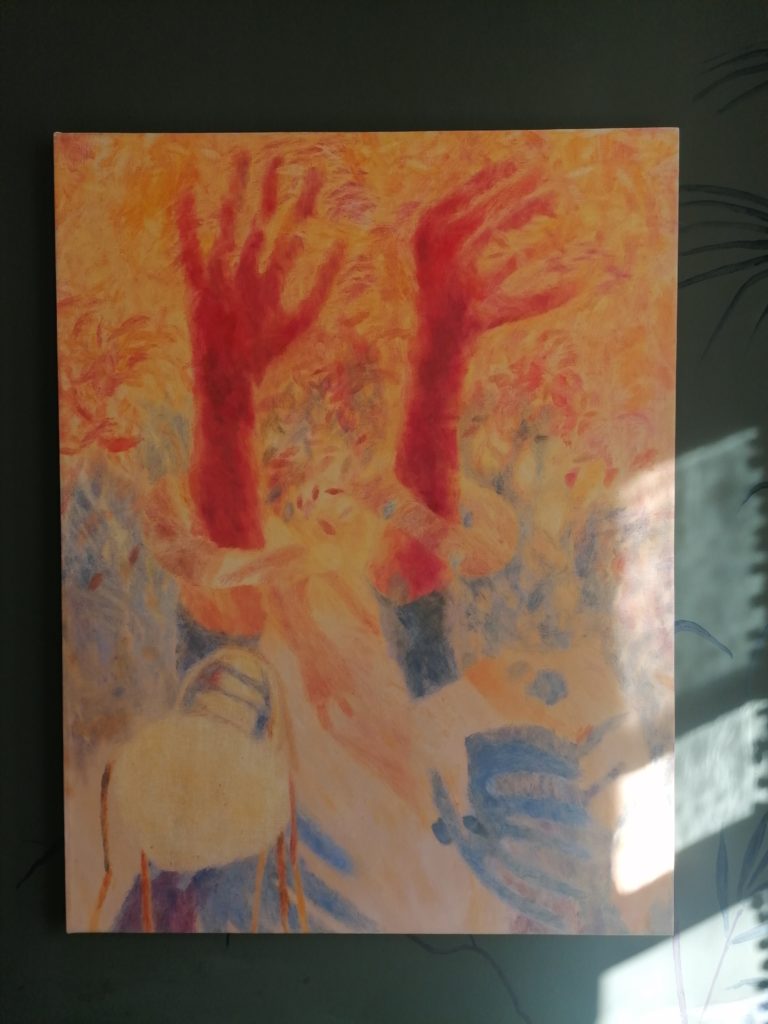 Grinter, fresh from her residency with PARA, creates figurative works in a whirlwind of warm colour. This recent move towards traditional media and the use of colour marks a journey from an original fear that a lack of teaching in traditional method meant she was not qualified to paint, leading to a preference for sketching in biro or monoprint. She pinpointed her new interest in table setting scenes, evidenced in her works included in the show.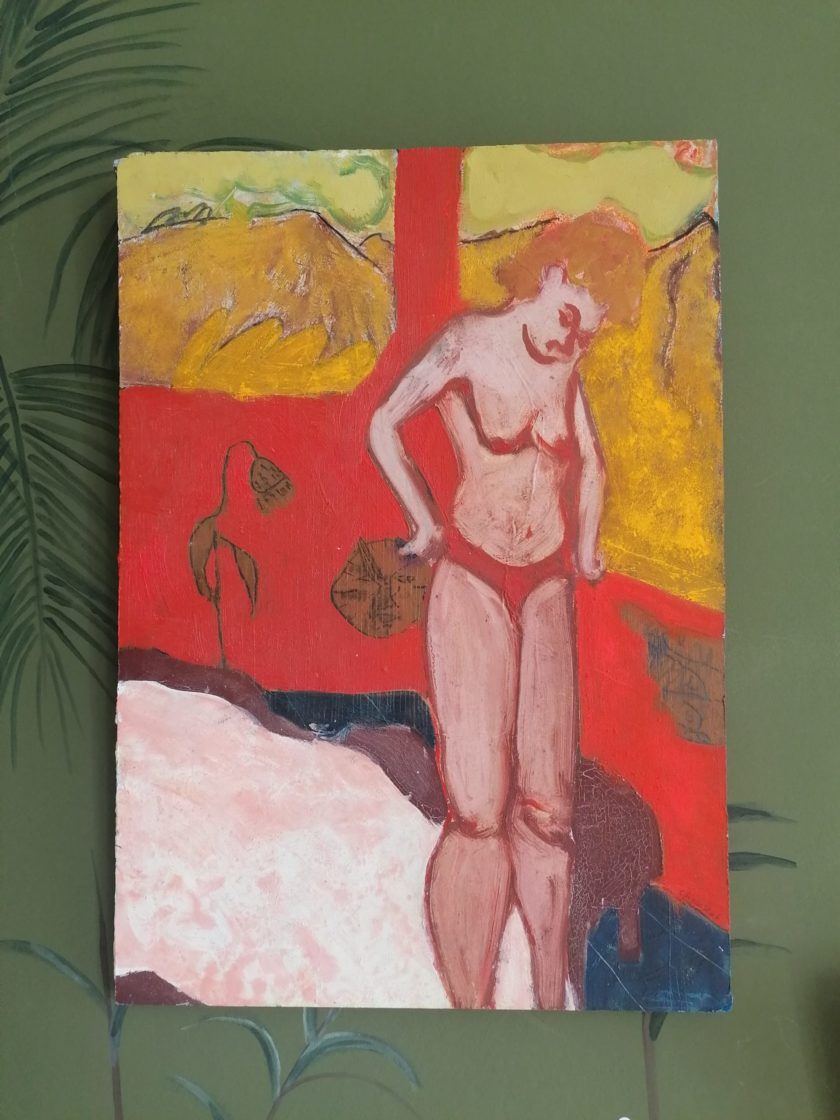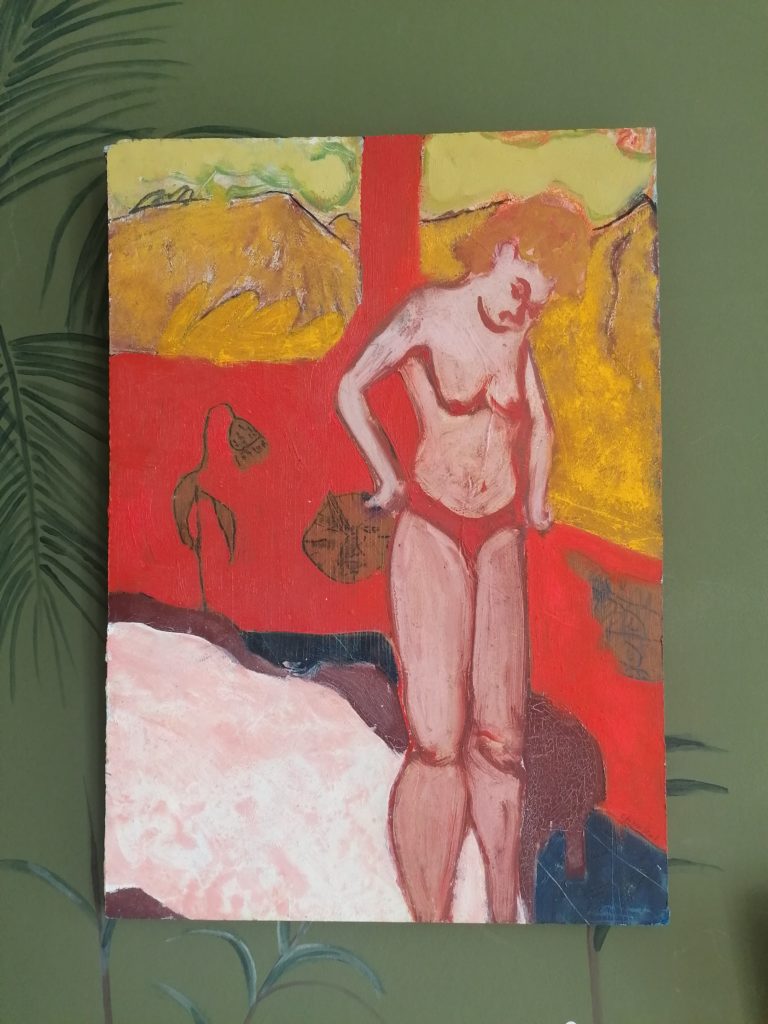 Hills highlighted the aesthetic conversation between the works and their site-specificity when discussing her curatorial decisions during the opening of the artist discussion. What struck me is the joy of reclaiming the domesticity of women's work. Historically (thinking 18th/19th Century) women artists have been largely restricted to the homestead for their subject matter, potentially lucky enough to venture outside on occasion to paint a landscape.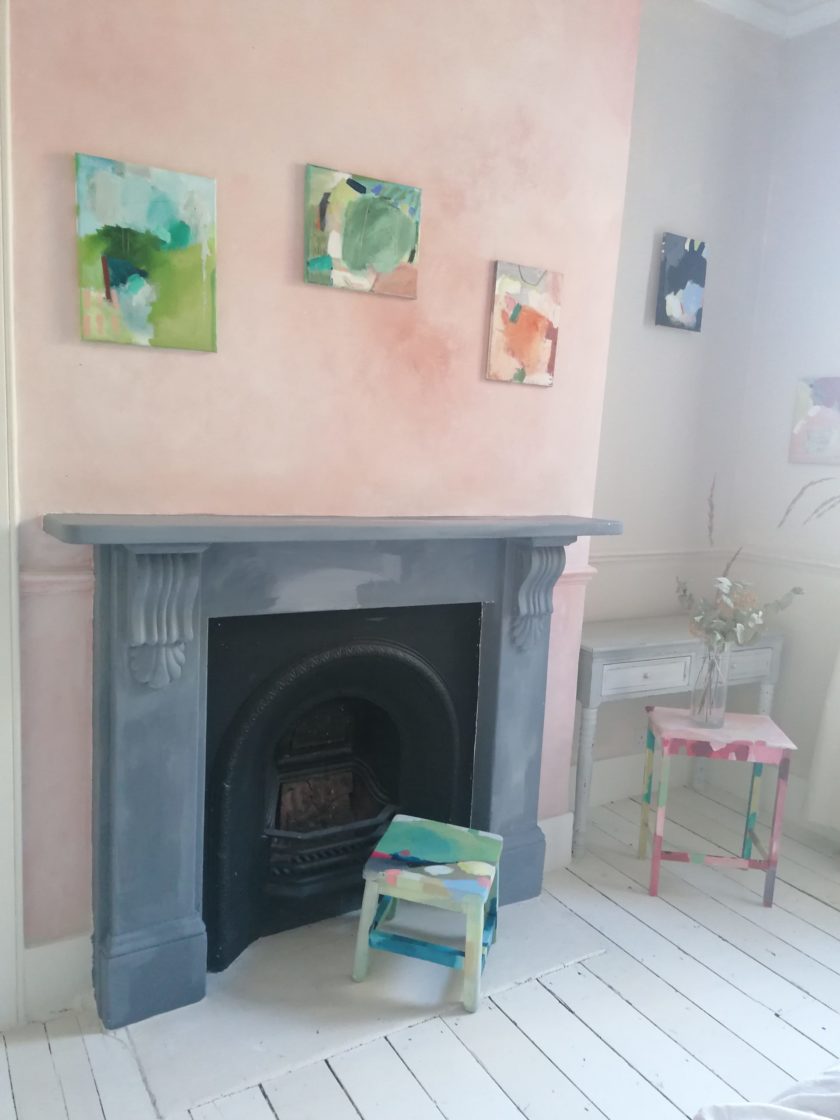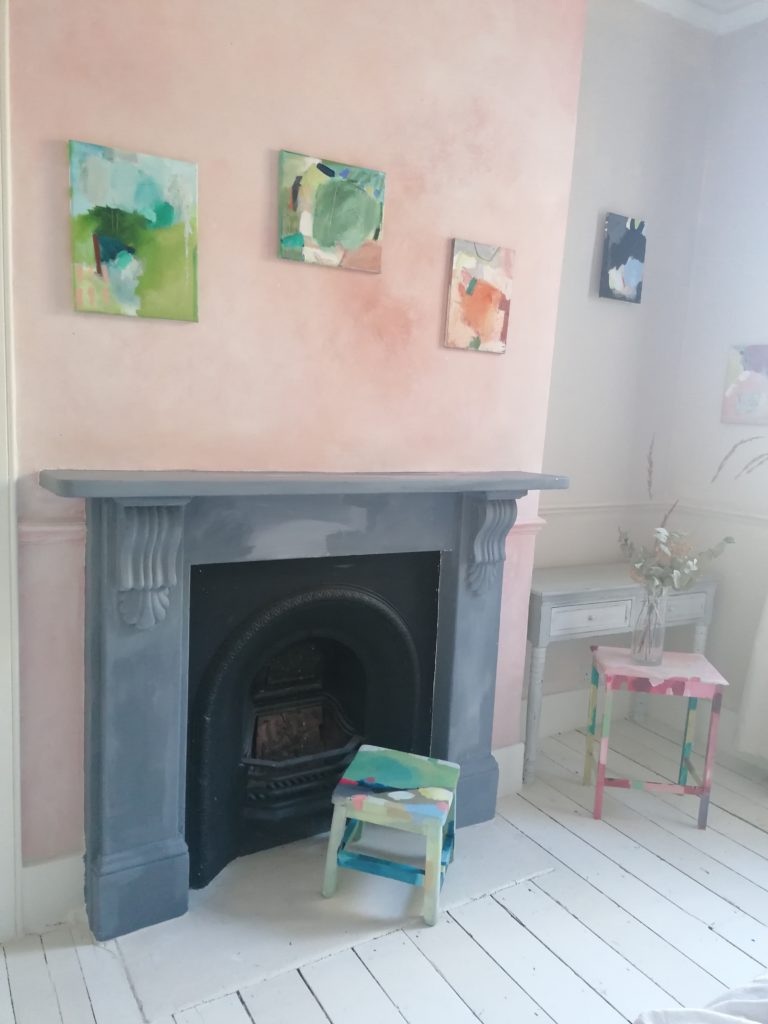 The subsequent works would, too, remain in the home: a trivial hobby for the women of Jane Austen's novels, rather than a professional income source. 'The Christmas Show', through its exhibition space, takes this formerly restrictive domestic zone for female artists and reminds us of its artistic history. The contemporary, often abstract compositions of the works contrasted with the traditional formal furnishings of the Victorian terrace, demonstrating how far women artists have come and from whence they have escaped.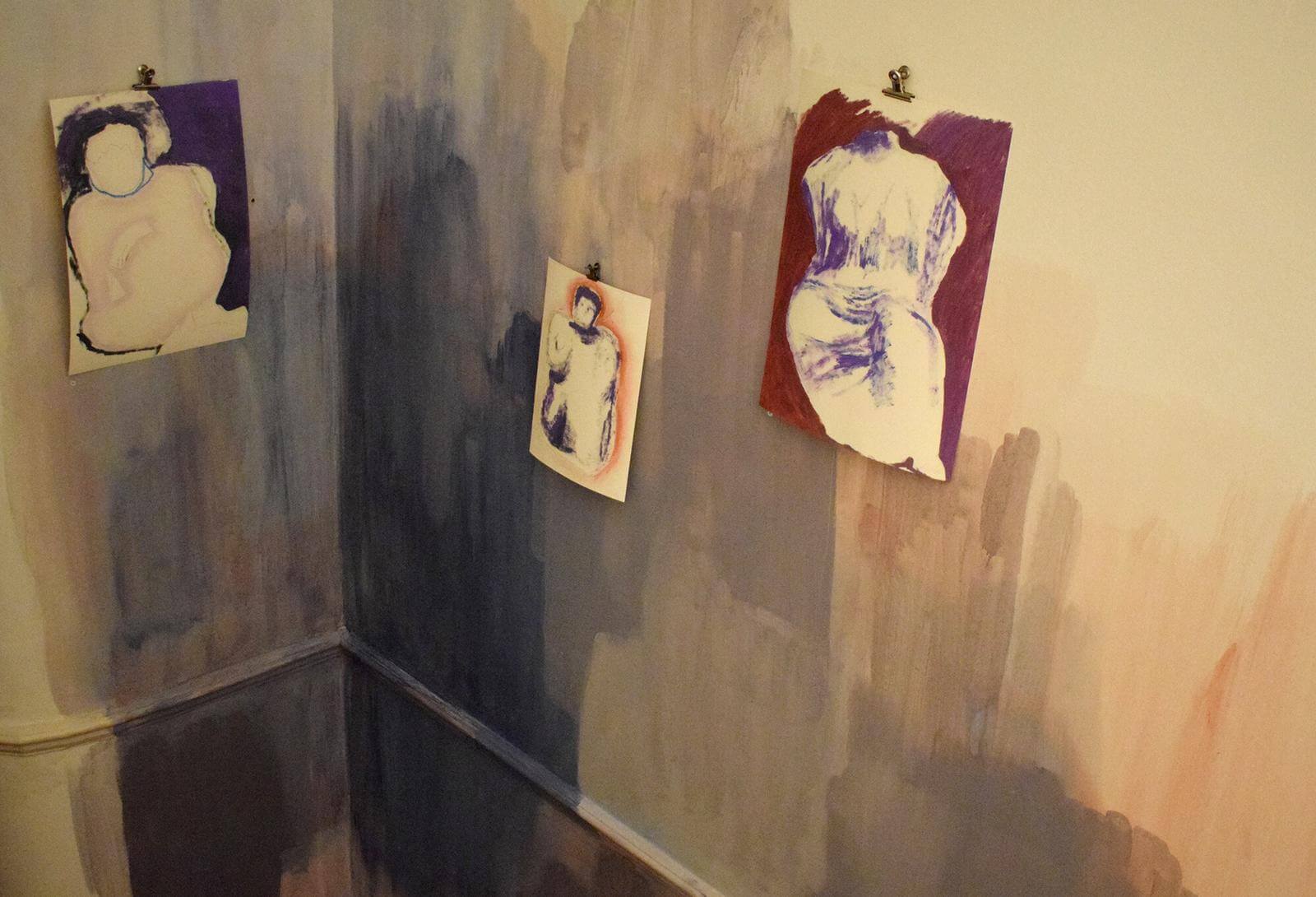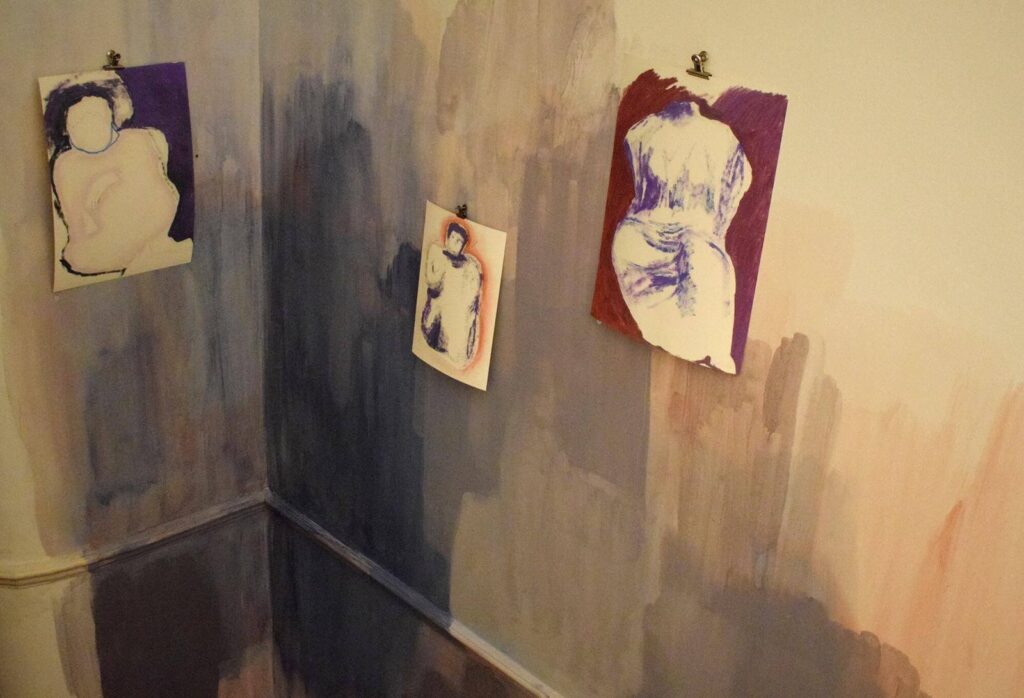 Brought up time and time again is the active decision to move away from the White Cube exhibition space. Dinshaw discussed the coldness of the traditional white-walled gallery, and often of their programmers, recounting being refused a price list by an invigilator while the gallery Director was absent.
This "smoke and mirrors" of pricing, Dinshaw mentioned, is part and parcel of the unwelcoming, and arguably anti-creative, space of the White Cube. Wealthy but cold "blondes with perfect red lipstick" are referred to frequently as a villainous figure. I have never wanted to dye my hair away from its natural blonde more desperately.
We were warned of the assumption that White Cube exhibitions are a validating experience for young artists, which can often lead to the "over-intellectualisation" of art which may well, as said by Dinshaw, just be a "pile of bricks in the middle of the room". Not all art is made with an intellectual background or a need to fit into the art historical canon, both qualities which are glorified by the White Cube exhibition space.
The discussion is lively and welcoming, with the audience of 11 being encouraged to join in, and happily doing so, sharing their stories of their work in the art world (9 of the 11 being fine artists themselves, some on show in the exhibition). A central theme is the generosity of the artistic community with their time and advice.
Here are the top words of wisdom for emerging artists, that I collected from the evening:
1) Residencies
Residencies are an incredible opportunity for any artist. Whether they are paid for by an awarded grant, or whether they cost the artist board and travel, they are a chance for intense creativity, scene- and inspiration change. Most residencies give the artist studio space and a platform for exhibiting their work.
A few of the residencies and residency-sites given a name-drop on the night were:
2) Getting Out there: IRL
Navigating the art world IRL can be just as complicated as it can be online. What was praised as contributing to the "softness and the richness" of a career in the fine arts was the opportunity for personal meetings, studio visits, and collaborations.
> Go to Private Views alone (or with a friend who is happy for you to network the night away) and make these valuable connections
> Invite collectors, gallerists, and other artists to your studio – strike up a conversation about your work (and have a price list ready)
> Don't limit yourself to London or even the UK when networking and getting your art "out there"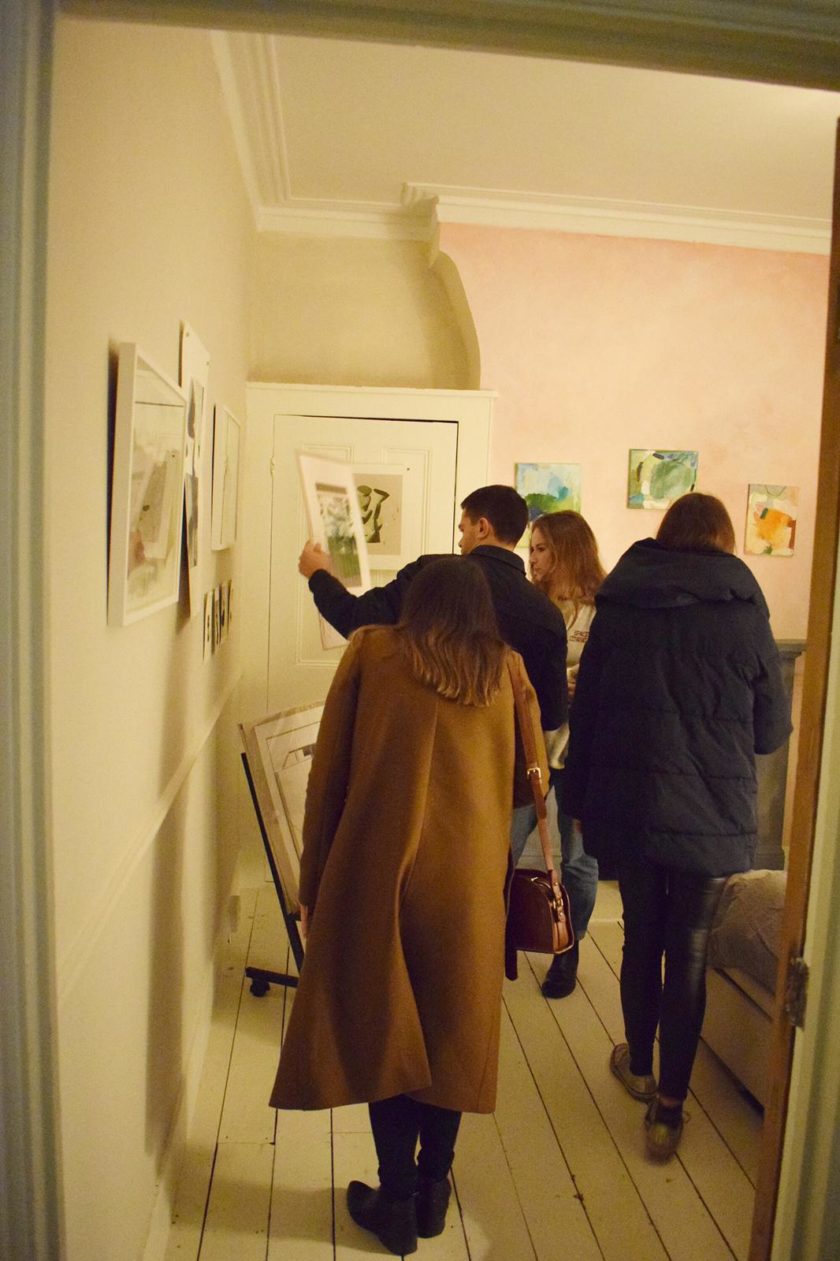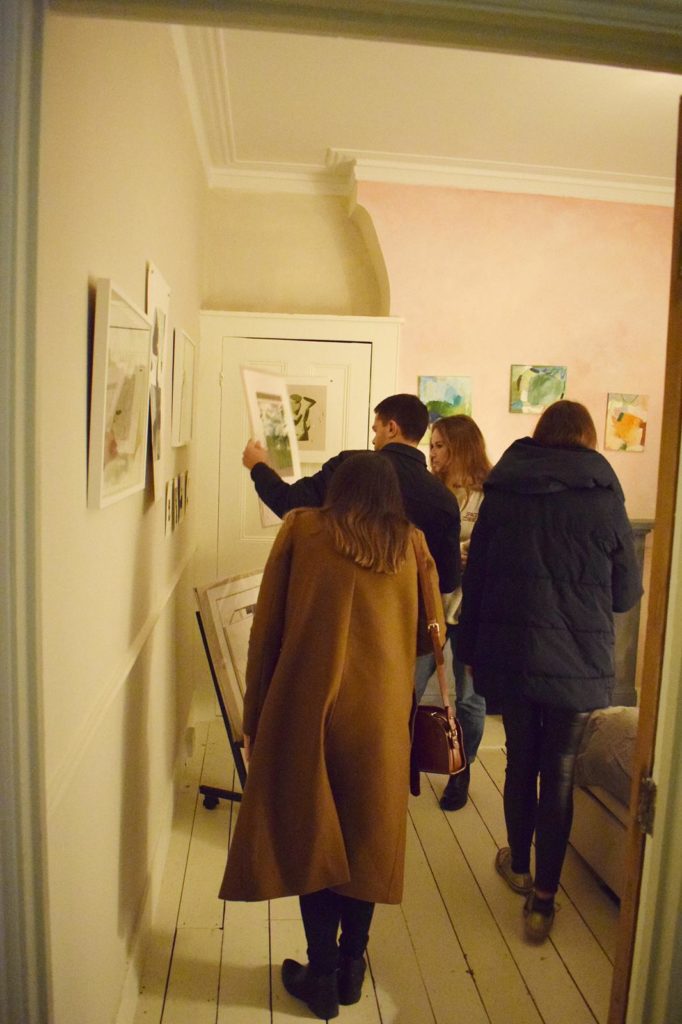 3) Getting Out there: Online
While there may be a long-held belief that exhibiting in a White Cube is a validating experience, you can get a huge amount of publicity and viewing away from these traditional "old channels".
The hero of the artist panel was undoubtedly Instagram. Championed by most in the art world, it's THE platform for getting your work out quickly and accessibly, to a wide audience. It was agreed by the panel that the idea that network connections made on Instagram aren't "genuine" or "authentic" is a big lie. Our Instagram-specific tips are:
> Make sure you are using High-Res photographs or scans of your work
> Make your bio concise
> If your Instagram feed doesn't seem to represent you as an artist, think why. Potential collectors and collaborators may only spend a split second on your feed to get a feel for your work. If you don't think your feed does that, change it.
> If you hit a content-drought and find yourself without any new images of your work to post, perhaps follow in Hills' footsteps and post the work of others which you find inspiring. This will keep your page active, and perhaps even put you in contact with your current art favs.
> Keep your Instagram feed professional (even if you get wild in your story). Think of it as your online portfolio: we don't need to see your cat.
> Don't put your prices on your Instagram, or even your website, you'll either have already over- or under-sold yourself by the time you find gallery/agent representation and this will be hard to un-do without creating some unhappy customers.
> React to those who like and comment on your work. People (including people with money and a space for some lovely art) love to feel that they have a personal connection with you.
Other Tips for harnessing the digital world were:
> Make sure your website is both simple and mobile friendly (chances are most people will be looking at it on-the-move)
> Make sure attachments you send on email are PDF format and titled professionally
> Learn basic spreadsheet skills for your own financial and managerial benefit
4) Professional Relationships
If you're looking for representation, or looking to maintain a healthy relationship with your current representatives, here are some tips:
> It is okay to question your gallery on your contract, prices, or anything – this relationship needs to work for you.
> Be clear on profit share. Know how much you need to get back from a sale for your labour to have been worth it!
> Get consignment paperwork for your works going out – this could help avoid real nightmares like missing work.
> Remember: "It's better no gallery than a bad gallery"
Here at Art Plugged we'd be interested to hear your advice for new artists – how do you navigate the commercial art world? Email hello@artplugged.co.uk and keep your eyes peeled for our definitive tips list in the New Year. 
https://www.instagram.com/maddie.rose.hills/
©2019 Maddie Rose Hills