Lorena Levi: MAXXED
14 April – 16 April 2023
MAMA
10 Greatorex Street
London
E1 5NF
MAMA is pleased to present MAXXED, a solo exhibition that brings together Lorena Levi's newest body of work exploring the internal psychology of vulnerable masculinities seen in contemporary online subcultures.
Lorena Levi combines narrative painting and portraiture to create snapshots of personal histories. Drawing on the narrative symbolism of Frida Kahlo and Paulo Rego, Levi creates psychological portraits that with an impressive degree of integrity convey the depth and complexity of her subjects' internal worlds. Inspired by Alice Neel's and Chantal Joffe's psychological approach to portraiture, Levi's painterly style thus offers emotionally charged depictions of human dramas and narratives, alerting us to how appearances can be carefully constructed and codified.
Unique to Levi's practice is her use of hardwood rather than canvas as a foundation for paint. The organic surface of wood gives the works a naturally grainy background adding another layer of depth to both the visual and narrative compositions, one that highlights the disquieting tensions that exist below the surface. With a research-based practice, Levi relies heavily on her own ethnographic observation of social dynamics within chat rooms and internet forums. The body of work presented in MAXXED was informed by the artist's in-situ study of online incel communities.
The Anti-Defamation League, which works to address hate and extremism, defines incels as 'heterosexual men who blame women and society for their lack of romantic success.'1 A portmanteau of 'involuntary celibate', the term has also been broadly culturally appropriated to address individuals frustrated by their lack of sexual experience with women. The exhibition title alludes to the notion of maxxing, which in incel jargon functions as a suffix to refer to activities aimed at improving some aspect of one's sexual market value (for instance, looksmaxxing: any attempt at improving one's general appearance).
In preparation for the show, Levi carried out multiple chat-based interviews with members of the subreddit group 'lncelE xit'. 'Everyone I interviewed knew that I am an artist working on this project, but what they didn't know is that I am a woman – no one ever asked! Their approach to telling me these stories would definitely have changed had they known I was a woman.'
With over 14 thousand current subscribers, the forum provides a space 'for people who got drawn into the lncel community but want support and help with a way out'2 of the manosphere. Joshua Thorburn, researcher at Australia's Monash Gender and Family Violence Prevention Centre and author of recent report on he (de-)radical(-ising) potential of such forms writes:
'The 'manosphere' refers to a collection of diverse but interconnected Internet communities that are united by their staunchly antifeminist and misogynistic beliefs, with the nomenclature of both 'pill' ideologies taking inspiration from a scene in The Matrix (Ging, 2019) According to this analogy, 'taking the pill' – usually the 'red pill' – means that one has been enlightened to women's allegedly devious biological nature. The 'black pill' – associated with incels – advocates more nihilistic responses and has been linked to more extreme violence.
While these movements have attracted overwhelmingly negative attention within academia and mass-media, the forums discussed here complicate most existing accounts of the manosphere, in that they offer perspectives from individuals who previously supported 'red pill' or 'black pill' communities, but are now critical of them, or are in the process of questioning their former beliefs. [ ] In essence, these forums sit parallel to the manosphere, offering antidotes to the black and red pills' (Thorburn, 2023) [3]
Levi highlights that the body of work in the show is neither an attack nor an expose, but rather an attempt to show a different side of the phenomenon. In choosing to focus on a group that is inherently less violent and more introspective, the artist investigates its potential as a support group, one that can emphasise the importance of consensual and respectful relationships as well as offer methods to overcome feelings of insecurity and vulnerability. 'These are lonely guys who before the boom of the internet, had no place to go and speak to each other,' the artist explains, 'What I have focused on in my research is uncovering key elements of their personal histories and tracking how their thinking has evolved throughout their participation in the group. Are they trying to rehabilitate? How successful can a forum with a purpose like this one be?'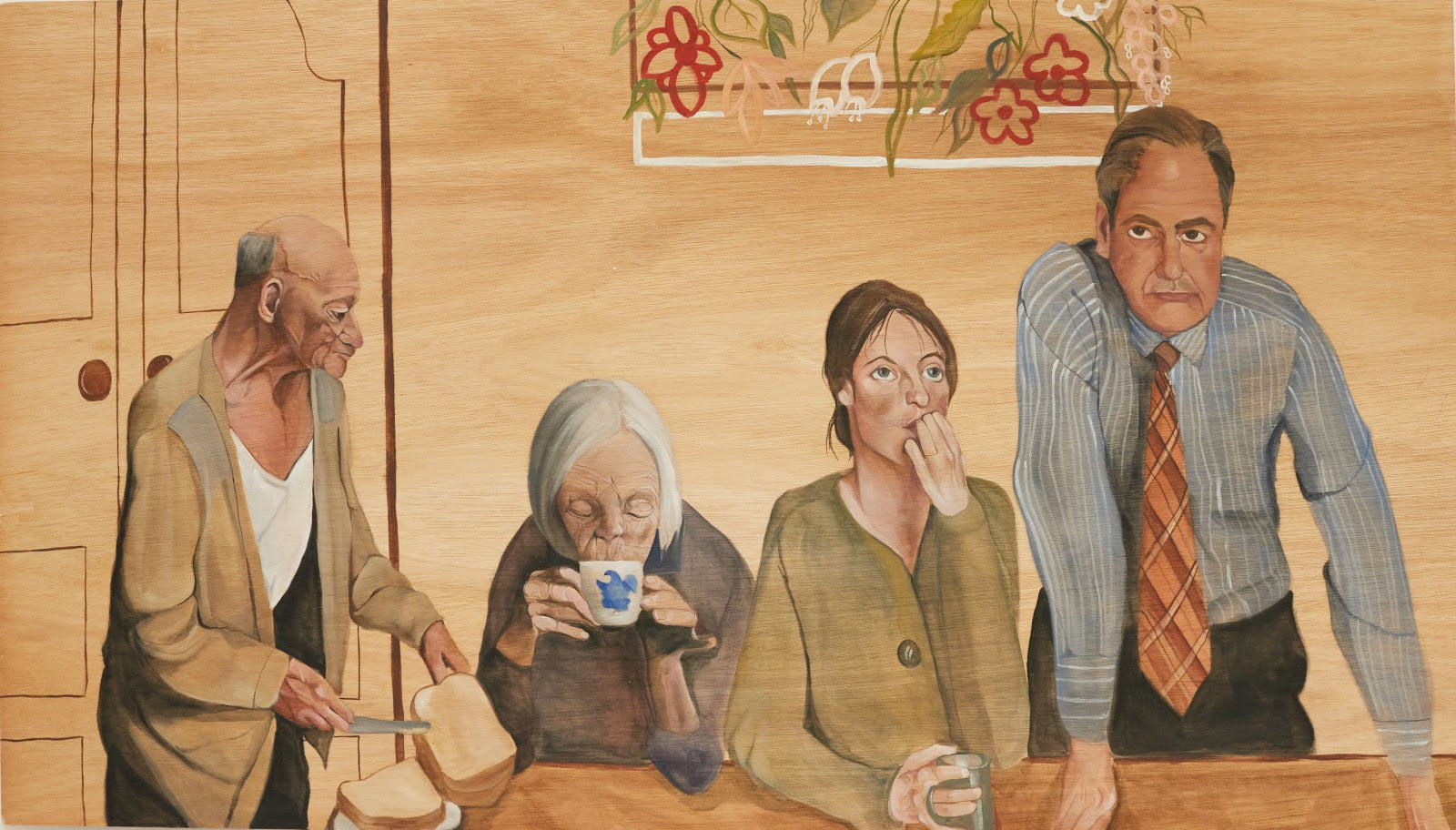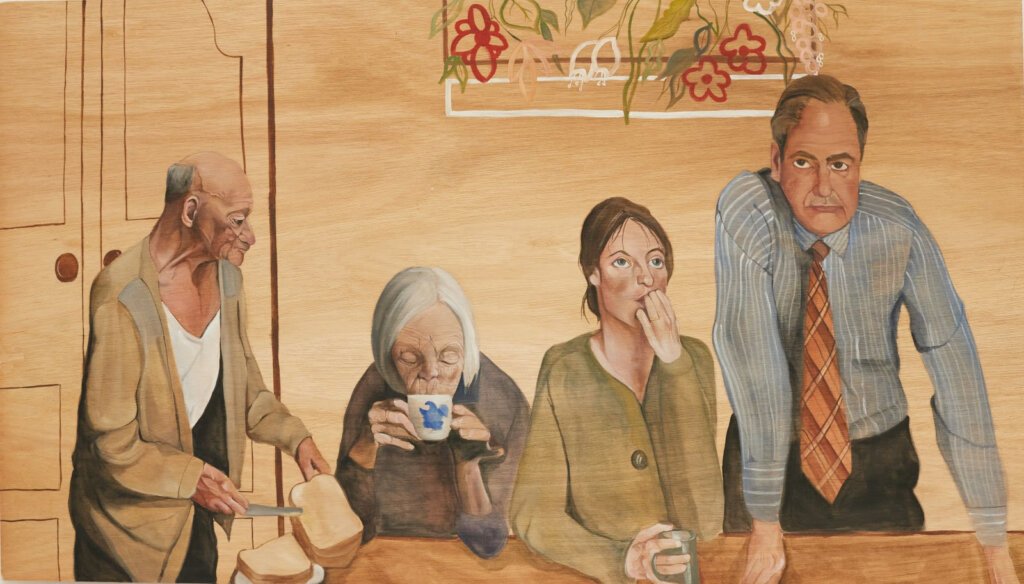 Fundamental to the project was Levi's determination to remain an unbiased third-party observer, focusing on the subjects' emotional experiences and childhood memories rather than socio-political views or personal ideologies. The complexity of the subjects' internal states is conveyed in the depth of their gaze and the emotional charge of their expressions, their essence further visualised through details of settings and interpersonal dynamics.
The works presented in the show are thus imagined portraits of conversations that have been visually contextualised through various symbolic and sensory elements. Using the conversations as a springboard, Levi seeks to paint temporally contingent snapshots of a larger narrative that remains in progress. 'I want my portraits to have a cinematic feeling – like a film still with a very clearly tangible before and after to the scene being depicted. That's what makes a painting feel more like a story'.
In 'A Second Doll' and 'The Matriarch', the artist explores the influence that early childhood relationships can have on one's future self-perception. In depicting an absent mother, her back characteristically turned towards the audience, or a war-hero grandfather whose portrait is proudly displayed on the living room wall, Levi observes the ways in which parental figures can become the foundations of one's gender ideals. Works like 'Close enough to touch' or 'Tea', evoke a tangible sense of alienation, suggesting that often the harshest moments of loneliness occur when one is surrounded by others.
Lorena Levi is a Turkish artist based in London. She holds an MA in Fine Art from Edinburgh College of Art (2021). In 2021, Levi was awarded the Astair Prize, followed by the Jackson's Painting Prize in 2022 and the NHS Lothian Tonic Arts Purchase Award in 2023. Most recently, Levi has been featured in Bloomberg New Contemporaries at the South London Gallery as well as the Royal Scottish Academy New Contemporaries in Edinburgh. Levi has exhibited widely in London and was included in 'The Wisdom Man' group show at Paul Stolper Gallery earlier this year. Her work has been acquired by the UK Government Art Collection.
©2023 Lorena Levi, MAMA