Viktor's large works on paper and canvas draw on a variety of artistic traditions and visual influences, from European portraiture, classical mythology and astronomy, to ancient Egyptian and African symbolism. The works in the first gallery are exclusively black and gold.

Viktor's Dark Continent series dominates the space: its solitary female figure in a monochromatic landscape is illuminated by gilded solar and lunar symbols. The figure is the artist's own form, her body shrouded in deep, matt black paint, her hair golden; at times contemplative and elusive, at other times provocative and alluring. These works represent an imaginary riposte to imperial narratives of empire and expansion, and the nineteenth-century myth of Africa as the 'dark continent'.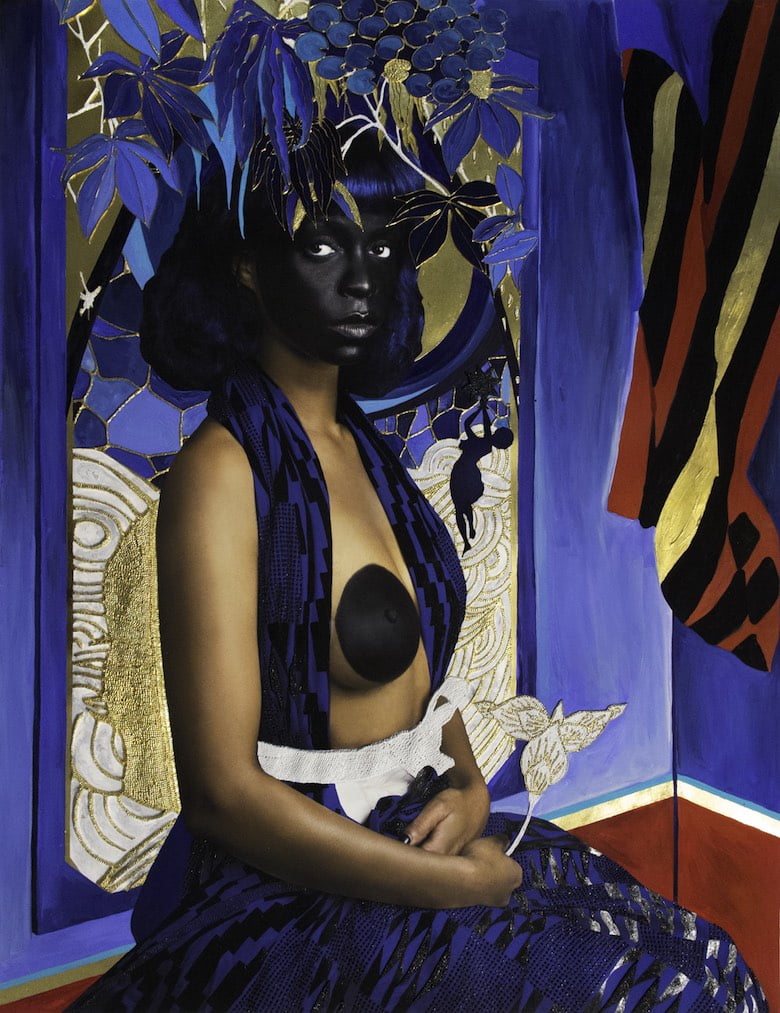 Viktor often deploys her body in her conceptual art practice, the sole performer in a meticulously crafted cosmology. Combining photography, performance, painting and sculpture with ancient gilding techniques, she creates intricate, densely layered surfaces characterised by her ritualistic use of 24-karat gold leaf. For Viktor, gold is both substance and symbol, a conduit to spiritual transcendence.
"Lina Iris Viktor's magnificent work centres the black figure as the universal human form through which narratives are weaved, histories entwined and possible futures imagined"

Renée Mussai, Curator
The second gallery is painted in deep ultramarine blue, emulating the 'Blue Room' in the artist's studio. A meditative space is built within the gallery featuring Syzygy, Viktor's first figurative canvas reflecting the aesthetic vernacular the artist has developed over the past four years. Also on view are three works from A Haven. A Hell. A Dream Deferred. These works reinterpret the Libyan Sybil, a prophetess from antiquity invoked by eighteenth-century abolitionists as a mythical oracle who foresaw the trans-Atlantic slave trade.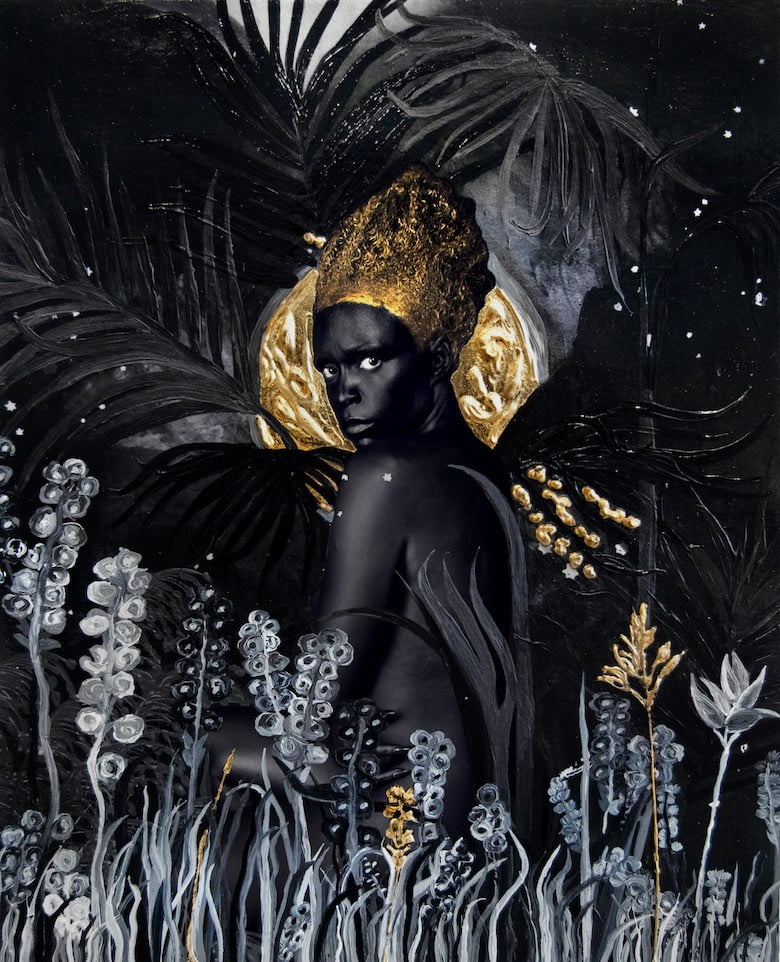 The series explores the extraordinary story of the founding of Liberia to examine fraught narratives of migration, colonialism and oppression. The works brought together in Some Are Born To Endless Night —Dark Matter constitute a bold reclamation of creative agency, and historical and transcultural reimagining.
The exhibition reflects the artist and curator' shared desire to create an all-immersive, symbiotic environment, in which to engage viewers and provide a transformative experience. "At the core of Lina Iris Viktor's distinctive practice are complex, cultural narratives and potent mediations on blackness and being: every single one of Viktor's sumptuous works is layered with profound provocations on history and culture, fuelled by her astute interest in etymology, astrophysics and remedial recovery. In a productive tension between aesthetics and politics, history is creatively reimagined through an emphasis on the circularity of time, and an affirmative excavation of our collective pasts." – Renée Mussai, Curator
Exhibition Detials
13 SEPT – 25 JAN 2020
LONDON: AUTOGRAPH
Rivington Place
EC2A 3BA
About Artist
Lina Iris Viktor lives and works itinerantly between New York and London. Raised in London to Liberian parents, she travelled extensively in her youth, and also lived in Johannesburg, South Africa, for several years. Viktor's multifaceted practice is informed by a background in theatre and film at Sarah Lawrence College, New York, and her continued studies in photography and design at The School of Visual Arts, along with an education in performance arts during high school. Working with a restricted colour palette, her artworks are a blend of photography, performance and abstract painting, along with the ancient practice of gilding with 24-karat gold to create increasingly dark canvases embedded with 'layers of light'.

Selected solo exhibitions include A Heaven. A Hell. A Dream Deferred, NOMA, New Orleans (2018); The Black Ark, The Armory Show, Mariane Ibrahim Gallery, New York (2018); Black Exodus: Act 1 – Materia Prima, Amar Gallery, London (2017); Arcadia, Gallery 151, New York (2014).
©2019 Lina Iris Viktor, Autograph