Visionary artist Lauren Baker celebrated for her thought-provoking creations, is poised to inspire audiences with her latest magnum opus—the spiritually significant Wisdom Totem installations, each standing ten metres tall at this year's Burning Man. 
The three monumental installations are destined to become the highlight of Burning Man in the Black Rock Desert in Nevada, USA. Comprising Unity, Lunar, and Solar Totems, the installation shares the ethos of Stonehenge, providing a space for sacred ceremonies around the potent symbols.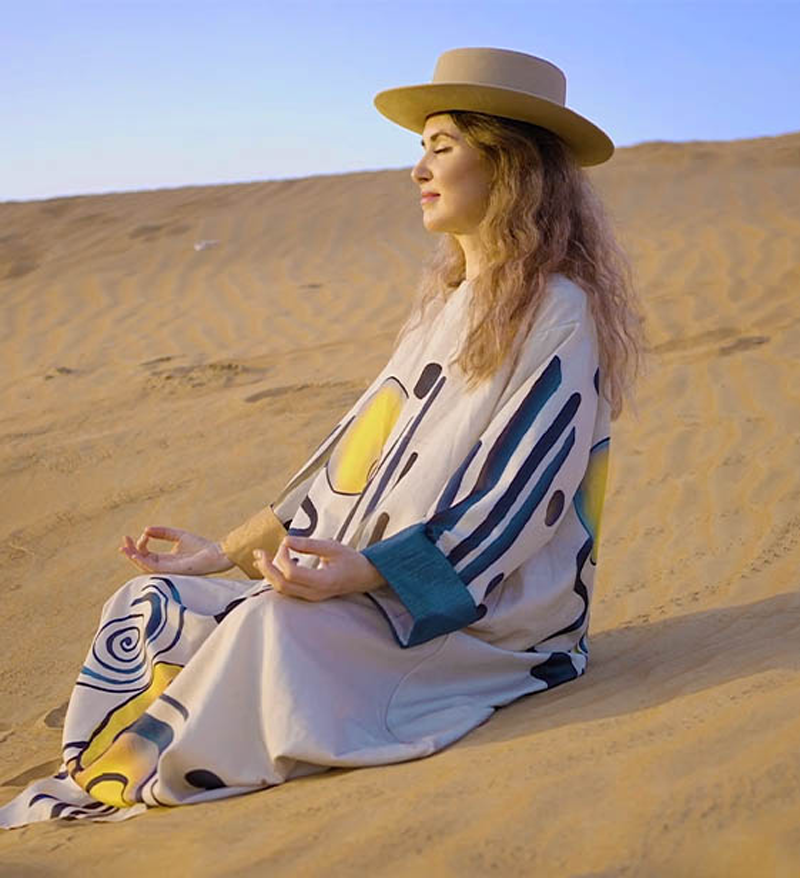 The artist's vision is to create an immersive and empowering environment that encourages individuals to recognize their potential as agents of positive change. The installation provides a platform for creative expression, collaboration, and collective action, inspiring a tribe of changemakers to tackle the world's challenges with innovative and impactful solutions.
The sculptures are a focus for gatherings to spark highly conscious communication, transformation and deepen connection. Baker unveils the Wisdom Totem collection at Burning Man to promote unity on a global scale.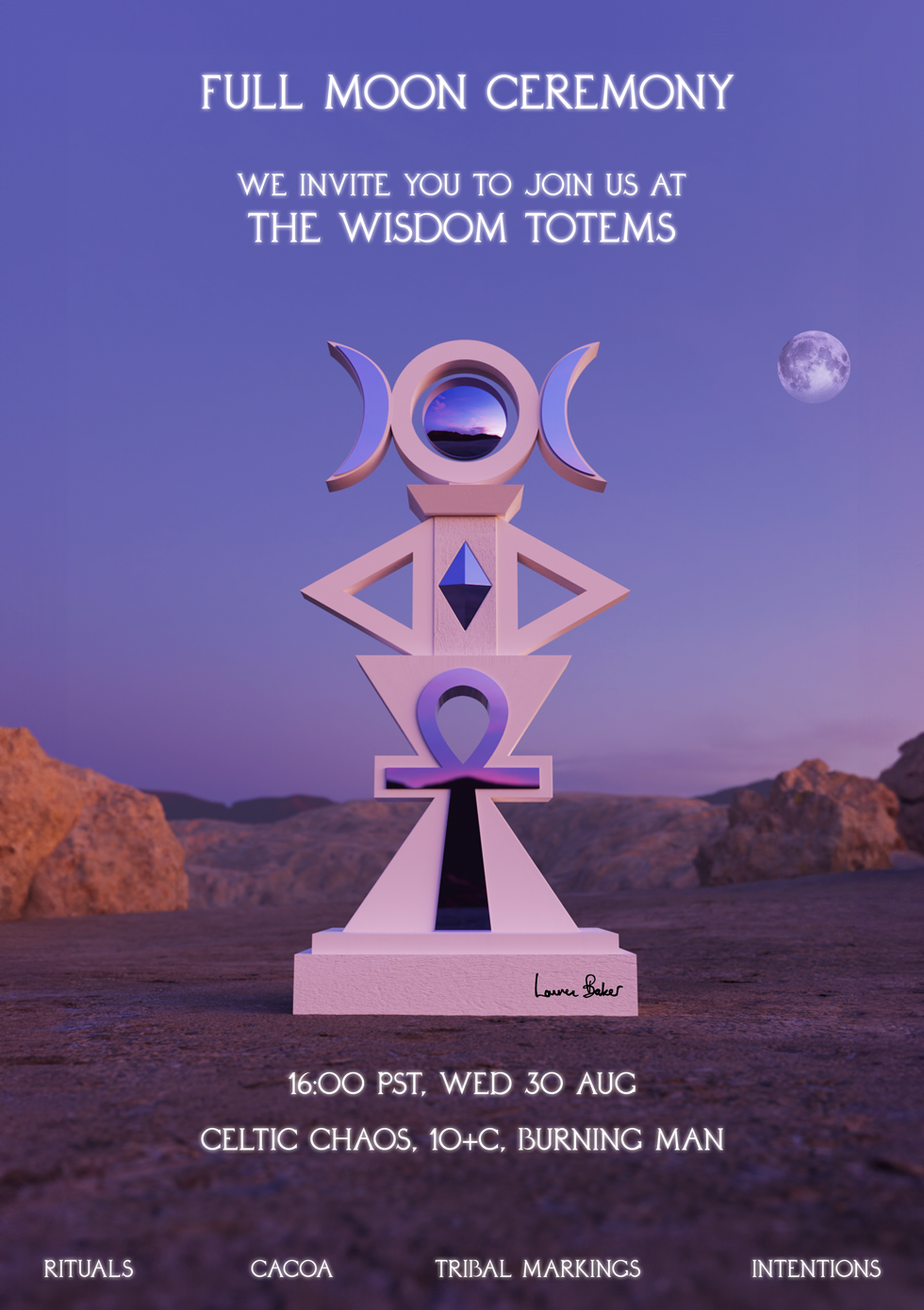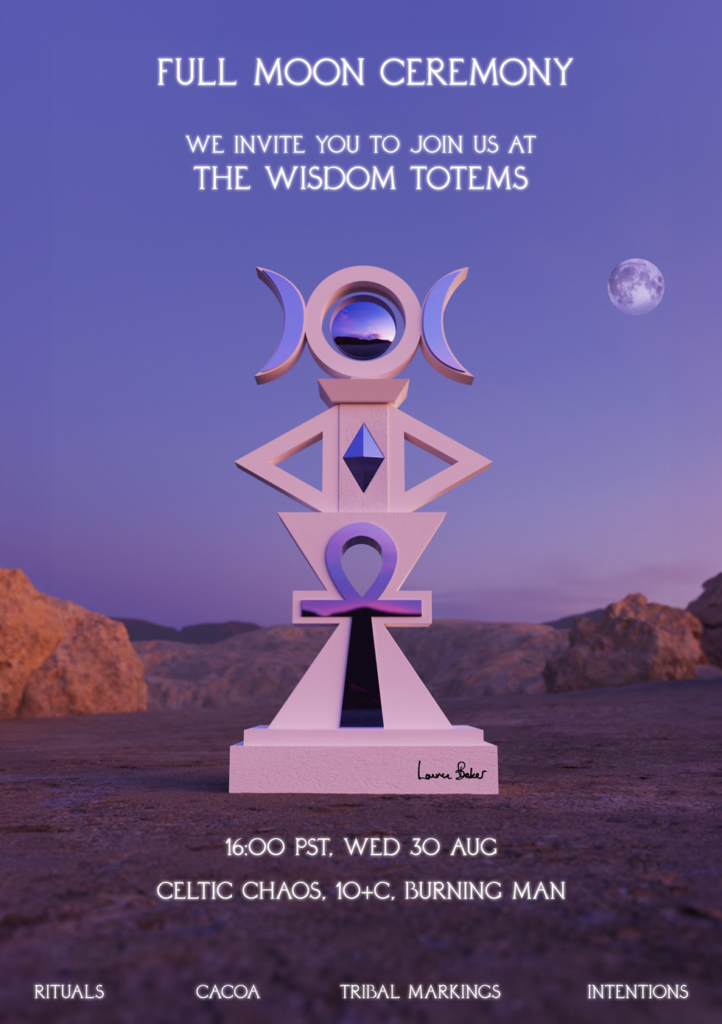 Supported by Celtic Chaos, and with special thanks to Natural Symphony, the Wisdom Totems can be found at 10+C on the playa, Burning Man. The totems are made locally in San Francisco are made from part recycled wood and part local renewable lumber wood from a sustainably sourced farmed forest in America. The wooden totems will evolve and be adapted to be exhibited for future Burning Man seasons and at in the future may be burned as part of the ritual and celebration that Burning Man is known for.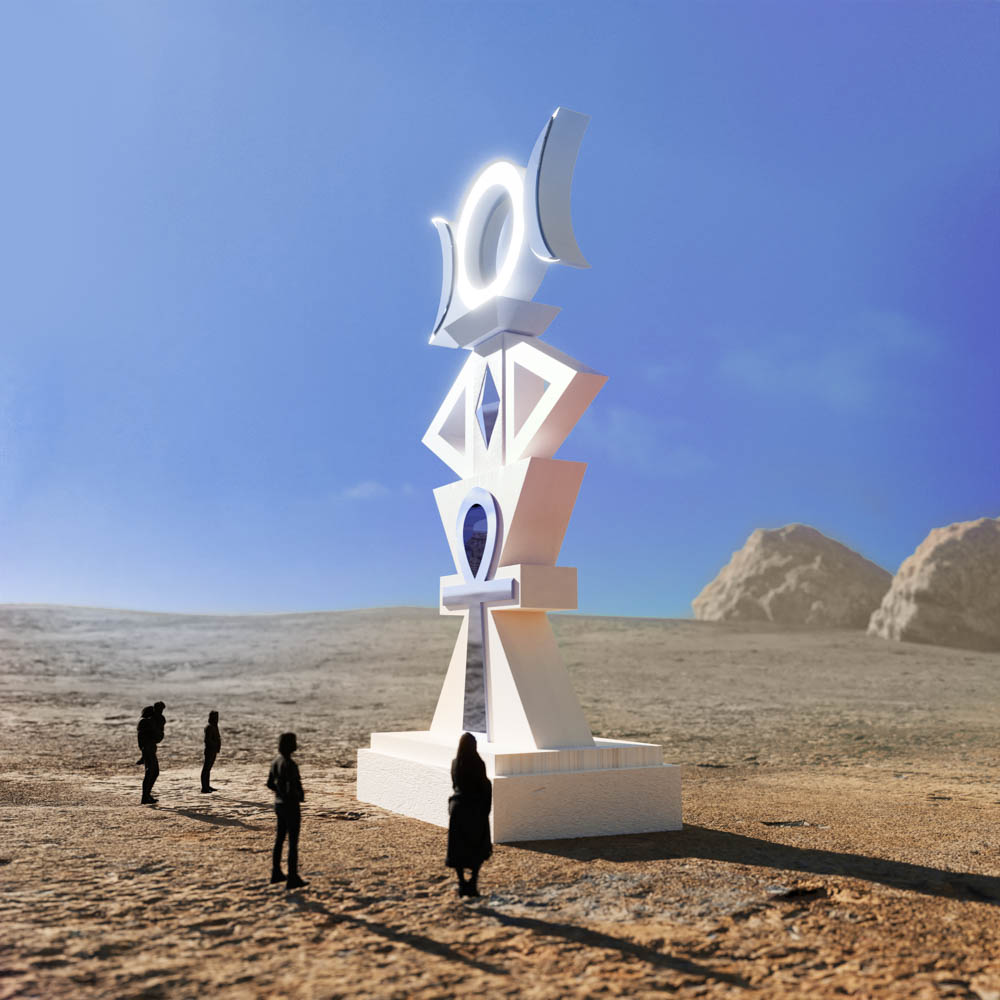 An electric element comes at night as each totems' 350ft LED lights are synced with the music at 'Celtic Chaos' – one of the largest sound stages at Burning Man.
What's next? To commemorate the Burning Man totem collection, a rare digital collectible awaits. An exclusive NFT Totem launch will be held at the prestigious Digital Art Fair in Hong Kong from 19-23 October 2023. This will be Lauren Baker's first NFT and an exciting opportunity to collect digital artwork from the artist. In keeping with the Burning Man community ethos, a 1/1 totem NFT will be gifted in a raffle to the community. Look out for opportunities to get the 'Lauren Baker whitelist art pass'
Burning Man is unique in that it emphasizes a temporary and participatory community, encouraging attendees to connect, collaborate, and express themselves in ways that often challenge societal norms. The event has inspired countless individuals to push the boundaries of creativity and foster a sense of community that extends far beyond the desert gathering itself.
The culmination of the event is the burning of a large wooden effigy, known as "The Man," and sometimes other structures, followed by a massive bonfire and celebration. This ritualistic burning of the structures serves as a cathartic release and a symbolic representation of transformation and letting go.
©2023 Lauren Baker