Katariina Souri (formerly Kata Kärkkäinen) journey to her own successful artistic practice is non-traditional. Famous for becoming a Playboy Playmate in 1988 which made her a huge star in her home country of Finland, Souri now creates paintings exploring themes of womanhood, solitude, and paganism.
It put me on my own unique path, which has not been an easy one, but interesting for sure. I enjoy being in the marginal, on the outskirts of the art and literary world

Katariina Souri
Souri's work uses frantic brushwork and what I'd call "earthy" tones – not necessarily in the sense that they are muted, but rather that her work harnesses the bright colours found in nature. The artist has been writing and drawing since childhood, when she spent much of her time alone, travelling around Helsinki with her attorney parents. Feelings of isolation continue to inform her practice.
Following 4 marriages (to both men and women) and 2 children, Souri has found solace once again in solitude, creating, and the Finnish landscape. For further coverage on Karariina's life and career, see the June 18th 2020 feature on the Playboy website:
Q: First things first, why do you do what you do?
A: I think the drive behind my creative work is the complexity of my personality and a search to find some sort of relief in an ongoing existential crises. I have a constant need to find purpose and meaning in my life. Being an artist is a spiritual journey, in trying to reach wholeness and harmony.
Q: What is your inspiration?
A: My greatest inspiration is the wild nature, also dreams and spirituality. Almost all my creative ideas come when I do my everyday morning walk with my dog in the forest, around the nearby lake. I live in the countryside about 30 minutes drive from Helsinki, but the most sacred place for me is the arctic nature, and for the past few years my greatest inspiration in my art and writing has been northern mythologies and the dark feminine energy, the healing aspect of it, also Kalevala, a 19th-century work of epic poetry based on Finnish oral folklore. Most of my paintings are symbolic visions reflecting the subconscious, often the shadow side of the human psyche.
Q: What is your creative process when you're creating?
A: Usually I start a painting by placing the canvas on the floor. This allows me to pour and drip the paint on the surface and create a texture by smearing and spreading the acrylic colours with a brush or spatula. I want to leave room for chance, before I nail the canvas on the wall and start working on the actual image.
I do the sketching with charcoal and continue with acrylics until I have the basics of my subject in place. Then I switch to oil colours. I love to paint on a big canvas, so that the process is also physical. Some paintings only take two or three days to find their final form, but sometimes it takes years before a painting is ready.
Q: Which is your preferred surface for working on?
A: I usually work on ready-prepared linen canvas and also MDF board, when I do mosaic work. I have taken courses in mosaic art school in Ravenna Italy, shere they teach the ancient methods in how to work with marble, smalti glass and stone, with the classic tools. Making mosaics is almost like meditating.
Q:What was your greatest take away from being a Playboy Playmate? How was it seeing your recent feature on Playboy.com?
A: Posing for Playboy and the fame that it brought me opened up a lot of possibilities for me here in Finland, but it also made it really hard to reach credibility as an author and artist. People still remember that I was a Playmate even though that was over 30 years ago. I am proud of what I've done and what I am, but it is sometimes frustrating that you need to prove yourself over and over again. I love the recent feature they made of me for Playboy.com. and it was very well received here in Finland.
Q: Did your time with Playboy inform your practice? 
A: I learned a lot from doing the shooting for Playboy in 1988 and also from what resulted from it, all the good and the bad. It put me on my own unique path, which has not been an easy one, but interesting for sure. I enjoy being in the marginal, on the outskirts of the art and literary world. It is an inspiring place to be, goes well with my rebellious nature.
Q: Is the artist's past inseparably related to their work?
A: I have a traumatic childhood and for sure it shows in my work and is the basic creative force, the primus motor behind everything I do. Just recently I realized that almost all my female figures are in solitude. They stand alone, or actually in connection with the nature and it's wild animals. So in that way they are self-portraits for sure.
Q: What is the reason behind your use of the female psyche and empowerment in your work?
A: The sacred feminine has been widely demonized and the indigenous pagan tribes have been violently forced to give up their traditions under patriarchal concepts of religion. I think that we desperately need to start seeing women and also the feminine side and energy in men as means to find a way back to our original roots to understand the true meaning of the healing powers of the nature.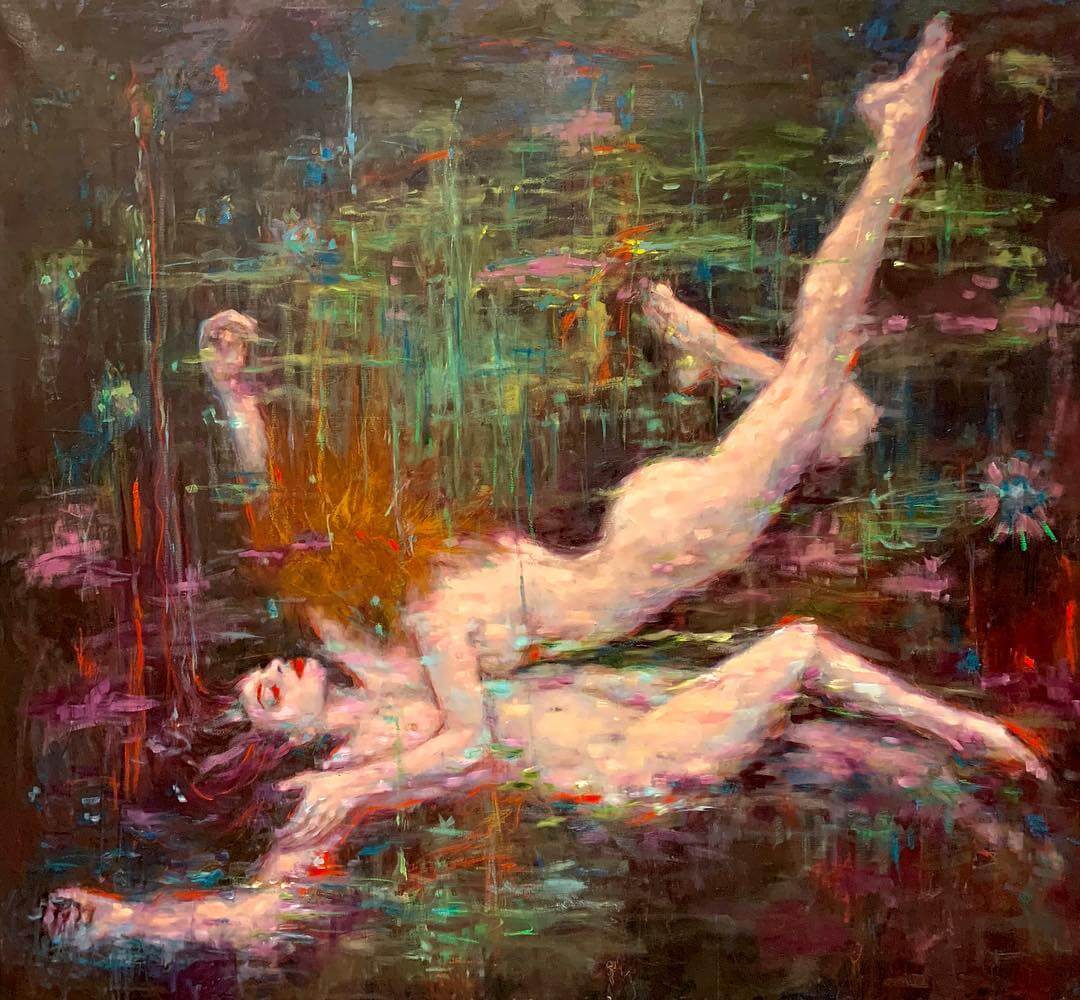 Q: Does the "male gaze" play into your work?
A: What is the "male gaze"? I guess it does not really play into my work because the whole concept is alien to me 🙂
Q: How do you know when a piece is finished?
A: It is really difficult to know when a piece is finished. I used to have a habit of ruining a lot of paintings by overdoing them, but sometimes I go back to an old piece and re-do them with great results. Oil-sticks are perfect in fixing old paintings.
Q: What is your favourite piece from your collection?
A: "Sami Woman" is most dear to me. It is in my bedroom, above my bed, and probably the only painting I'm not willing to sell. There is something very deep and mystical in her look, how she stares at me. I see a reflection of something sacred and ancient in her eyes, and also a reflection of myself, something that is in me but not always conscious or visible.
Q: What does Art mean to you?
A: To me Art is a way of creating new worlds, ancient and future. When I look at art I see worlds that are somehow lost but brought back to life again.
https://www.instagram.com/katariina.souri/
©2020 Katariina Souri, The Playboy archives