Interflow
4 August–16 September 2023
Pilar Corrias
2 Savile Row
London, W1S 3PA
United Kingdom
Pilar Corrias is pleased to present Interflow, a group exhibition of new and recent works by Koo Jeong A, Ragna Bley, Peppi Bottrop, Lubna Chowdhary, Hanako Murakami, Mary Ramsden, Rachel Rose, Joan Snyder and Jeff Wall.
Interflow brings together a range of work in different mediums, including photography, painting and ceramic installation, proposing a conversation between form and formlessness, abstraction and landscape. Opening with three works that depict nature in a primal state, the exhibition leads the viewer through a selection of work that evokes geographical forms and landscapes. The exhibition culminates with Lubna Chowdhary's Serial Structures (2023), a ceramic installation that rises vertically like a dynamic cityscape. The exhibition's sense of flow between different scales, perspectives and mediums speaks to a dual desire to see clearly and to lose oneself in formlessness.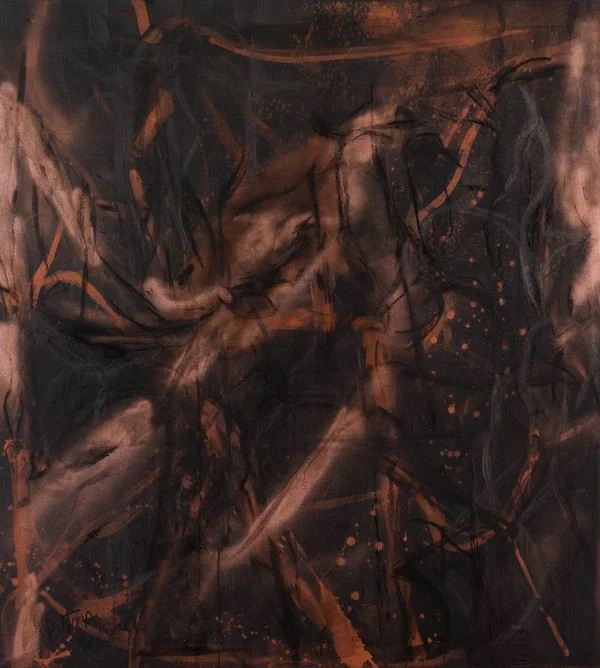 The dark, organic forms of Peppi Bottrop's Dotv (2022), which could be a microscopic view of neural networks or a subterranean jumble of roots, greets viewers as they enter the gallery. Joan Snyder's All Over (2022) evokes the pulse of a pond coming to life at spring, overflowing with flowers and fluids, replete with pale pinks and greens and drips of earthy pigment. Jeff Wall's Trap set (2021) features a tangled screen of grey and green branches beside a cool stream; a small trap, topped with a mossy piece of wood, suggests the human desire to master nature. Depicting nature as a raw and vibrant force, these works also imply a parallel desire to suspend time and space in a moment of contemplation.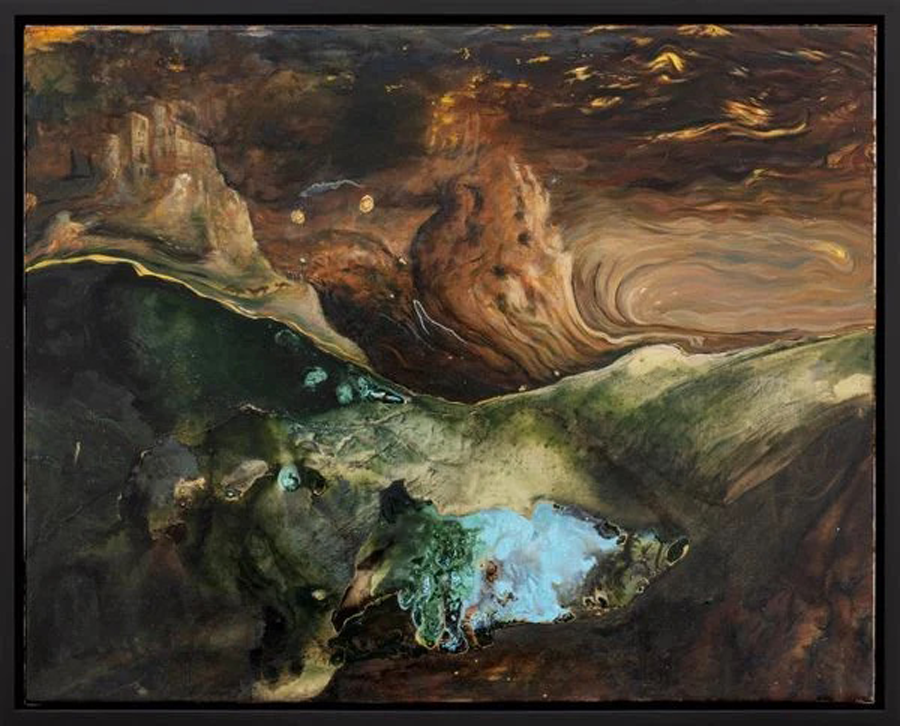 A greater sense of clarity emerges as the exhibition expands into its second section, opening onto landscapes and broader vistas. In Ragna Bley's Drive (2023), washes of translucent pigment flow across the surface, evoking the creation of geographical forms. Koo Jeong A's Annual Journey I (2013) could be a group of stones at the edge of a garden, a seascape, or perhaps a mountain range seen from a distance. Each of the small, haunting landscapes in Hanako Murakami's series Untitled (Iris) (2020), which she makes in the darkroom by dipping vintage photographic paper into chemicals, resemble ink paintings of mountains. Mary Ramsden's painting offers a mix of geometry and organic forms, suggesting the use of tools and measuring devices to tame nature, even calling to mind a patchwork of farmland from an aerial view. In Rachel Rose's A mountainous landscape (2022), a building rises from the entropic, flowing forms – the exhibition's first sign of architecture and a snippet of geometry that recalls the small, wooden box in Wall's Trap set.
Lastly, the viewer encounters Lubna Chowdhary's Serial Structures. The ceramic installation, with its sharp geometries stacked vertically on a series of shelves, expresses a crystallisation of form, hinting at the history of modernism and hard-edge abstraction. With images of Snyder's All Over or Bottrop's Dotv fresh in the mind, Serial Structures appears as a culmination of a process or the conclusion of a quest: from the wild and formless origins of life to a clearly organised, vividly coloured structure.
©2033 Pilar Corrias