Hank Willis Thomas: I've Known Rivers
Jul 15 – Aug 26, 2023
Pace
1201 South La Brea Avenue
Los Angeles
Pace is pleased to present an exhibition of new works by Hank Willis Thomas at its Los Angeles gallery. On view from July 15 to August 26, the show, titled I've Known Rivers, will mark the artist's first-ever presentation with Pace. This debut exhibition will showcase a selection of new retroreflective artworks—which reveal latent images depending on lighting and the perspective of the viewer—created by Thomas this year.
Over the last ten years, Thomas has mastered the retroreflective medium, creating mixed media works that reveal two distinct scenes transfigured by both ambient and flash lighting.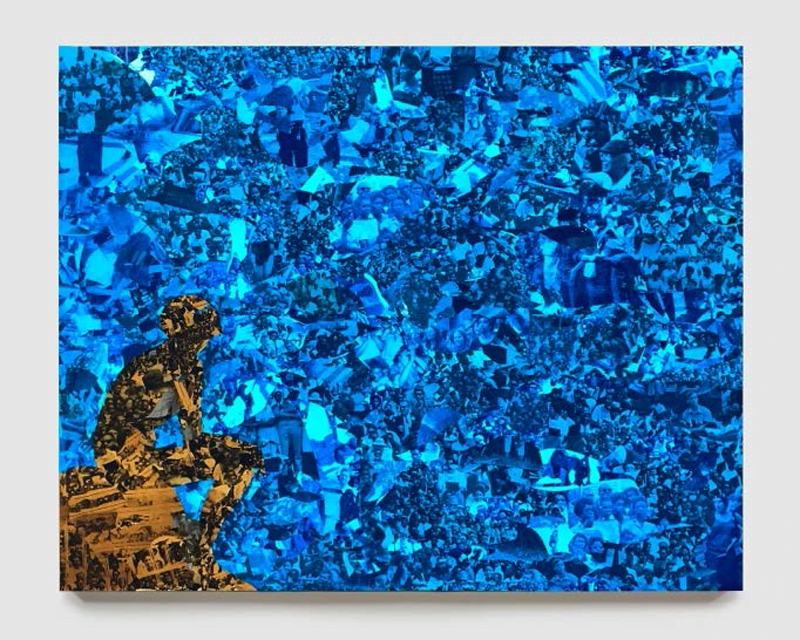 Seen from one perspective, these artworks present bold figurations, abstractions, and landscapes in saturated colors; seen from another, fragmented archival scraps from Thomas's production of other retroreflective works over the last decade are revealed. As these elements converge and transform, they shed light on new layers of images, ideas, and meanings that are hidden in plain sight. Thomas's retroreflective works can also be understood as personal records of his artistic process and the historical references that recur throughout his practice.
The Negro Speaks of Rivers," By Langston Hughes
I've known rivers:
I've known rivers ancient as the world and older than the flow of human blood in human veins.
My soul has grown deep like the rivers.
I bathed in the Euphrates when dawns were young.
I built my hut near the Congo and it lulled me to sleep.
I looked upon the Nile and raised the pyramids above it.
I heard the singing of the Mississippi when Abe Lincoln went down to New Orleans, and I've seen its muddy
bosom turn all golden in the sunset.
I've known rivers:
Ancient, dusky rivers.
My soul has grown deep like the rivers.
The vibrant compositions on view in Thomas's upcoming presentation with Pace in LA are steeped in art history, and they speak to the artist's continued explorations of abstraction through the lenses of colonization, globalization, and appropriation. Alluding to the work of Romare Bearden, Aaron Douglas, Roy Lichtenstein, Henri Matisse, and Malick Sidibé, the artist's newest retroreflective works mine the complex origins and histories of modern art across Africa, the United States, and Europe.
The exhibition's title, I've Known Rivers, references Langston Hughes's poem "The Negro Speaks of Rivers," firstpublished in The Crisis magazine in July 1921. Then a little-known writer, Hughes would later become an icon of theHarlem Renaissance. Water is a central subject in both this poem and Thomas's show in LA—it is positioned as avisual anchor, a point of entry, a mover of people, a container of ancient knowledge. The journey described inHughes's poem, like Thomas's work, is not linear or easily traced. Instead, readers of the poem and viewers ofThomas's art are invited to investigate details and travel to unexpected places.
Thomas works across sculpture, screen-printing, photography, mixed media, video, and installation. Through his practice, he examines subjects related to mass media, popular culture, consumerism, and identity, often making use of perspectival nuance as part of these explorations. A trained photographer, Thomas is deeply interested in both the making and consumption of images, with his investigations into subjectivity and perception informing his work in photography and other mediums.
The artist is also known for his galvanizing public works, which showcase his personal commitment to social activism and encourage participation and contribution from the viewer. His permanent public installations can be found in Downtown Brooklyn, New York; the Boston Common; Chicago O'Hare International Airport; and on the grounds of the National Memorial for Peace and Justice in Montgomery, Alabama, among other locations around the US.
Among Thomas's recent projects is the large-scale bronze sculpture The Embrace (2023), which was unveiled on the Boston Common in January 2023. This permanent memorial is inspired by an archival photograph of Dr. Martin Luther King, Jr. and his wife, Coretta Scott King, embracing after he was awarded the Nobel Peace Prize in 1964. As such, The Embrace can be understood as an ode to collaboration, love, and equality, reflecting Thomas's ongoing inquiries into economic and racial justice. Thomas's reconfiguration of a two-dimensional photograph into a largescale,
three-dimensional monument crystallizes a single moment in time, speaking to the importance of gesture, conviviality, and community.
Next year, two new installations by Thomas will be permanently unveiled on the East and West entrances of the new Judkins Park Station in Seattle. These public works center on the life and legacy of musical icon Jimi Hendrix, whose hometown was Seattle. His forthcoming public art projects also include With These Hands: A Memorial to Honor the Enslaved and Exploited, set to open at Davidson College in North Carolina in 2025.
©2023 Pace, Hank Willis Thomas