In her inaugural solo exhibition in Soho's Reem Gallery, Devon-based artist Emma Gibbons critiques addiction, consumerism, and excess with resin popsicle sculptures and opulence bottles of Chanel plenished with pills of glitter coloured sand and cake sprinkles.
Each pill is handmade by Gibbons, using pharmaceutical-grade pill capsules filled with resin and decorative embellishments, which she allows to cure for 24 hours. This time-consuming process produces impressive consequences. Particularly her pill popsicles, the fruity spectrum of colours make them look as mouthwatering as the real thing. Yet underneath the smooth, glossy exterior, the flashy pills represent the uncomfortable realities of addiction.
My work is rainbow-coloured and uplifting but also addresses more complex issues of consumerism, excess & addiction

Emma Gibbons
Even though this is Gibbons' first solo exhibition in London, she is no stranger to the art world. She has worked on countless high-profile exhibitions worldwide, which includes a stint working for Damien Hirst, including the exhibition of his infamous 'For The Love of God' diamond-encrusted skull at its unveiling at White Cube in London. Gibbons was also a painter for the Chapman Brothers.
Gibbons is a vet with an extensive career unmatched by many. We managed to speak with Emma to learn more about her practice, inspiration and how she got started in art.
Q: Hi Emma, can you please introduce yourself for those who do not know you?
A: I'm Emma Gibbons. I'm a pop artist living & working in Devon. I make contemporary artwork using pharmaceutical pill capsules filled with resin & glitter that I transform into large-scale wall pieces.
My work is rainbow-coloured and uplifting but also addresses more complex issues of consumerism, excess & addiction. You can find my work in galleries up & down the UK, art fairs, and overseas.
Q: Can you tell us how you got started in arts and why you decided to become an artist?
A: I studied at an art school in London for six years and then worked for galleries, including White Cube. After graduating, I took a job working for Damien Hirst's Science, so I've been working in commercial arts all my adult life. Initially, I didn't have any intention of becoming an artist myself. I was happy working for big art institutions and taking home a decent salary! But eventually, I started making more & more of my work on the side, and then I started thinking maybe I did want to try to be an artist. So it grew organically from being a hobby to side hustle to my full-time job.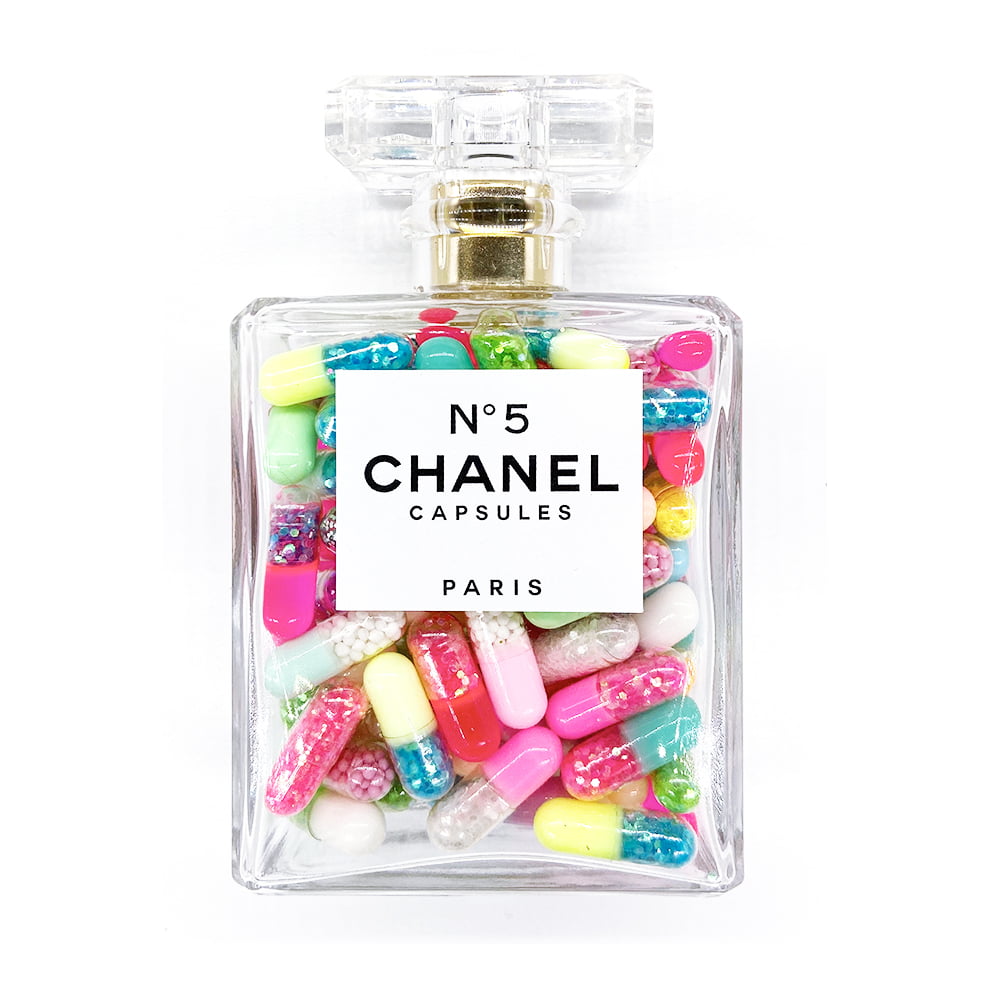 Q: Your practice applies a critical exploration of themes surrounding capitalism, consumption, and addiction depicted through the pop art aesthetic. Can you tell us more about your practice, the creative process and the direction your work is going?
A: I've always made work that is really bright, colourful and uplifting, so that's definitely a running theme in my work. I started playing around with pills as a medium partly because they're a big theme in Damien's work and partly because of Covid!
I was at home with time on my hands and was creating things and coming up with weird combinations in my studio and just kept being drawn back to the pills and making piles of pills that were fused with resin. I'd been around lots of Damien's pill works, and they'd always appealed to me. So I just ran with it when I figured out how to make them with real rainbow colours and glitter and how cool and contemporary they looked as a medium.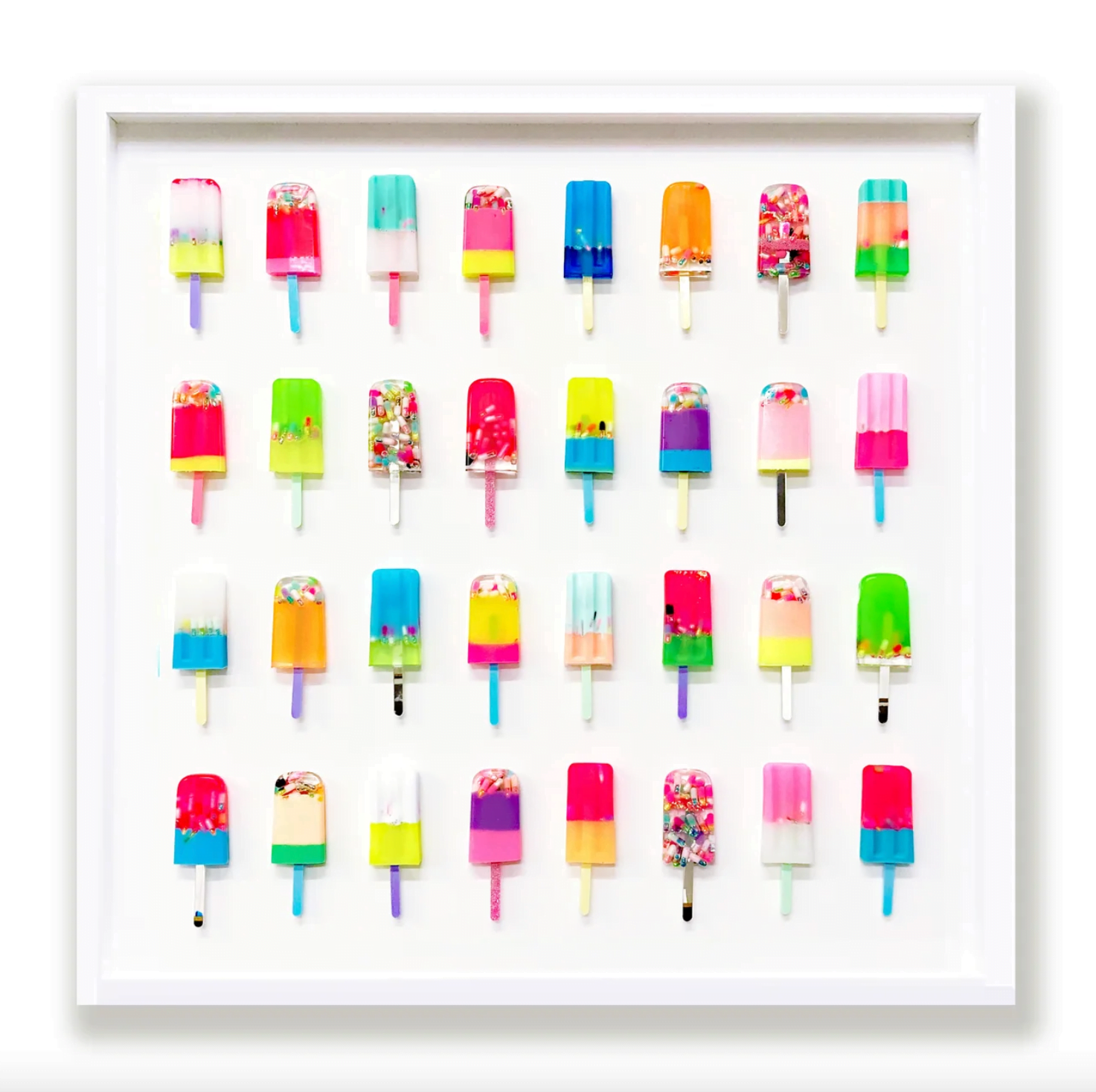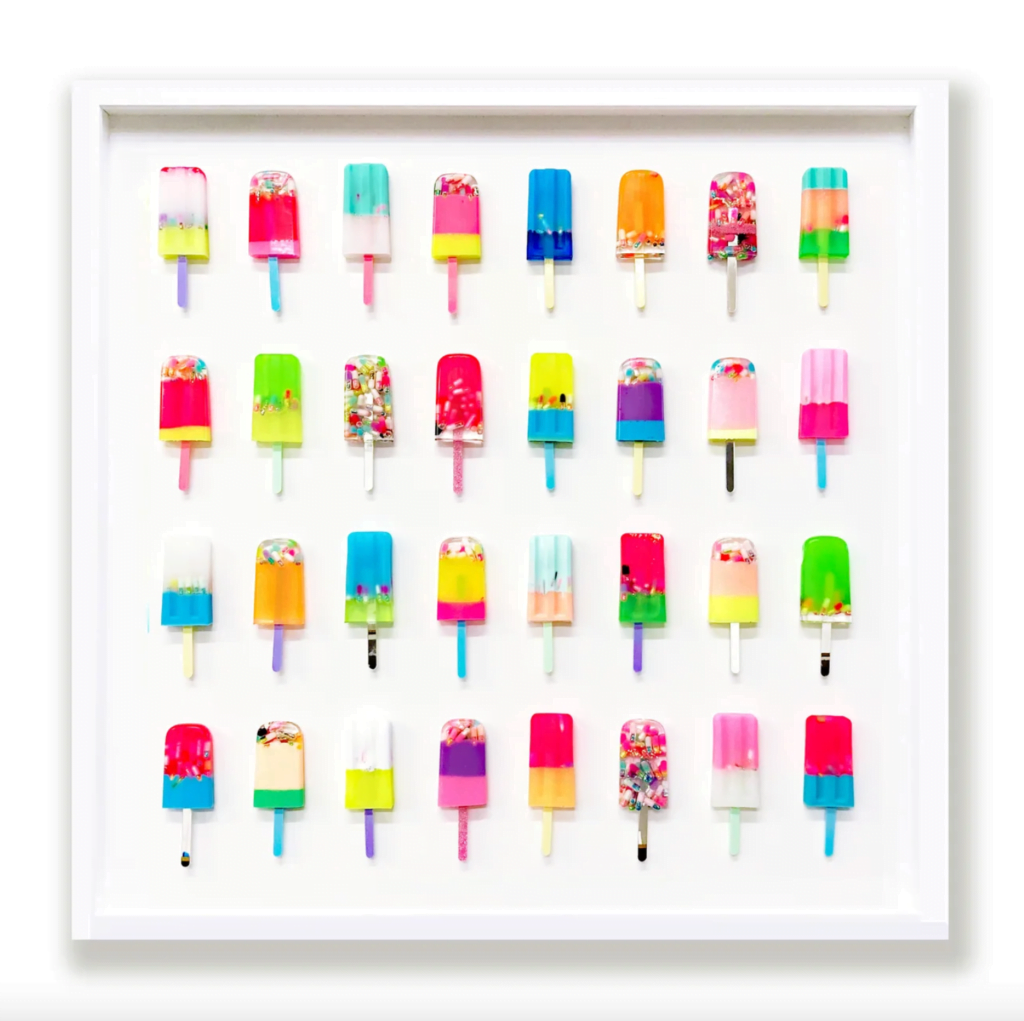 Making party pieces was the obvious way to go and felt like a natural progression of the work. One of the appeals of the work is how many pills you have to use to create them, which in turn got my thinking about consumption & excess in society. Addiction is something that I've been exposed to my whole life.
I grew up around addiction and substance abuse, which affected my life in a very real way – it touches many lives and is often hidden away. So I decided to use the work on the one hand to celebrate colour and joy and uplift but also to open up a dialogue about addiction and wellness and mental health. Just to put it all on the table, and definitely celebrate partying and connection, but also to have a thing about what happens when it all gets a bit too much.
Q: Your current exhibition, "Pop it Like it's Hot", showcases a new exclusive body of work. Can you tell us more about the exhibition and what visitors can expect to experience?
A: 'Pop It Like it's Hot' was a site-specific project designed for Reem Gallery Soho's beautiful new gallery in Ham Yard Village. It's a really special location, right outside Ham Yard Hotel. When the gallery approached me about doing a solo show, I wanted to create something precious, like a little jewel in central London. Totally over the top!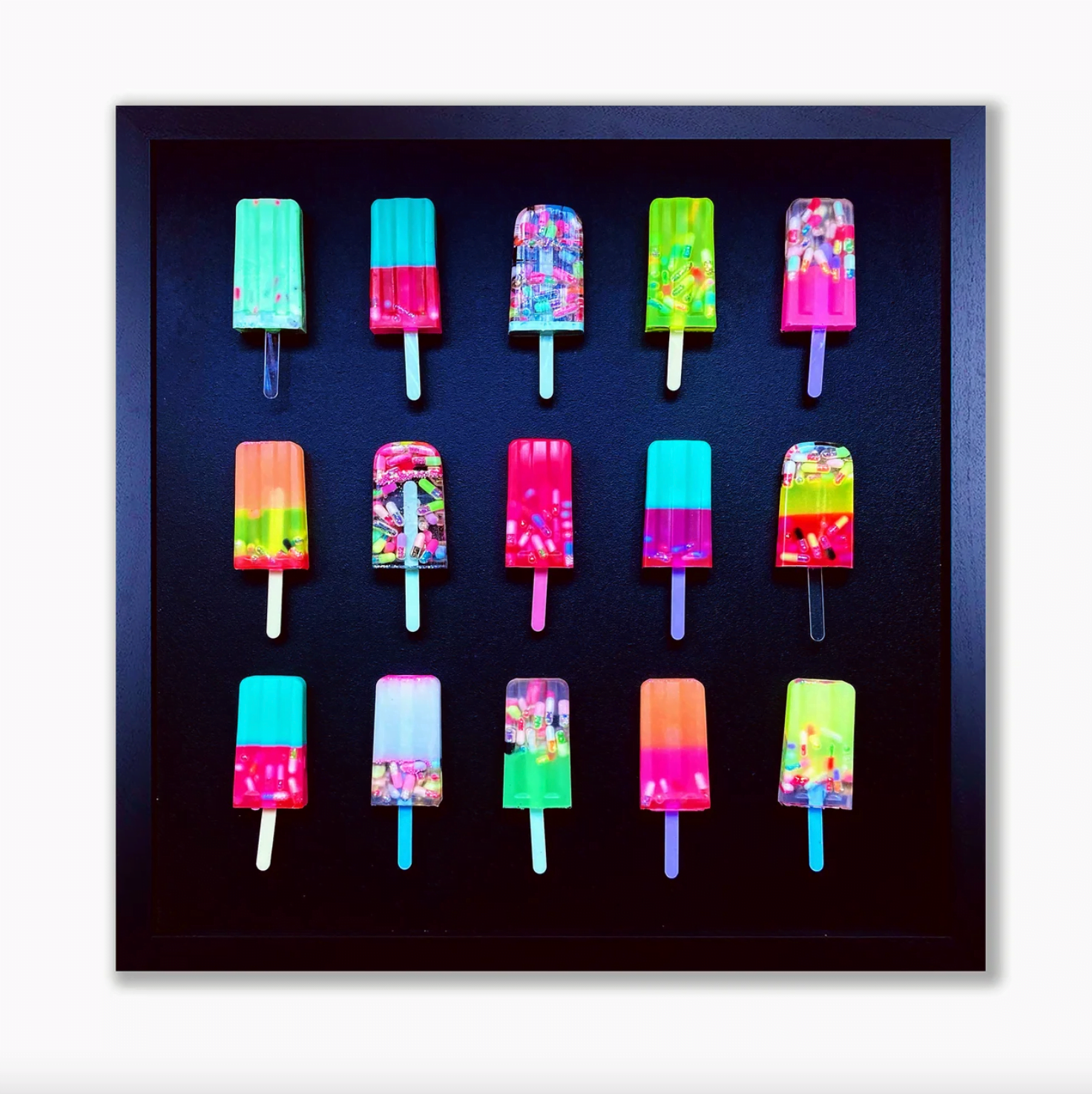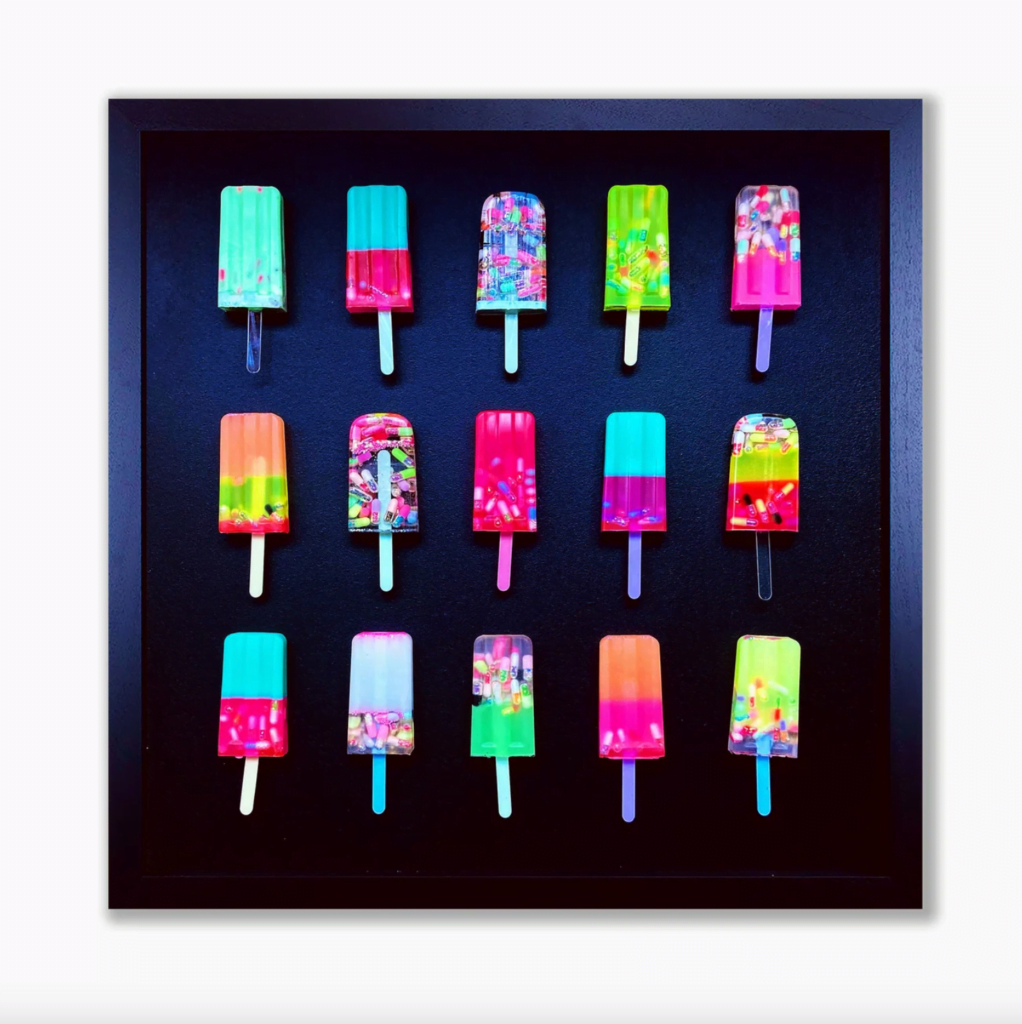 I worked with Reem's creative director Phoebe Minson, and we came up with a concept that included party pieces like "Ibiza" and "Let's Pretend This Never Happened", mixed with lots of really opulent Chanel works and an over-the-top aesthetic. I wanted to create a tiny little clubland wonderland with the gallery, so it's got disco balls and a pink Instagram wall with flower trails and candy-coloured resin popsicle pieces. It's basically a tiny visual Ibiza pool party in a gallery in central London.
Q: They say the studio is the sacred template of creativity. What are the three things you cannot live without in your studio?
A: Resin, Glitter, Podcasts
Q: What's next for you as an artist?
A: Up next is The Other Art Fair Kings Cross, which runs from 1-3 July at West Handyside Canopy, London. I'm creating a popsicle stand within an art fair. On display will be hundreds of unique resin-pill-popsicles in rainbow colours and glitter. Delicious!
Q: Lastly, what does art mean to you?
A: Art means whatever you want it to mean! Whatever speaks to you. Find that and just indulge yourself.
©2022 Emma Gibbons