Ronan Porter first studied Physics at Imperial College in London before deciding to then pursue studying Fine Art after a gap year in Warsaw. They received a BFA from University for the Creative Arts (UCA) in 2018 and is currently studying their MA in Painting at the Royal College of Art in London.
"I try to keep things ambiguous and open to interpretation even if I do have an intention. I don't want my work to be too didactic, too easily digestible, I want it to intrigue"

Ronan Porter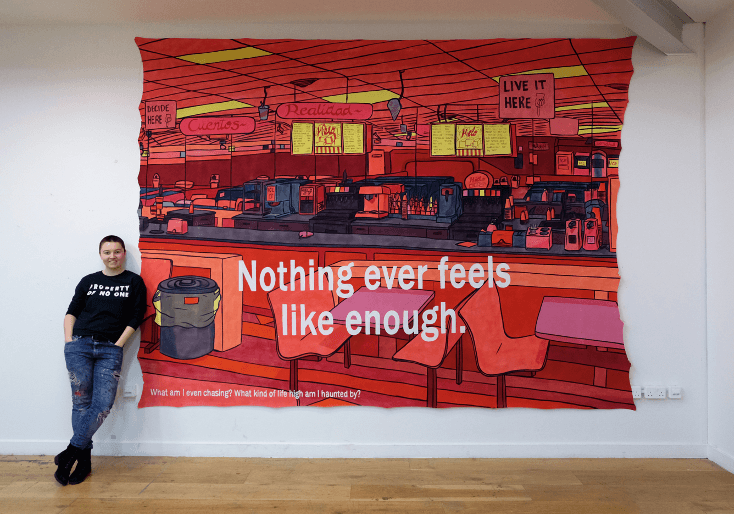 Porter has had work exhibited in Margate, Folkestone, London and Cyprus. Immediate and valiant in presence, Porter's 'painted banner emblems' demand our attention in a landscape of media activism and social consciousness. Through a practice that is both sensitive and maturely aware of issues of profoundness, this is often subverted through their bold deployment of colour.
Here we converse about longing for community and friendships, motivations behind the subjects in the work, and how challenging our idea of 'paintings' and ways of presentation of art through joint experience, maybe can encourage greater visibility for queer people.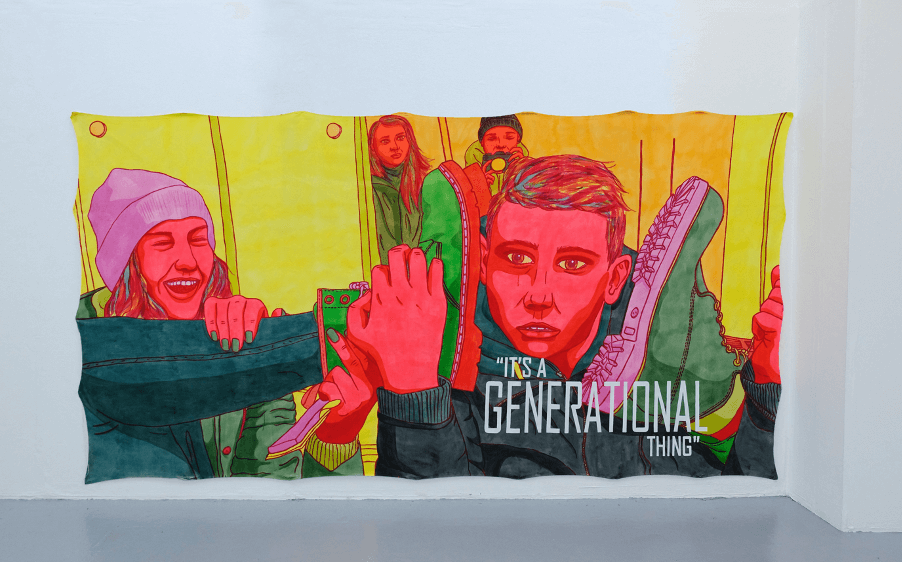 Q: What do you make and what is your process of working?
A: I make paintings, prints, installations, films, photographs, stories. I actually think of them more along the lines of installation when I'm displaying them. Their huge scale and the fact they aren't stretched takes them out of the realm of traditional painting in my opinion. I start from a photograph or a video I've taken. I try to keep my work ambiguous but intriguing, I want the viewer to come to their own conclusions about what it means to them. I want them to question.
Q: How do you explore colour and text in your practice?
A: When I'm painting I build up layers of colors a bit like in print, the text always comes last. I sometimes use Photoshop to test out colors or texts before I paint. The visuals sometimes echo what's in the text and sometimes contrast. I do have a process or way of working, but I actively try to disrupt it.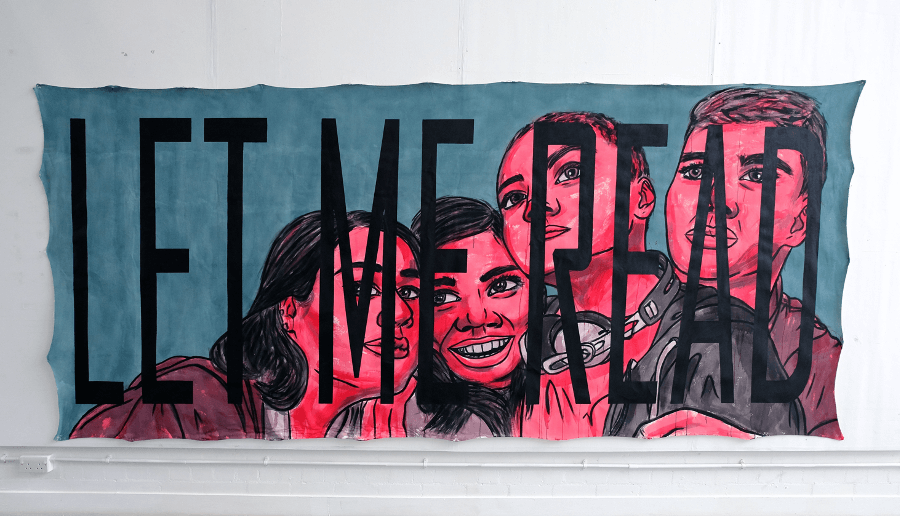 Q: What motivates you to produce your work?
A: Part of me thinks it's in an effort to chase after what felt like a much more interesting life than I have now, I spent my childhood and adolescence abroad growing up in seven different countries. It was exciting, discovering new places, meeting new people, experiencing new things.
I certainly lead a good life but it often feels like I'm missing something, it's just not the same, so my work is an effort to bring that back. Create a montage of memories that are filled with the warmth of family and friendship but are also removed, cold, observant and reflective.
Q: How does literature inspire the imagery landscapes in your work?
A: It comes from how much I read, I spend so much of my life lost in other worlds and lives that coming back to my own can feel ordinary. So I manipulate these scenes or small intimacies into wilder fantasies, not just remembering the excitement of the moment but making it something more. I want to make the viewer feel like I do when I'm lost in another world and embody a different person – whether that's through a larger than life painting, a beautiful photograph, a short film, or a written story. I'm making my own escapes, come with me.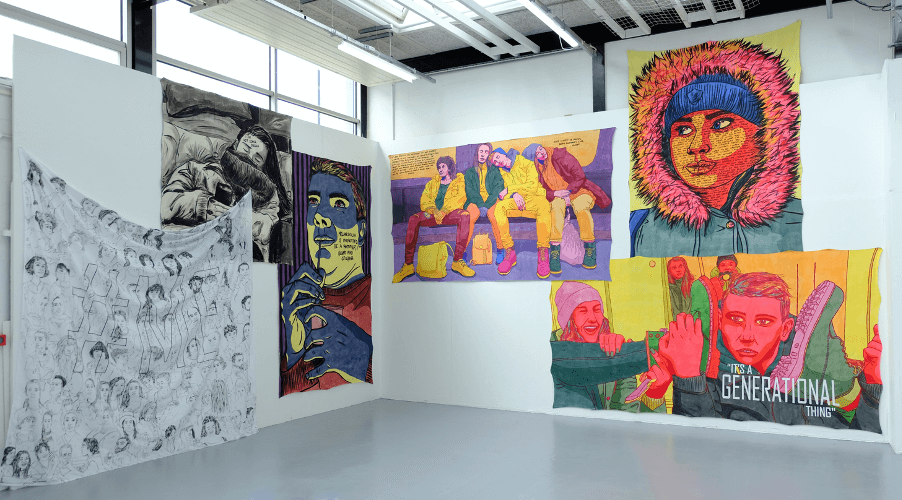 Q: What themes are your work concerned with and what attracts you to them?
A: I don't really limit myself to a theme, and again I leave it open to interpretation rather than enforcing a specific idea. One for example is community, as someone who grew up in so many places, constantly being uprooted and having to make new friends.
The people in my work, they feel like an imaginary community, one I've constructed myself. There are some I want to investigate further like other worlds, escapism, the expatriate lifestyle, belonging, exploration, identity, colonialism, revolution, globalization, intimacy, sexuality. I'm attracted to them because they all relate to my own life and experience.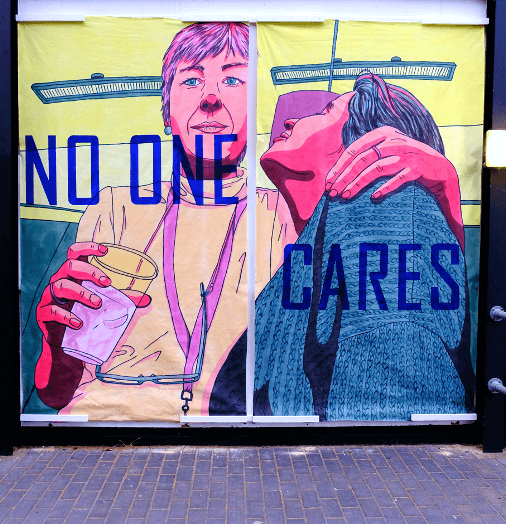 Q: Your work seems to have a sense of struggle between personal presence and social awareness. Are these parallels intentional?
A: I love having a tension in my work, I think it's that struggle that can raise questions and spark discussion. That's a big part of why I love combining image and text, two very different ways of communicating that can often have a friction, not only in their content but in how they're physically combined. All these references or videos are things I've taken with my camera, they're my viewpoint, you're seeing what I see. Others can pick out their own connections, see their own memories and community and environment, and draw their own conclusions.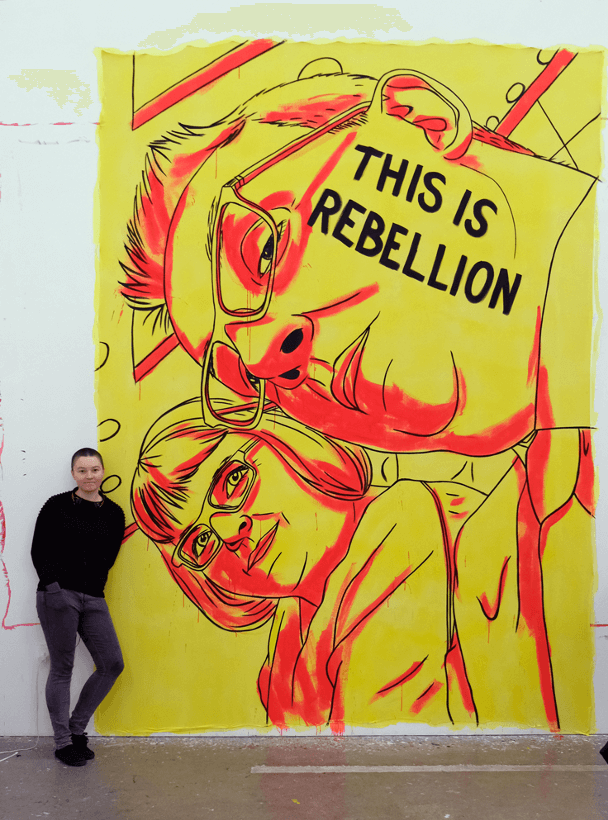 Q: Do you see your practice as being something political or personal due to how you present your work?
A: The very nature of them being loose canvas, free from clean edges and a neat frame puts them in the realm of the political. They read like banners and occasionally are displayed to emphasize that quality like with Margate Pride. The text often creates a political feel too, especially when emblazoned across the image in a particular font, or scrawled as if graffiti on top. It contrasts with the very personal elements, the intimate moments that become monumental and public, the confessional scraps of text.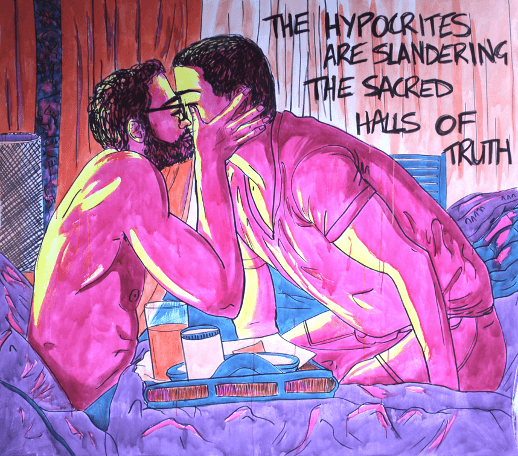 Q: Something which I find extremely tender and emphatic about your work is that you reference your friends. Why is this important to you?
A: It started out as just wanting to use my own photographs as references. It both makes the works more important to me and relevant to my own experience. These people could be your friends, your community. For me personally, it's a permanence and stability that is often missing in my life. Sometimes I feel like I'm creating a fictional community, an idealized world. There's a big element of escapism in how much I read and I'm looking into how that can tie into my paintings.
©2020 Ronan Porter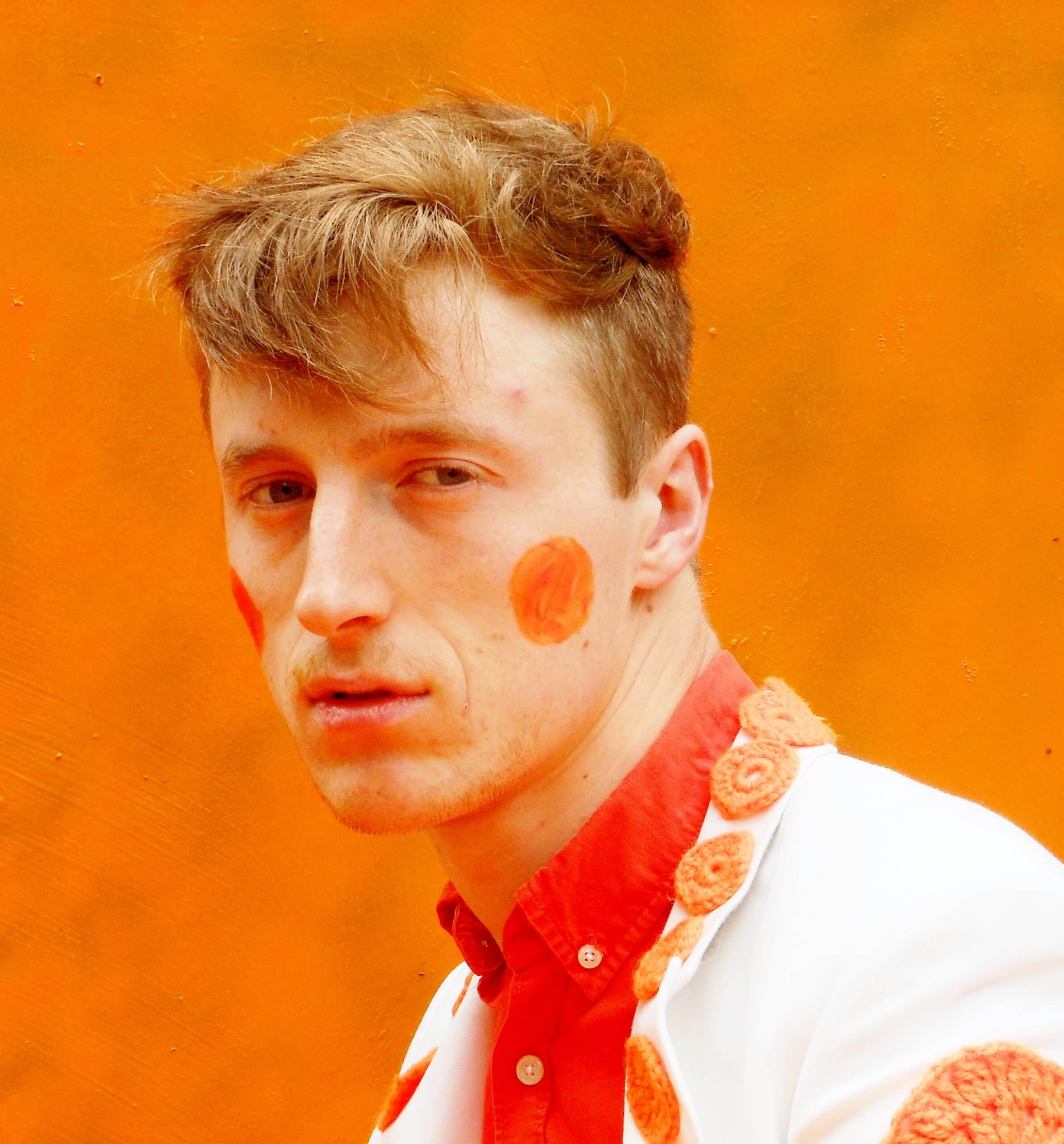 George Morl (Also known by his persona Edvardo Shadalow) is an artist and writer, exploring human connection, intimacy and affection under modernising technology, queer dialogues, body-image, neuroscience, and the remits between art, health and science. Morl received his BFA from University for the Creative Arts, Canterbury, UK in 2016 and MFA in 2018.