Christopher Udemezue: Under the Palm Tree Leaves
25 September–6 November 2021
Anat Ebgi
2660 S La Cienega Blvd
Culver City
Los Angeles, 90034-2604
USA
Anat Ebgi is pleased to announce Under the Palm Tree Leaves, an exhibition of photographs by New York artist Christopher Udemezue. On view at 2660 S La Cienega Blvd from September 25–November 6, this is the artist's first solo exhibition in Los Angeles. A public reception with the artist will be held on Thursday, October 7 from 5-7 pm.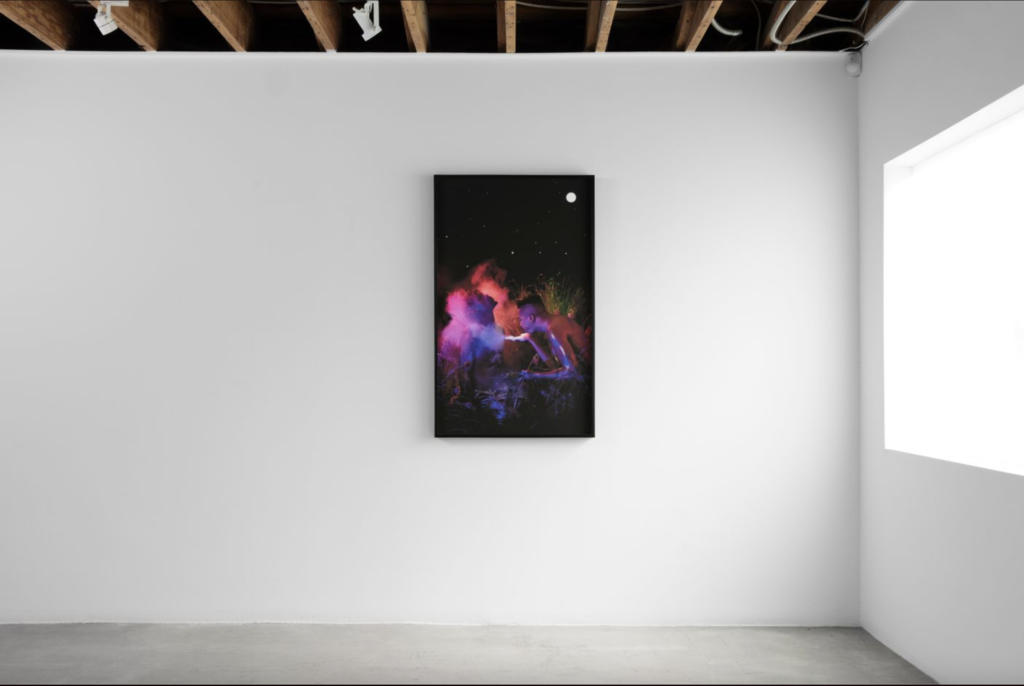 Working with all queer models, Christopher Udemezue's photographs reframe Caribbean and African American history through poetic explorations of historical events, folklore, and oral histories interweaving them with his own dreams and imaginings. The scenes and stories depicted traverse historical and geographic borders while addressing questions of political resistance, trans-cultural entanglement, liberation, and the black diaspora. Lovers, dreamers, friends, family, healers, worshipers, are seen alongside historical figures, leaders who played brave and significant roles in the liberation of enslaved persons throughout Caribbean history.
Queen Nanny or Nanny of the Maroons (c. 1686 – 1733) is portrayed in Untitled (Down by the Spanish River, stained in sugarcane). According to legend, Nanny had magical powers and could catch bullets and redirect them toward the people shooting at her. Her portrait is now featured on the Jamaican 500 dollar bill. Another work, Mother & Child (Victoria 'Abdaraya Toya' Montou & Jean-Jacques Dessalines) is a tender portrayal of a young man kneeling with a woman warrior. One of the few women who commanded soldiers during the slave rebellions, Montou is also remembered for her role in raising and teaching Dessalines, the first ruler of an independent Haiti under the 1805 constitution. An untitled work (Taken by the loa with a knife in her hand, she cut the throat of a big and they all swore to kill all the whites on the island,) depicts vodou priestess Cécile Fatiman (1771–1883) presiding over a ceremony at Bois Caïman ('Alligator Forest'), which is considered to be one of the starting points of the Haitian Revolution.
The works act as a conversation through time, connecting present-day pain and anxieties to the suffering and triumphs of those who came before. Through dramatic lighting, styling, casting, and photographic and theatrical techniques Udemezue reimagines, uncovers, and queers historical moments of healing and rebellion through dreamy imagery. His lush and mysterious compositions use layered visual rhetoric to signal the heroic, powerful, majestic and sublime. Each element combines to meditate on care, intimacy, beauty, and resilience through spiritual practice. The exhibition raises questions of portraiture and self-representation in contemporary art and affirms, with urgency and eloquence, the importance of history, hope through spirituality, and power of love.
Christopher Udemezue (b. Long Island, NY) received his BFA from Parsons School of Design in 2008. His work has been exhibited in museums and galleries including the New Museum, Queens Museum of Art, MoMA, Bruce High Quality Foundation, and Envoy Enterprises. As the founder of the platform RAGGA NYC & CONNEK JA, he completed a residency with the New Museum All The Threatened and Delicious Things Joining One Another in June 2017. Also being the lead organizing member of the art collective House of Ladosha, Christopher has shown recently in the New Museum's Trigger: Gender as a Tool and a Weapon 40-year anniversary show and he was a part of the chosen artists in The Shed's Open Call grant program and exhibition that was on view in the new Hudson Yards Shed gallery, NYC in June 2019. In 2021 he was elected to be Co-Chair of the board at Recess Gallery, Brooklyn NY. Udemezue lives and works in Brooklyn, NY.
©2021 Christopher Udemezue, Anat Ebgi