Mark your calendars for an electrifying summer at Central Saint Martins as the prestigious institution unveils the much-awaited schedule for its anticipated summer 2023 Shows celebrating the inspiration, energy, and creative intelligence of their graduating students from Central Saint Martins' BA and MA Art, Fashion, Performance and Design programs. Through a series of events at The Granary Building, Granary Square, Central Saint Martins will showcase a new generation of artists, designers, curators, performers, and innovators starting new and exciting adventures.
For information about opening times and access – Central Saint Martins Shows 2023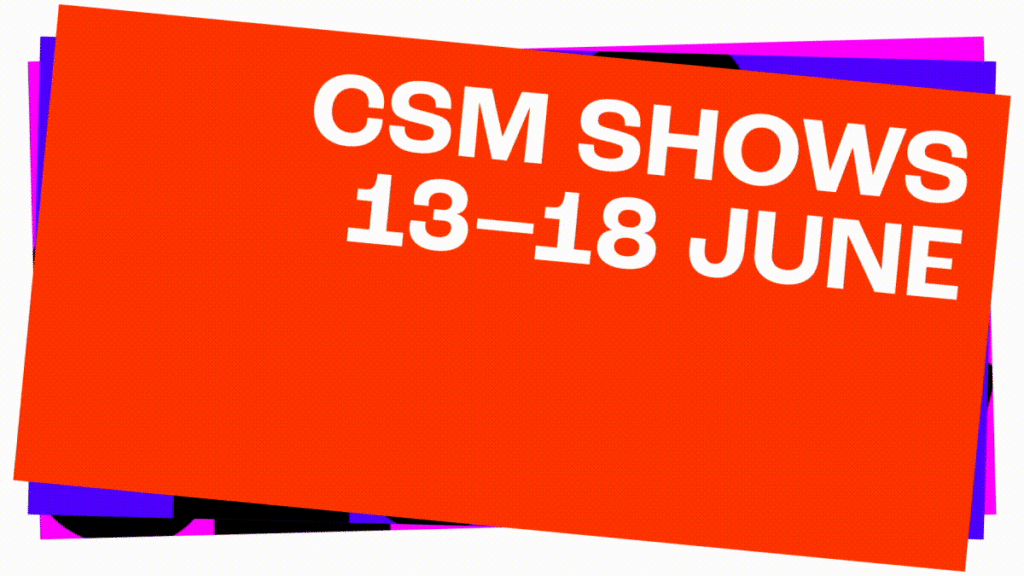 CSM Shows: BA Performance Programme
15-17 May
13-18 June
CSM Shows: BA Fashion Communication
Preview: 26 May
25 -31 May (Closed 29 May for bank holiday)
CSM Shows: Art, Design, Materials, Innovation and Culture
Previews: 13-14 June
15-18 June
CSM Shows: Postgraduate Art
Preview: 27 June
28 June-2 July
#CSMShows2023
Dr Rathna Ramanathan, Head of College, Central Saint Martins
"Central Saint Martins has a long-standing reputation for providing our students with the foundation to challenge, reframe and situate their creative practices within a world context. At no time is this more pertinent than today.
"The work produced by this year's graduates harnesses the diverse powers of animators, architects, artists, communicators, curators, designers, makers, performers, and writers. The showcase is an indication of individual, critical, emerging practices which seek to make a meaningful contribution to communities and causes within and beyond our own environments.
"What you experience here is the beginning of their incredible and sustaining creative journey.
"Welcome to our Graduate Show 2023!"
Jose Miguel Sokoloff, Global President, MullenLowe Group Creative Council
In addition to sponsoring the Central Saint Martins annual shows, MullenLowe Group will once again present the MullenLowe NOVA Awards for Fresh Creative Talent;
"Bringing emerging talent to the forefront of the creative community is the mission that drives the NOVA Awards. Our collaboration with Central Saint Martins has given us a fantastic opportunity to view the world around us through the eyes of exceptionally talented creators. It is a privileged to be able to recognise their creativity while supporting their futures.
"The student's work is incredibly inspiring, and it's important to share their talent with a wider audience and make it accessible for everyone through the YourNOVA 'People's Choice' award. It's an honour to be able share the joy and wonder of boundless creativity across the globe."
2023 Show Identity and Design
Dolores Swann, Irene Liakhovenko, Fred Cochran, Kim Trainor, Thomas Black, Benjamin Khan: BA Graphic Communication Design.
Central Saint Martins, University of the Arts London
The Granary Building
Granary Square
London
N1C 4AA
For information about opening times and access – Central Saint Martins Shows 2023
©2023 University of the Arts London