LAUNCH: Wednesday 30 June 2021
ART | CULTURE AND ENTERPRISE | FASHION | FOUNDATION | GRAPHIC COMMUNICATION DESIGN | PERFORMANCE | PRODUCT, CERAMIC AND INDUSTRIAL DESIGN | TEXTILES, JEWELLERY AND MATERIALS | SPATIAL PRACTICES
A new world is emerging. Amid the unknowns of our present lives are spaces in which new ideas, new colours, new ecologies and new economies can take root. Discover our graduating artists, designers and innovators as they share ways for the world not just to grow, but to flourish.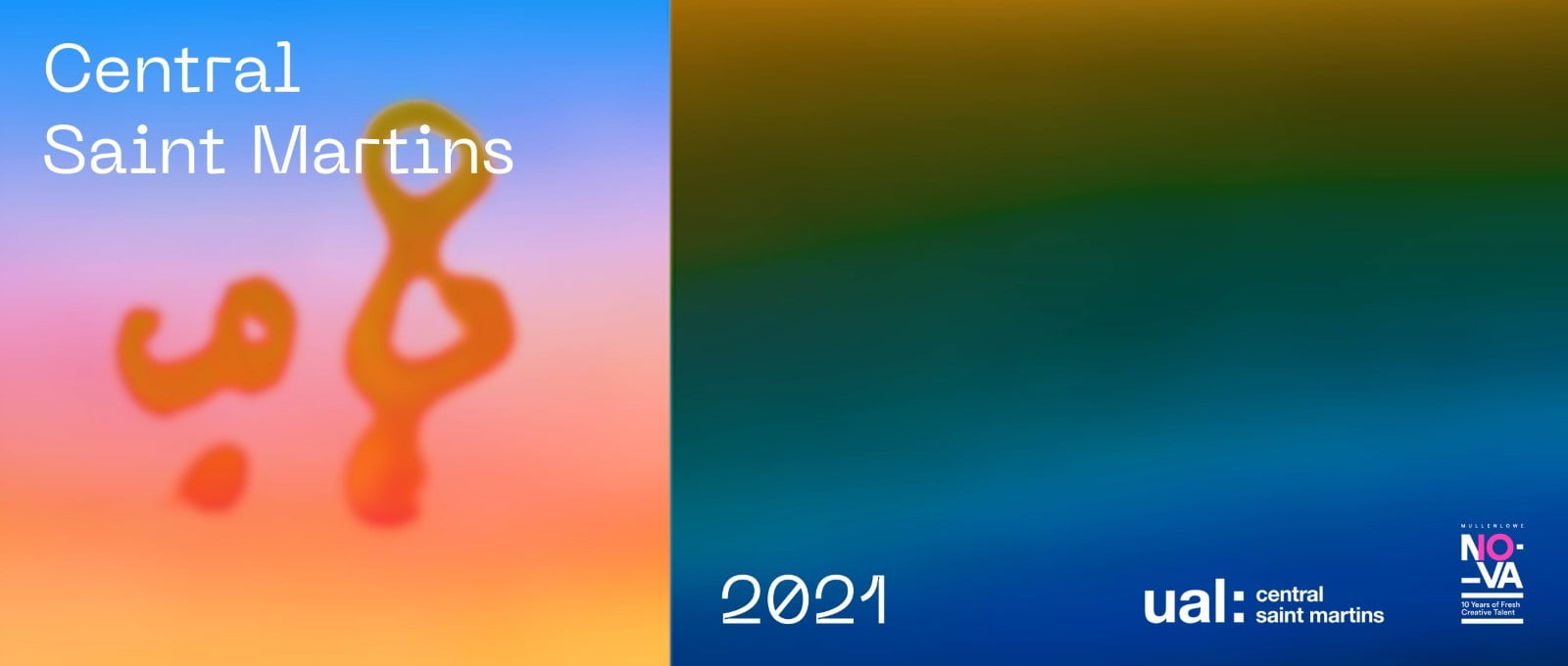 The staff, students and alumni of Central Saint Martins have been fired into action by the events of the past year finding solutions and creative responses to the challenges confronting the world right now. From the personal – isolation, grief, anxiety, safety, gender – to the societal – health care, public spaces, remote working and learning, racism – and global – the climate and biodiversity emergency and diaspora around the world as a result of persecution and climate challenges.
These are just a few of the recent projects and successes:
VENICE ARCHITECTURE BIENNALE 2021, British Pavilion – The Garden of Privatised Delights – includes The Decorators led by four MA Narrative Environments graduates and public works whose team includes co-founder and Course Leader M ARCH; Architecture, Andreas Lang, and alumna, Carlotta Novella – until 21 November 2021.
BLOOMBERG NEW CONTEMPRARIES 2020, South London Gallery – Five Central Saint Martins alumni were included – BA Fine Art graduates – Nicole Coson, Rene Matić and Maria Mahfooz – MA Fine Art Chen Si-zuo and BA Performance Design and Practice, Ashleigh Williams – until 6 June 2021
CSM LOVES NHS, Coal Drops Yard – when the pandemic hit the UK in spring 2020, Oonagh O'Hagan and Jo Simpson, co-leaders of Foundation Fashion and Textiles created a downloadable pattern for urgently needed scrubs and encouraged their students to make and donate them to their local hospitals. The project has evolved into an ongoing project with Great Ormond Street. They are currently in an exhibition at Coal Drops Yard, King's Cross – until 1 July 2021.
UAL CLIMATE EMERGENCY INTERACTIVE WON A WEBBY AWARD – The film created by team of UAL staff and students, won The People's Voice in the Public Service and Activism category.
MAKE is the outcome of collaboration between Central Saint Martins, Global Generation (a charity that connects communities with nature), Somers Town Community Association, developer Lendlease and Camden Council. Previously called The Story Garden, it is set on meanwhile land behind the British Library, and brings together students and community to grow, make and connect. During lockdown BA Product students, Public Collaboration Lab and Somers Town YouthCentre delivered TrashCAN to create sustainable products to sell through Instagram.
Central Saint Martins is grateful for the continuing support of MullenLowe NOVA Awards for Fresh Creative Talent which over the years has highlighted innovative and original work by graduating students.
CSM2021 #CSMbloom
©2021 Central Saint Martins UAL, UAL,