At the top of Grove Lane hill you will find Blue Shop Cottage. The front of the shop serves as an exhibition and workshop space for visiting artists, and owner Ocki's living space is behind. Each month multiple artists take over the shop space for short-run exhibitions which garner enough interest to have private view-goers regularly spilling out onto the street.
The space is gorgeous, Magill is up-and-coming artists' biggest champion, and BSC is also home to Mole – surely one of the artworld's best-behaved and certainly best-dressed dogs (mostly seen wearing a Basquiat neckerchief). We were thrilled at Art Plugged to get to talk to Magill about BSC, 'finding your groove', the environment, and finding the creative/business balance.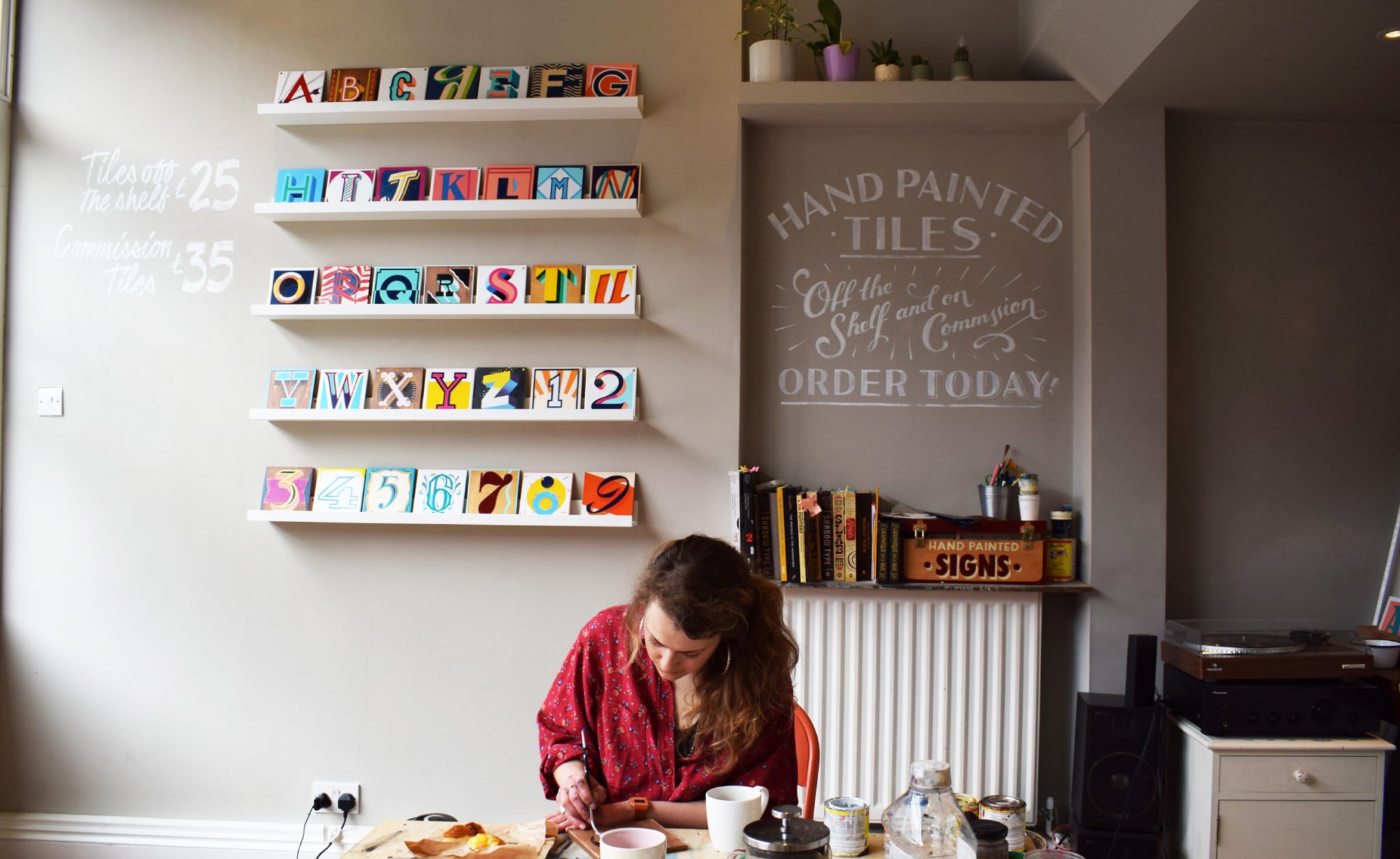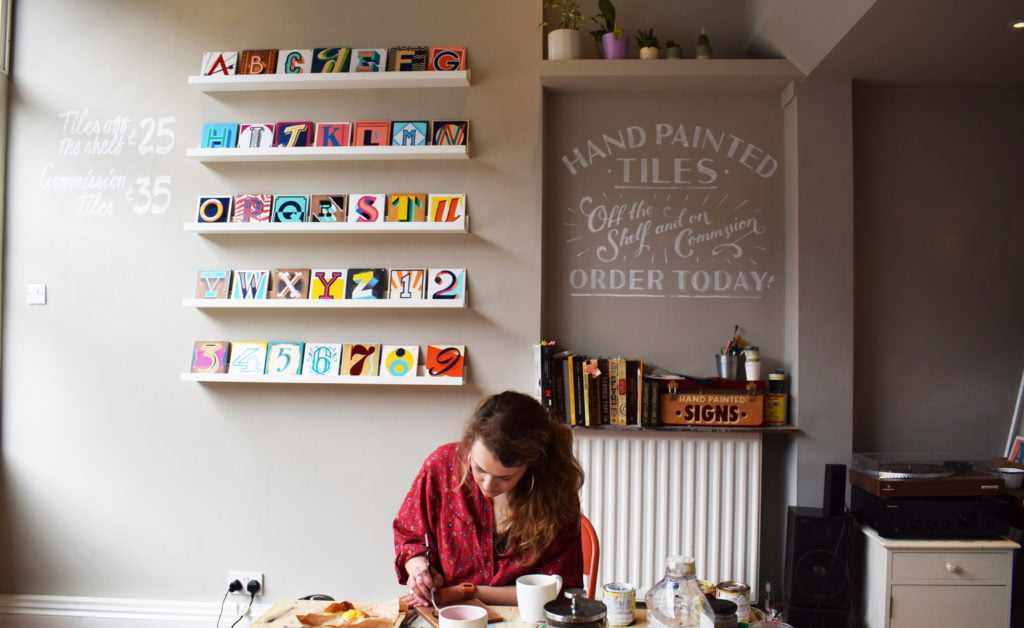 Q: First thing's first, introduce yourself!
A: My name is Ocki Magill and I'm a illustrator/designer/art director based in Peckham Bussey Building and now own and run Blue Shop Cottage a new gallery in Camberwell SE London for emerging British artists.
Q: How did BSC come into being?
A: Blue Shop Cottage is a blue shop in Camberwell South East London that I bought as my home in 2016. I started by renting out the shop space to small businesses and was a flower shop, bike shop, cocktail bar before I decided to host exhibitions of my favourite emerging artists.
Q: What was your previous experience in the arts?
A: After leaving Central St Martins in 2007 I went to work for the brilliant Krystijana S Williams and Christoper Raeburn who mentored me before I went off to study graphics in Sydney's Australia. Since returning to London I've worked in advertising for 6 years as a designer/ art director and am currently creating a Letter Bug Book with my Illustration atm of my business @theletterbuglondon.
The last ten years of my life has been surrounded by artists, brilliant individuals and beautiful work and only in the last few years have a felt that all of this has come together putting on exciting shows at Blue Shop a Cottage. I'm 32 now and feel like I've finally found my groove.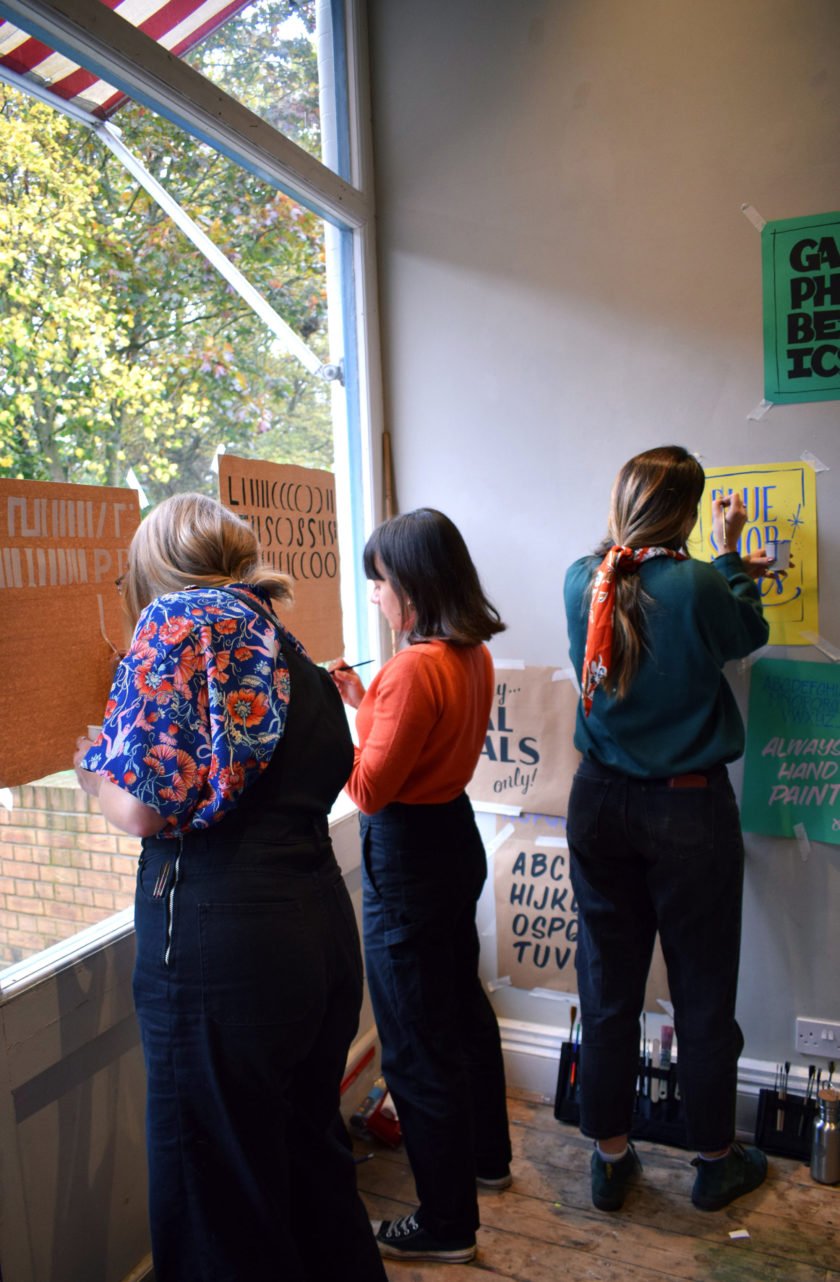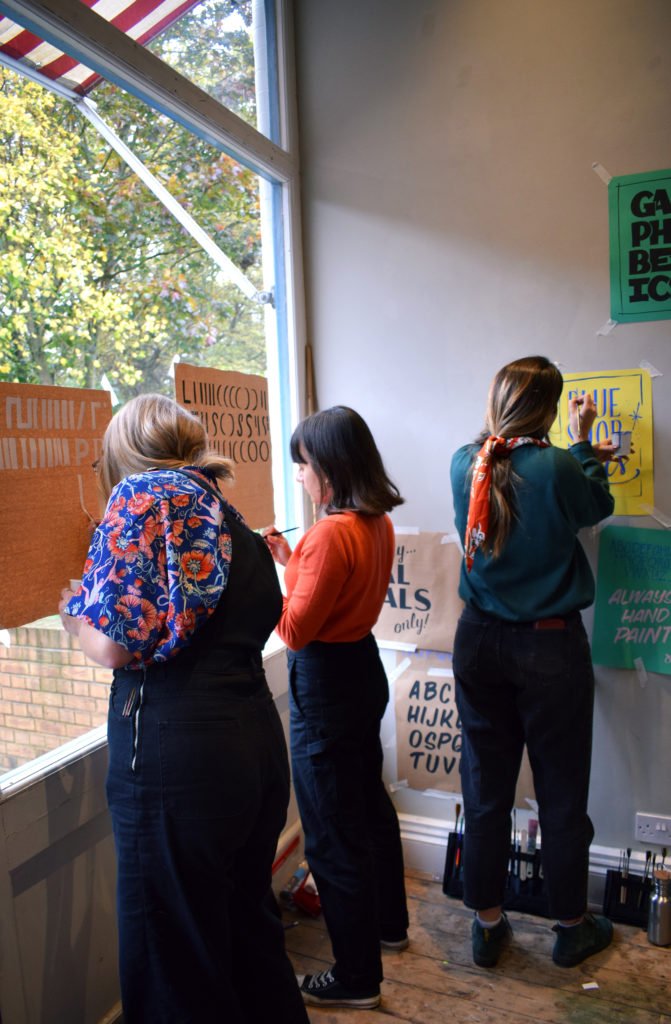 Q: What has been your favourite exhibition to put on?
A: Putting on exhibitions is always a huge risk – you only have your gut to go on and it really can go either way. All of the shows have been successful in different ways. Rose Electra Harris' being the first show that blew us both away with all the people that attended and the amount of first time art buyers was fantastic. Tactile in 2018 was a collaborative affair hosted by the wonderful Hana Sunny Whaler and Jake Tyler with their show TACTILE.
This show changed the course of Blue Shop and drove home to me the social currency in bringing people together under the umbrella of creativity and creative learning. The show was a signwriting workshop, exhibition and paint jam where different artists painted on the Blue Shop Window.
We went on to pitch for a large mural locally which we completed in September last year. This lot have become family, have recently finished an all-girls signwriting show at Blue Shop with many more plans in the pipeline for 2020 and beyond. They can be found here. Kate Jupes Show earlier this really was stunning and she has since become a close friend and is off to Kenya with Christabel Forbes early in 2020 – watch this space for a new show.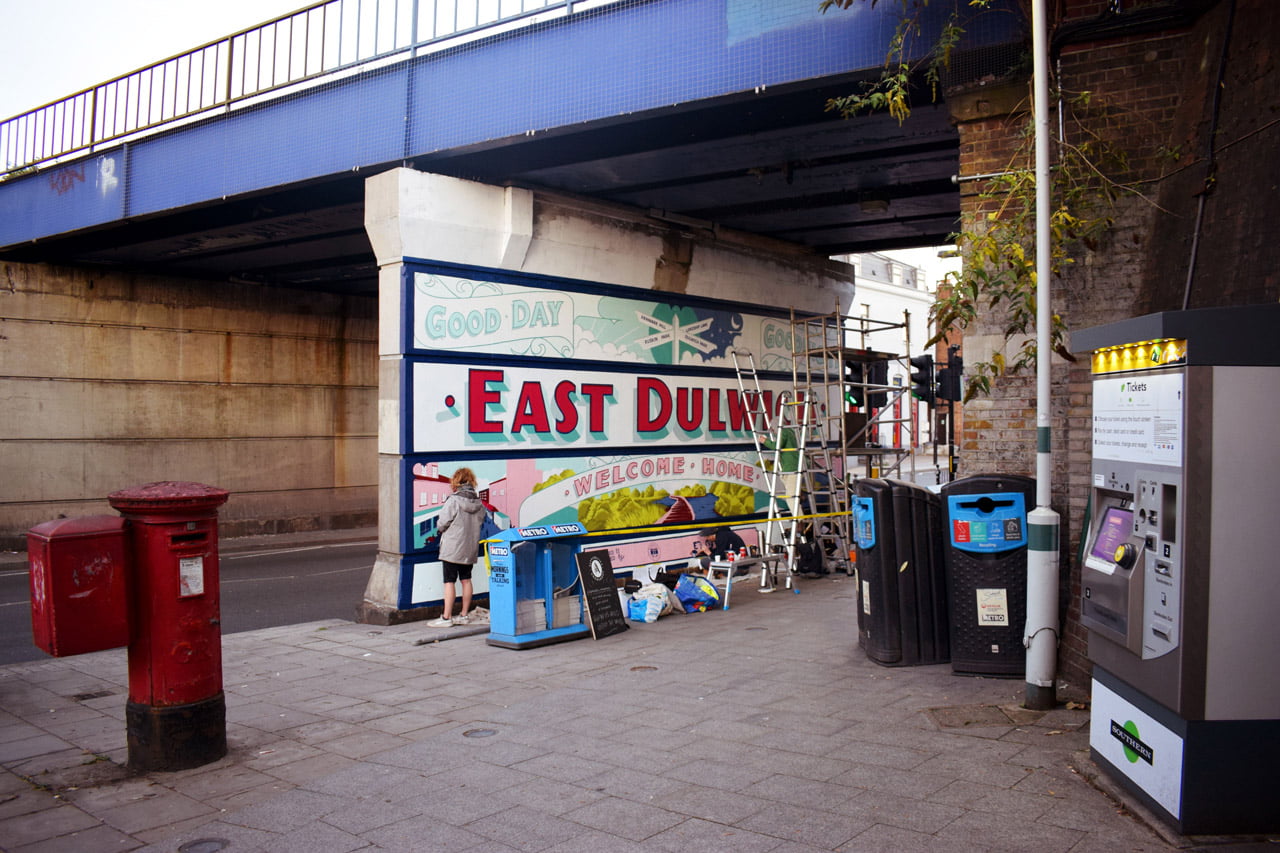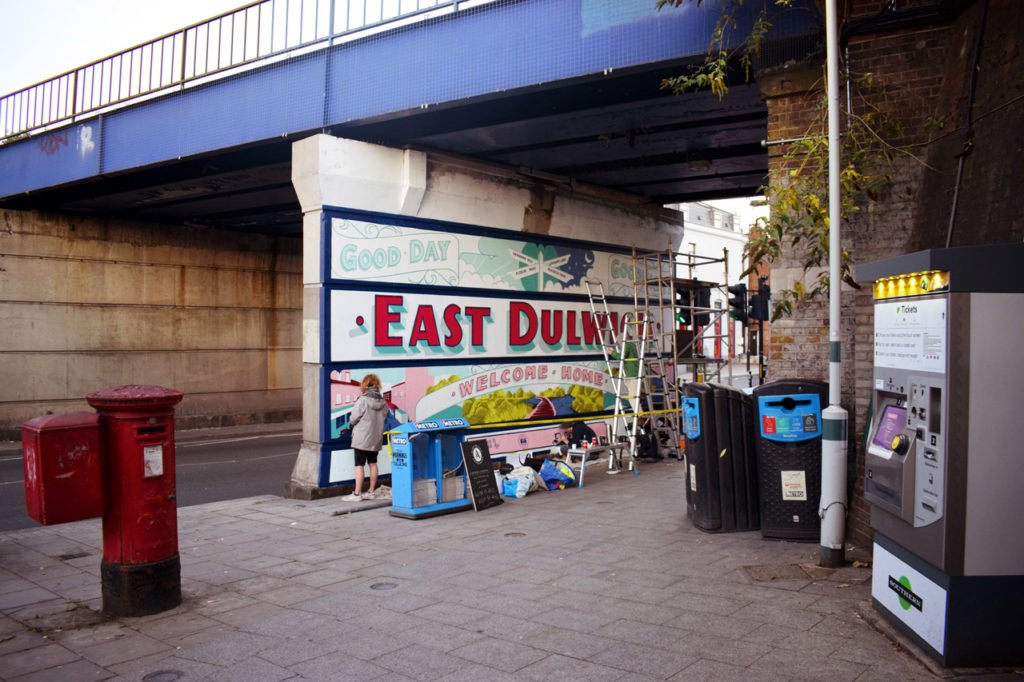 Kris Andrew Small did some incredible talks and workshops and the shop was filled with excited art and design students with a visual talk and screenprinting tshirts . Christabel Forbes' Show was a total delight, we worked so well together and people simply fell in love with her and her work. James Monnington was a huge risk as it was black and white photography but the risk paid off, children were inspired, people's mouths were left wide open – the excitement and energy around the show was palpable.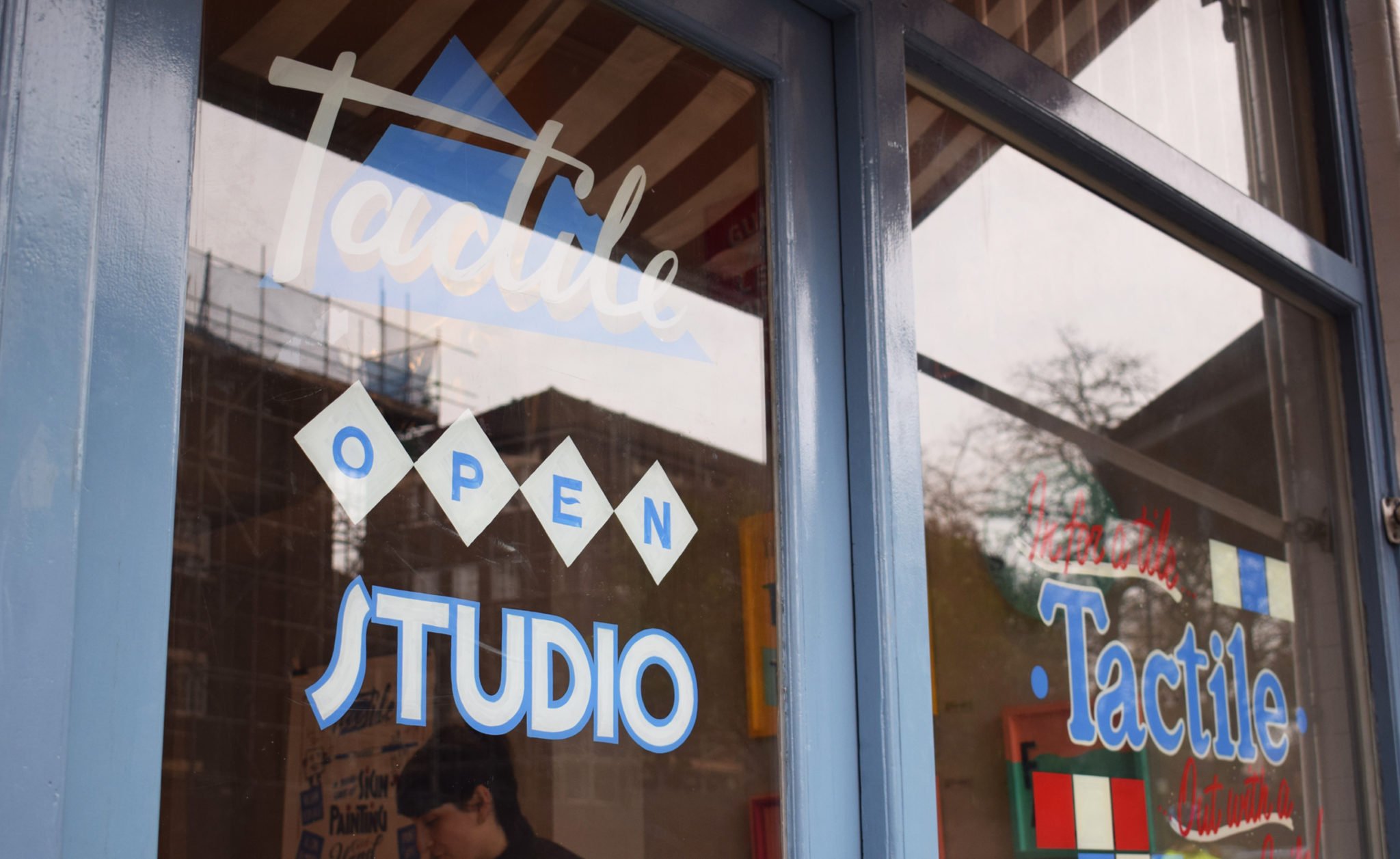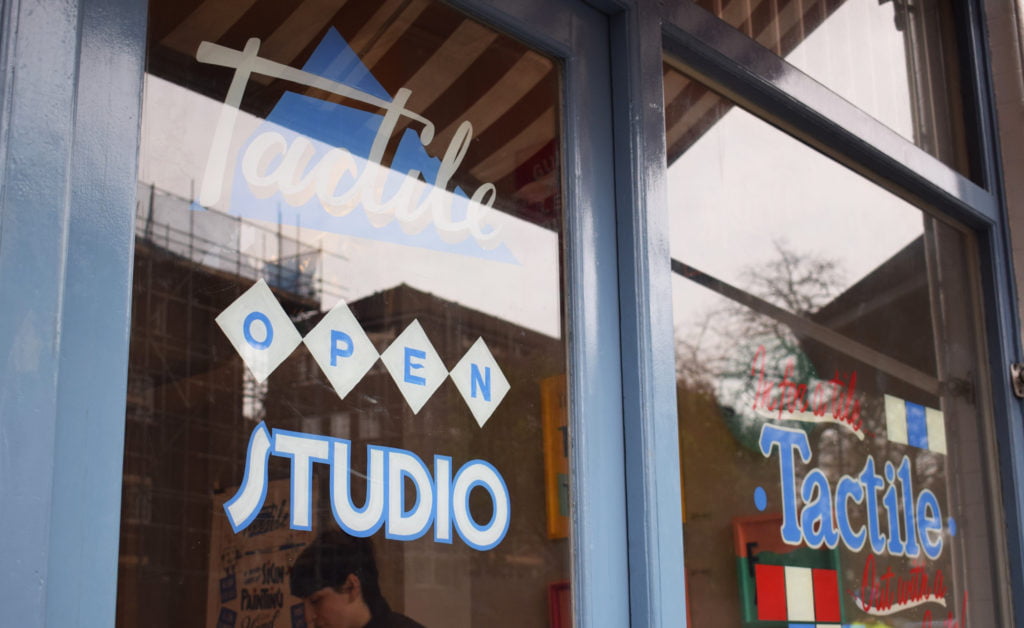 Q: Who are your biggest inspirations?
A: My biggest inspirations are women who stand up for what they do and what they love. Barbara Hepworth, Peggy Guggenheim and Lee Krasner. I have postcards of them around the house to keep reminding me. I haven't found it easy being an outspoken strong-minded woman but I think as soon as I hit 30 I felt like – I've got this I've got to just do what I love and not be ashamed to not be 'delicate and flower like'.
Q: How do you strike the balance between the creative and business side?
A: Our motto at Blue Shop a Cottage is 'Help Artists Grow' – and by this I mean supporting them creatively and emotionally, and then supporting them financially by ensuring they make a profit from the show. For me the creative and the business side are always entwined together – by putting on a beautifully creative show you should then hopefully succeed with it from a business stand point. You can never predict how successful a show is financially but if the show looks amazing, the artist is happy and people respond well to the work then that is already a success in my eyes.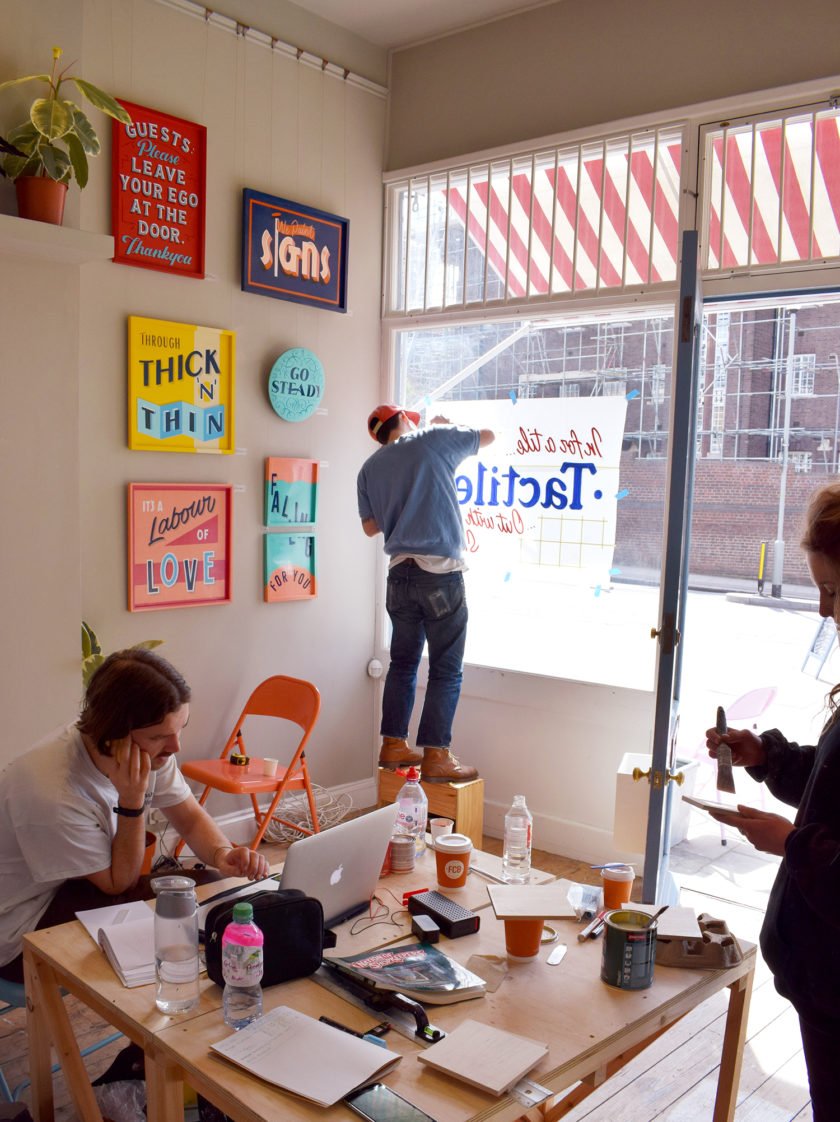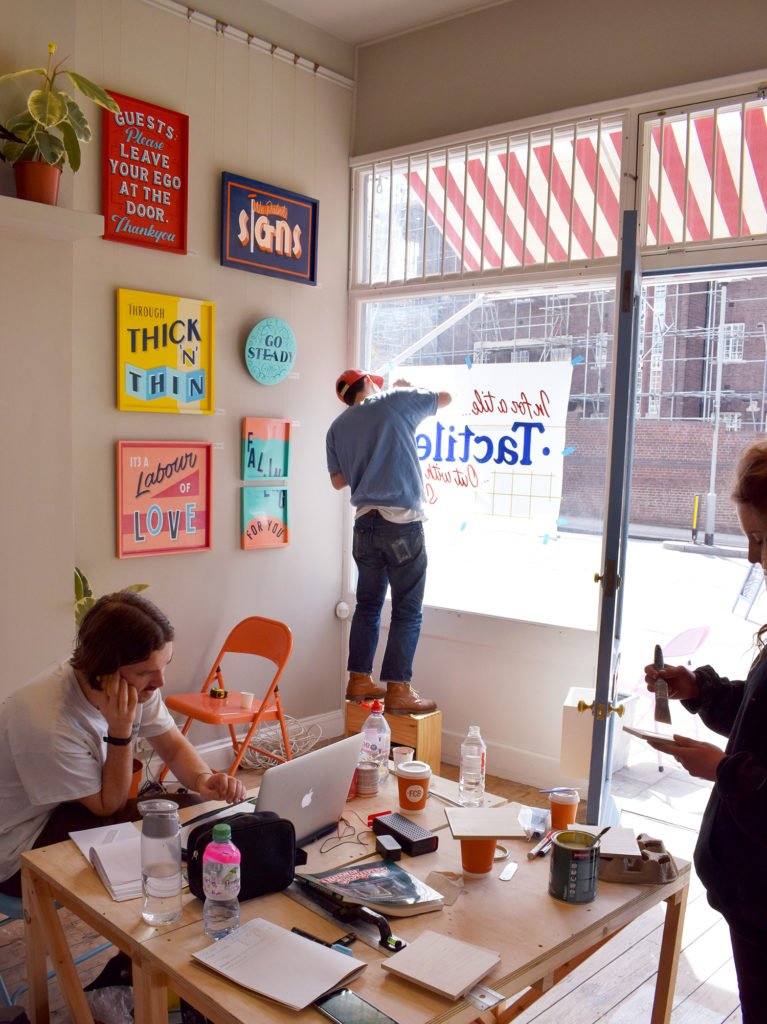 Q: Social Media as a tool for artists – pro or anti?
A: Social media is a little bastard sometimes but It is also a brilliant tool. It's a little bastard because it taps into our psyche and plays with our emotions sometimes but by not getting too involved and using it for what it is – which is a platform to show off your work – it's a really amazing way to reach an audience and have a conversation.
Q: What are you angry about right now?
A: I can honestly say I'm not angry about much at the moment… apart from our planet dying. That makes me sad and angry. I went to a talk by extinction rebellion the other day and the speakers there said that the best way to actively save this planet was by creating communities and improving people's lives one step at a time through human interaction – i wasn't sure if this truly would help but it certainly inspired me to push on with Blue Shop as I know how much joy it brings to people's lives and certainly to my own.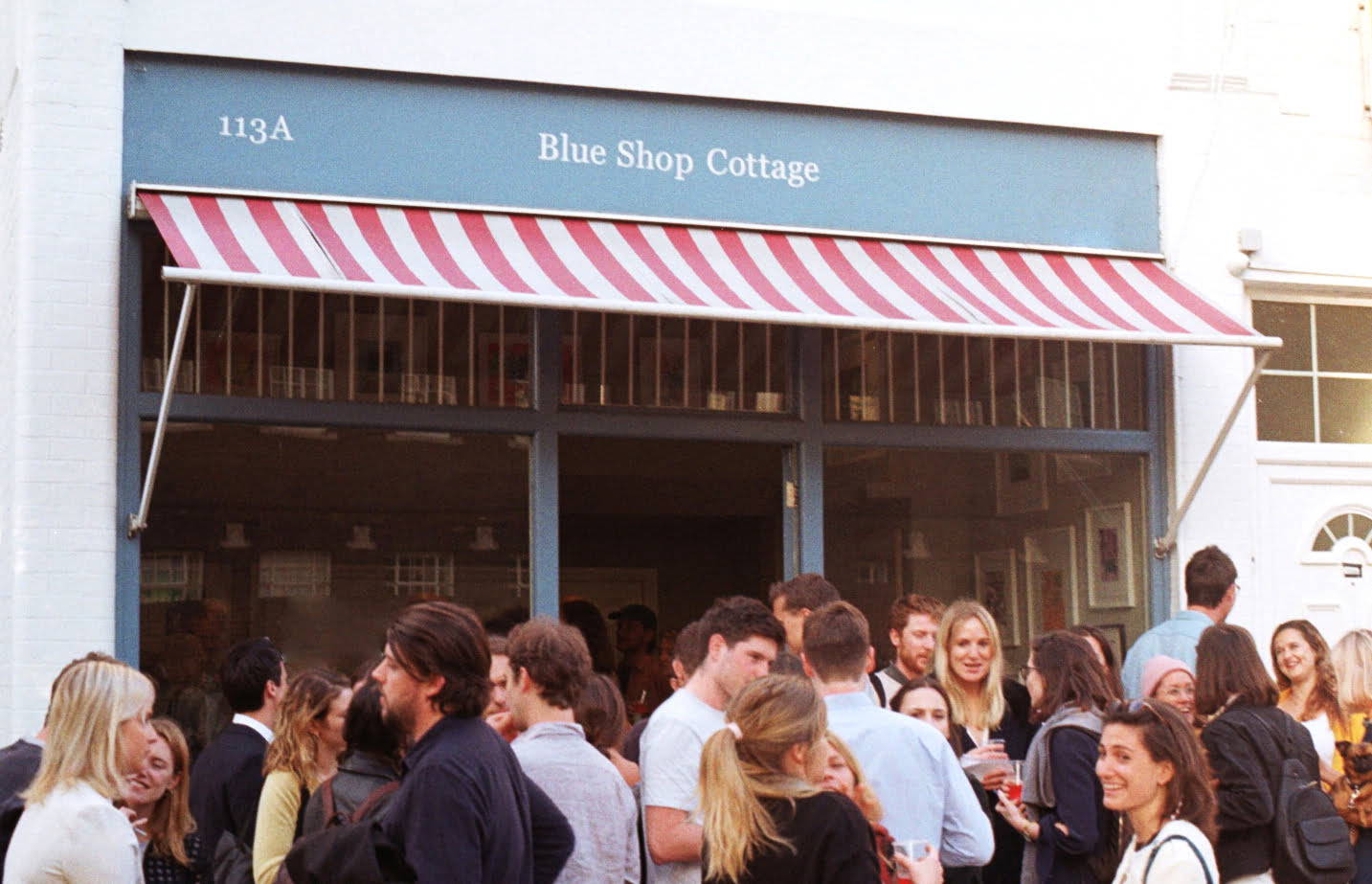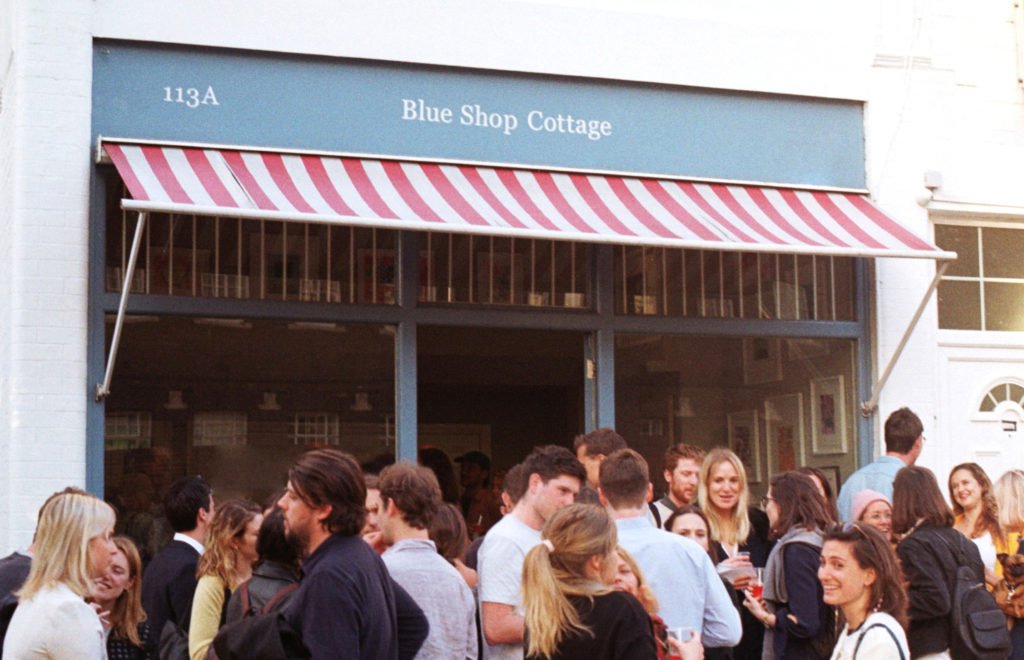 Q: What's next!
A: In 2020, we have some incredibly exciting immersive art exhibitions, to name a few:

DAVID SHILLINGLAW, World famous British artist famous for his mural work
DOMINIC MCHENRY, British sculptor based here in Camberwell
ROSIE LASCELLES, British Artist
ANGE MULLEN BRYAN, British Painter
ALICE NEAVE, British Painter
TRISTAN BARLOW, American Painter living and working in Brixton
TYGA HELME, British artist
We will also be hosting talks, creative workshops by Katie Gillies and many more and even bringing a café that used to be here in this very building between 1951 and 1961 owned and run by a lady called JEAN RAY. We will be bringing the café back to life next summer for the community and also trying to find out more about Jean Ray. Think lovely fresh food, sharing cafetieres, pots of tea and lots of meetups! Food/Drinks by Spread and signs by Alphabetics Anonymous.
©2019 Blue Shop Cottage 2019