The renown Banksy strikes again, taking a swing the capitalist ideal in aim to protect the well-known brand of Banksy. In the corner of south London, Croydon, to be exact, a boutique gift shop appears overnight with a sign barring the words Gross Domestic Product.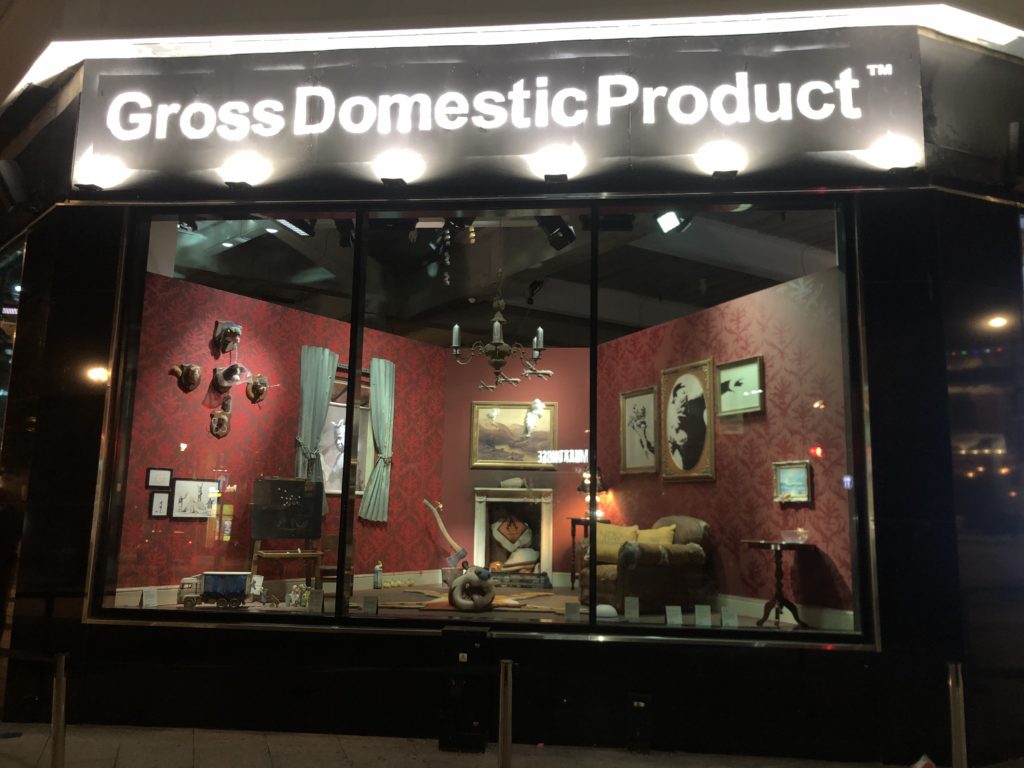 This temporary installation is available to view for two weeks, Banksy installation display various products just like a high street gift shop. In true Banksy ethos, the shop will not be open for business, just window shopping only.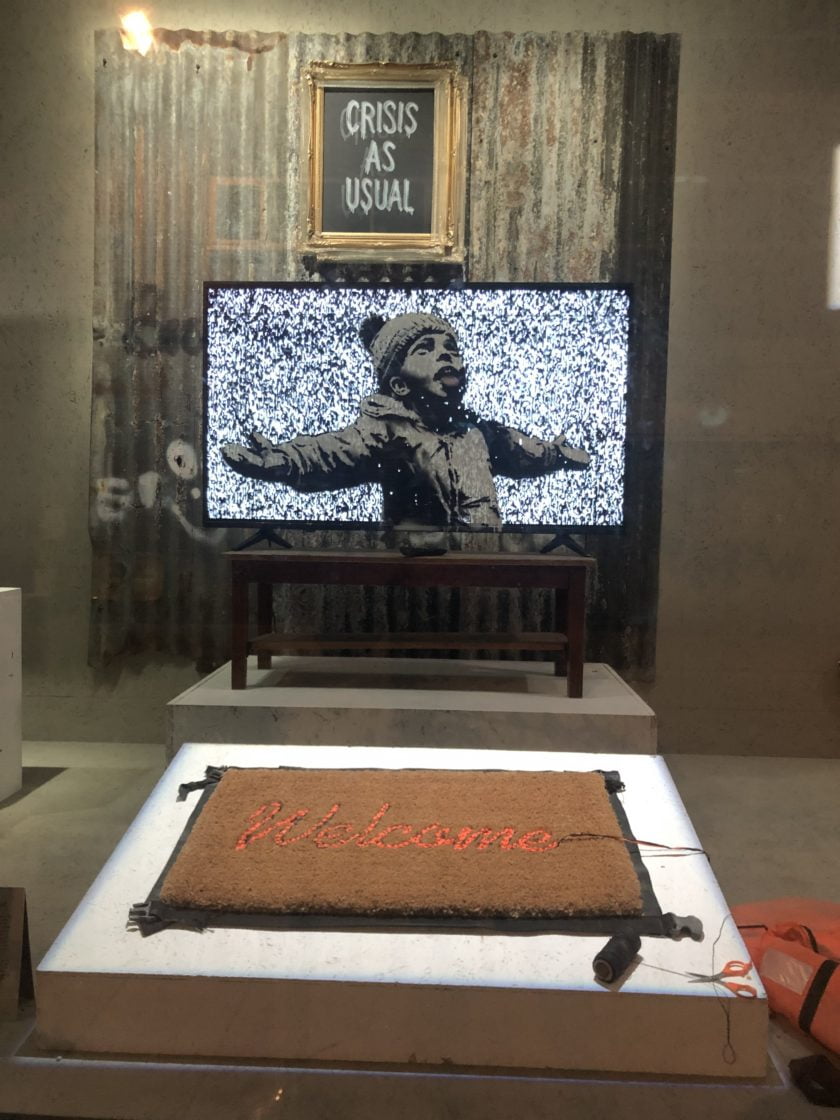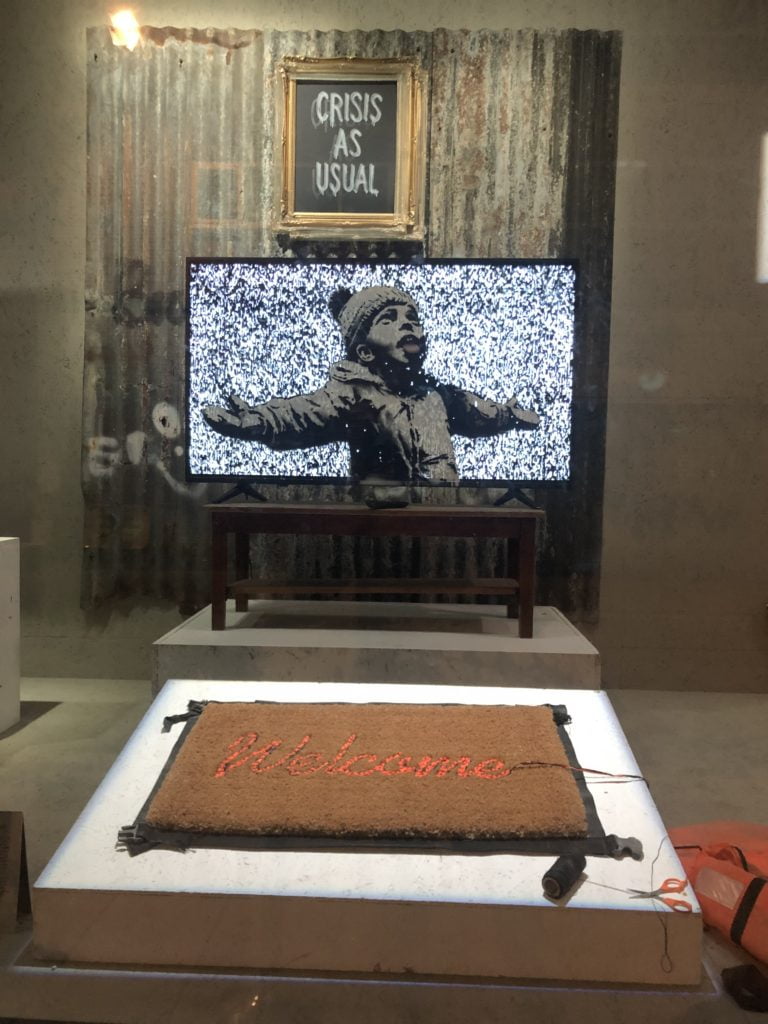 Take a look through the window, you be greeted with allure Banksy product range from a rug in the way of a sacrifice Frosties Flakes Tony the Tiger. A baby cot surrounded by CCTV, a Union Jack stab-proof vest created for Grime Artist Stormzy to wear at Glastonbury, Basquiat-inspired Ferris wheel, disco balls made from police riot gear helmets, handbags made of bricks and more.
Although the shop will not be open to the public, some items will be available to purchase online at Grossdomesticproduct.com. As some of the GDP products were produced by refugees in Greek detainment camps to stitch the welcome mats.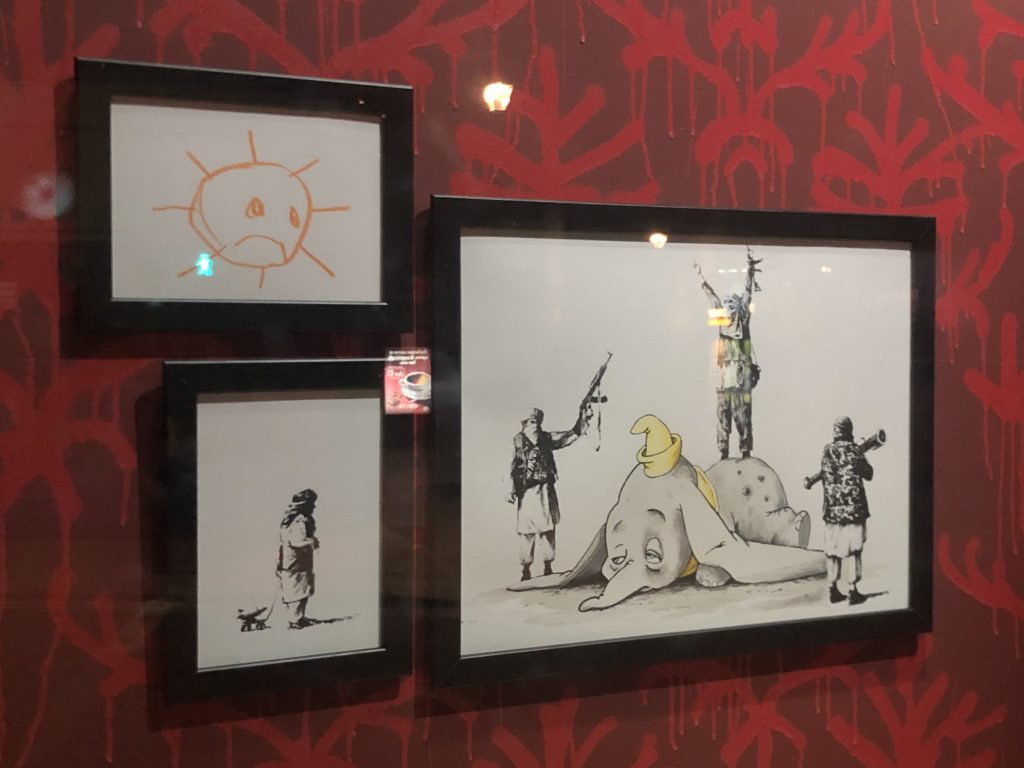 So proceeds from the mats will be going back to the refugees, and sales from the doll sets will help to support activist Pia Klemp to purchase a replacement boat as her previous boat was confiscated by the Italian government.
In a recent statement about the Gross Domestic Product, the artist explains the incentive behind the project is due to a legal battle between him and a greeting card company that is contesting Banksy trademark he holds to his art. The lawyer who has been advising Banksy, Mark Stephens, explains "Banksy is in a difficult position because he doesn't produce his own range of shoddy merchandise and the law is quite clear—if the trademark holder is not using the mark then it can be transferred to someone who will."
The end goal with Gross Domestic Product is to sell work to show, he is indeed in active use of his trademark. Banksy does state, "I still encourage anyone to copy, borrow, steal, and amend my art for amusement, academic research, or activism. I just don't want them to get sole custody of my name."
If you are in the local area of Croydon, its definitely worth a visit, as recommended, by the artist himself "Gross Domestic Product is best viewed at night". And we can second that, we took a late-night trip to view Banksy's new gift shop with delight.
©2019 Banksy