There are many entities and locations that define opulence and magnificence, and the French Riviera is one of them. Carved into the aesthetics of the mountains, it exudes a set of principles concerned with the appreciation of beauty, and is surrounded with centuries-old architecture, luxurious ports, super yachts, and affluent residents with expensive accessories.
Located amongst all this is the Principality of Monaco, a country with a unique history and position in the world, where life resembles art. Its prestigious existence makes it one of the most distinctive countries in the world.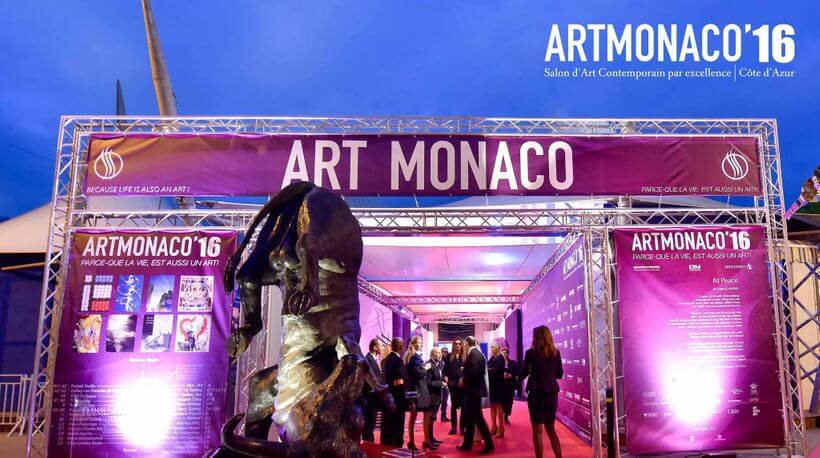 Monaco has a philosophy that deals with questions of beauty and artistic taste. The art of humanity's desire for expression and our instincts for creativity are shown through the luxury of the human perspective, communicated through various mediums since the dawn of time, from the Egyptians with hieroglyphics to Picasso on canvas.
I had the opportunity to experience Monaco's Philosophy of Art through Art Monaco. Now in its seventh iteration, Art Monaco 2016 is a spectacular and immersive experience for art lovers and collectors. It is, as they say, where art meets glamour.
This four day event, professional curated by Opus Eventi was located at Chapiteau Fontvieille. Art Monaco selected 65 international artists and galleries to exhibit, as well as the most promising artists of the French Riviera. Art Monaco 2016 was passionate and dedicated to curating an opulence art experience, by uniting artists with art lovers and collectors, complimenting this with a unique display of artwork including installations, sculpture and fine art.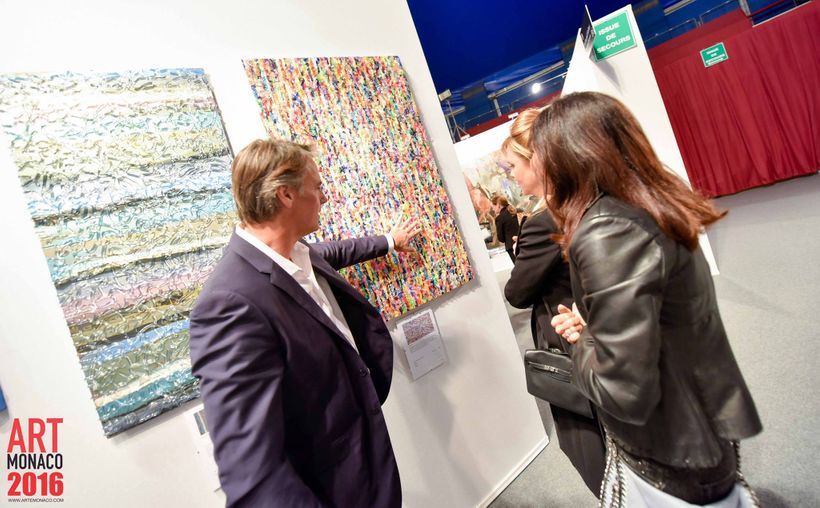 The Vernissage Private Opening Night is as lavish as you can get and an aesthetic example of events in Monaco. Upon entering the exhibition, you are greeted by the famous red carpet with every imaginable combination of clothes, shoes and jewels coming down the carpet, all overshadowed by a beautiful towering sculpture from artist, Thierry Blum.
The Vernissage demonstrates clearly what is expected from an exclusive private viewing, with black ties and sharp-tailored suits, beautiful long dresses, and of course elegant champagne, complimented by vodka courtesy of the Legend of Kremlin.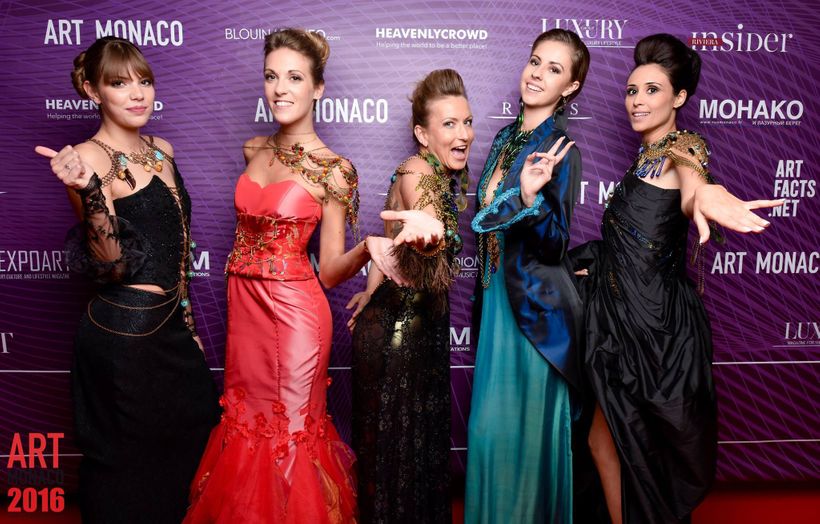 On the opening night there was a warm vibrant crowd with plenty of socializing and engagement, the perfect place to mingle with the French Riviera's Elite and the many art VIPs who attended, such as art editor, Franceso Chetta, and designer and exhibiting artist, Olga Lomaka.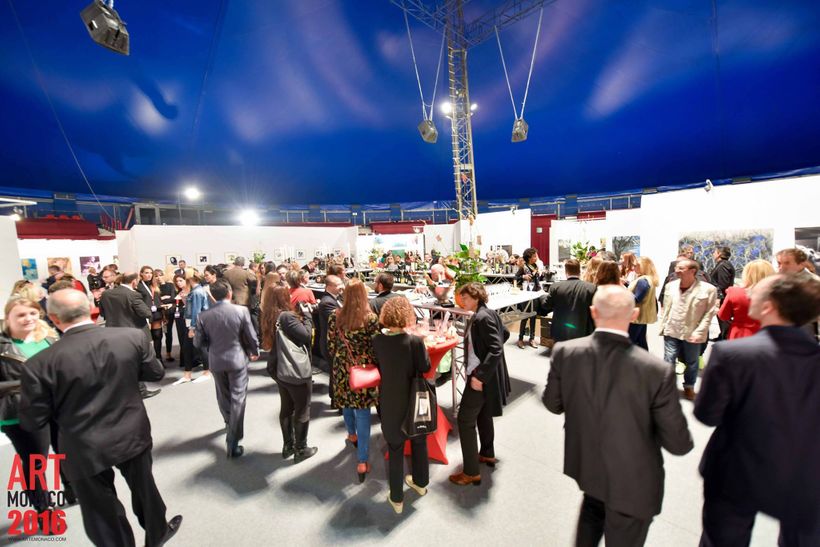 As you enter into the exhibition you are greeted with a feature wall, decorated with a beautiful fabric piece by London artist, Benjamin Shine. As you made your way around Art Monaco, the ambience of the exhibition complimented by the voices of live opera singers.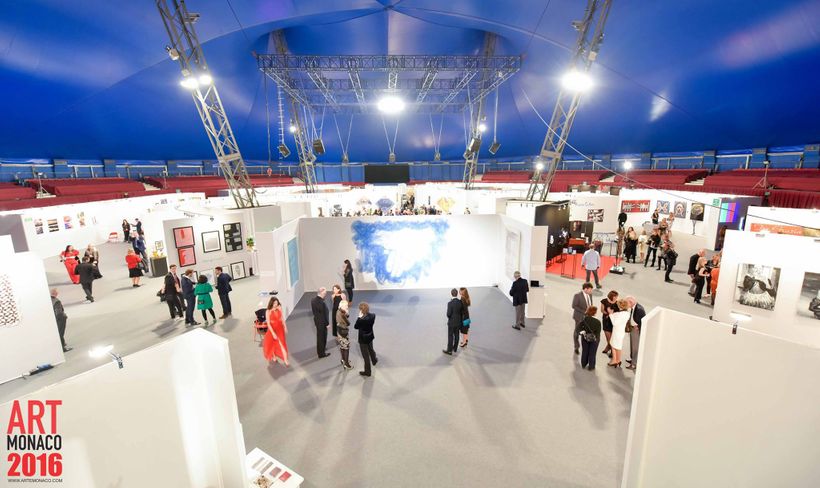 The layout was minimal and contemporary, allowing exhibiting artworks to be the focus and appreciated by adoring eyes, with a live fashion show also taking place, with models dressed in couture dresses from international designers. There were many pieces by some great artists but a few of my personal favourites were by Anatasia Kopittseva, Benjamin Shine, Olga Lomaka, Hieko Saxo, Nastya Miro, Iris Devote Littardi, Uili Lousi and a small number of pieces from the gallery Myanmar Ink, expressing the current situation of humanity itself by using collages with typographical quotes.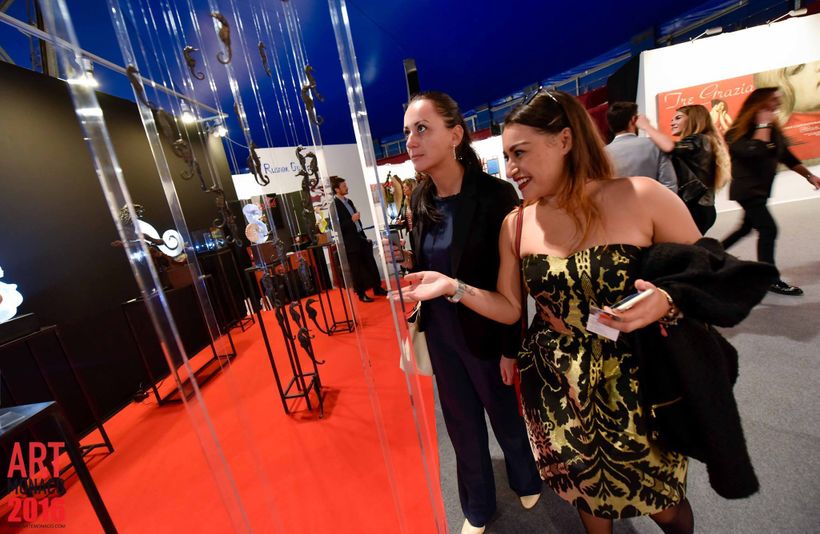 A stand out piece was an installation entitled "Light Painting Photo Call", by artist Chanette Manso. This utilized a camera to layer each image, with the use of people, light shapes, and writing in one moment of time.
Every shot was impressively different from the last. Art Monaco 2016 was a great event for me personally, not just for the art. There was networking and socializing, and meeting many new people. Overall, the experience of an affluent culture, mixing grace with beauty, and the human expression of life in the moment is one that you will probably never forget.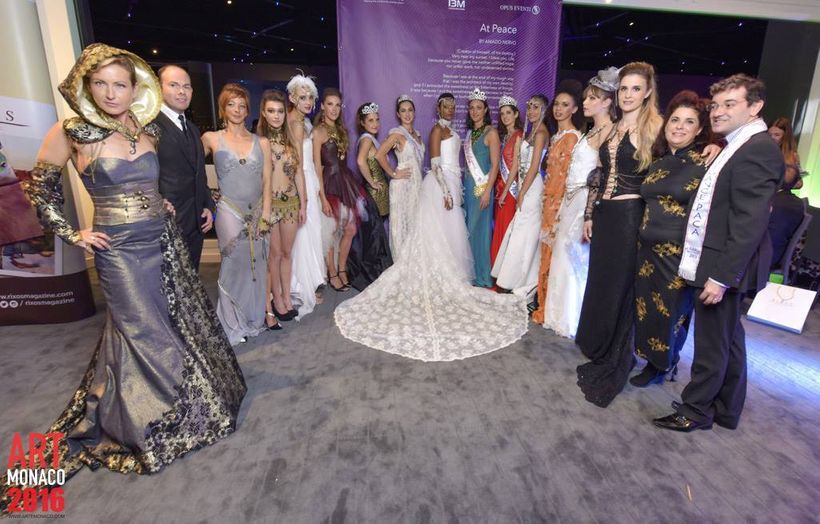 The philosophy of opulence combined with such scenery would satisfy the most expansive appetite for many who seek such moments. So if you are looking for a luxurious art experience, Art Monaco is for you. In short, because life is art it can only be Art Monaco. You can find more information at the Art Monaco website.
©2016 Art Monaco