Amber Robles-Gordon: Surely, she (he/we) is a little animal?
October 12 to November 9, 2023
Morton Fine Art's
Washington, D.C. location
(52 O St NW #302)
Morton Fine Art is pleased to present an exhibition of mixed media collage and assemblage on canvas and wooden substrates by Washington D.C. based interdisciplinary visual artist Amber Robles-Gordon. Continuing a visual conversation originated by Robles-Gordon with Successions: Traversing US Colonialism, her 2021 solo exhibition at American University Museum at the Katzen Center (curated by Larry Ossei-Mensah), Surely, she (he/we) is a little animal? expands the human-focused approach of Successions out towards the universal and the surreal.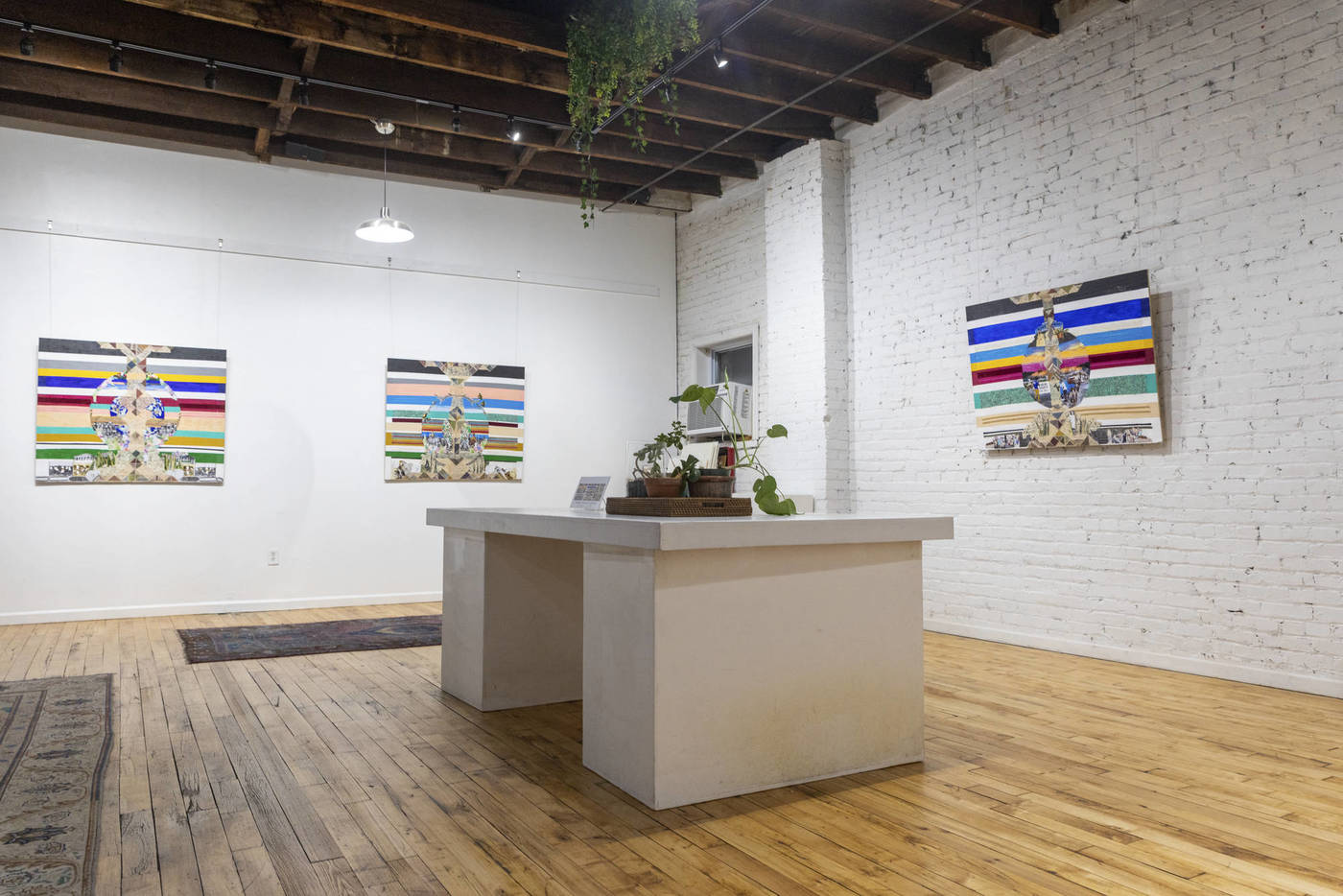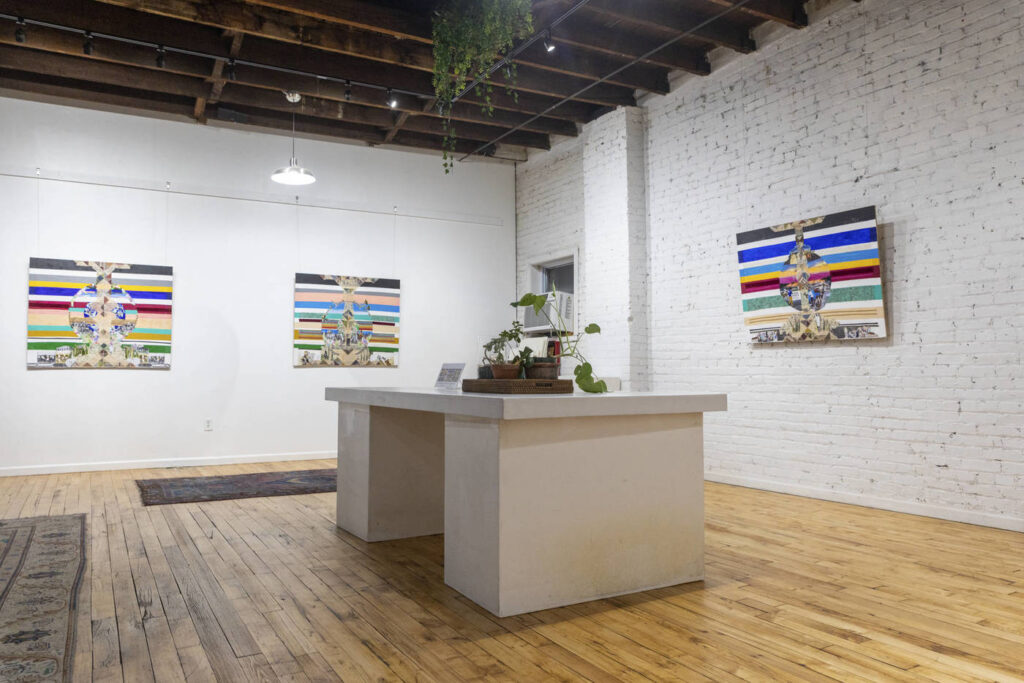 Who/what is worthy of care? Who cares for the defenseless? Who/what is defended? Incorporating the transdisciplinary study of human ecology into her practice and scope, Robles-Gordon uses the field as an anchor in her expansive investigations of race, history, the sciences and culture. The resulting new body of work rigorously explores colonialism and imperialism, global anti-blackness, child welfare and animal cruelty. Finding them all connected, just not equally, the exhibition exposes frank contradictions in American perceptions of human life, animal life and minority lives.
Ranging across time and species, Robles-Gordon visually connects the histories and
developments of the American child protection and animal welfare movements with the Civil Rights and the Black Lives Matter movements and ongoing struggles for freedom—many of which intertwine on themselves as Montgomery Brawl (2023) shows, merging references to the Montgomery Riverfront brawl and Montgomery bus boycott. Consistently interested in questions of access (to citizenship, right, sovereignty), Robles-Gordon now turns her attention to empathy and its (in) accessibility. The artist's second solo exhibition with the gallery, Surely, she (he/we) is a little animal? will be on view from October 12 to November 9, 2023, at Morton Fine Art's Washington, D.C. location (52 O St NW #302).
Re-ordered from a statement made concerning the 19th-century child abuse case of Mary Ellen Wilson, which led to the creation of the New York Society for the Prevention of Cruelty to Children, the exhibition title remixes a quote from the period that compared the young Mary Ellen to an animal—with the implication that she was thereby deserving of care and freedom from abuse: "She is a little animal, surely." Drawing attention to the quotation's subject, metaphorical and legal underpinnings and inspiration to social action, Robles-Gordon's exhibition title unleashes a torrent of follow-up questions: "Surely, aren't I a little animal too?" Understanding this, Robles-Gordon visually encourages her viewers' sights toward more considered questions: isn't the value of life and well-being (be it a Black life or animal life) inherent?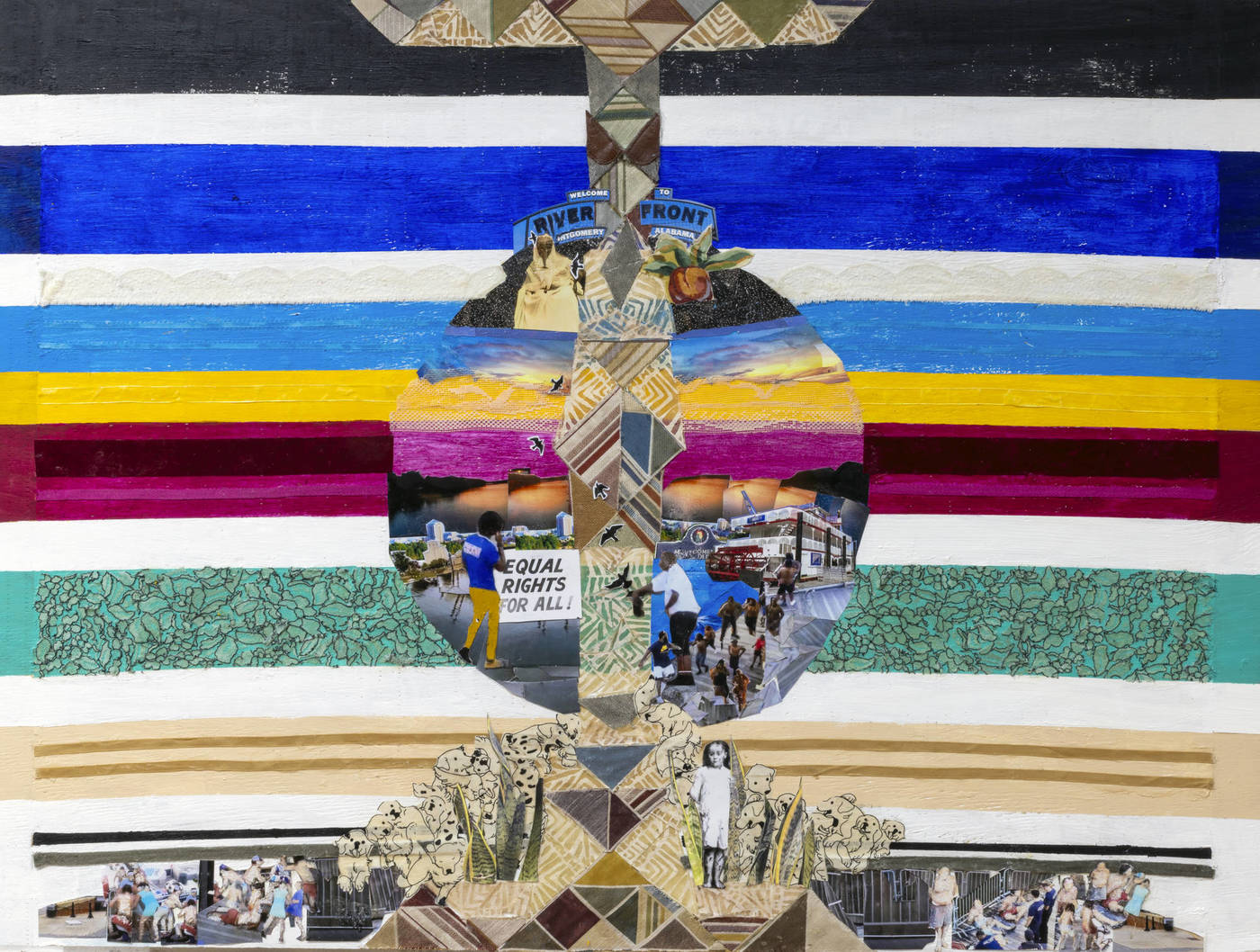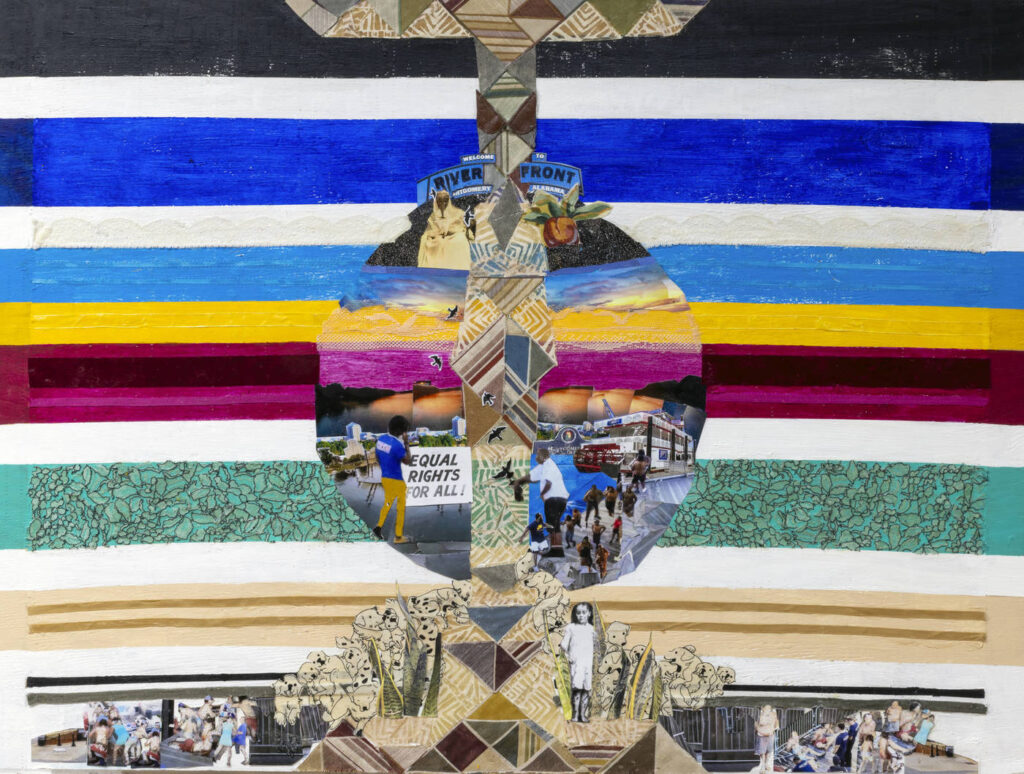 Throughout Surely, she (he/we) is a little animal?, Robles-Gordon extends a formal interplay with landscape, laying horizontal bands of color behind a central totem-like form reminiscent of Robles-Gordon's earlier use of the Ficus Elastica (or Rubber Tree)—once again cojoining human and non-human. While also lending the compositions a flag-like appearance, Robles-Gordon's polychromic, thick graphic lines, equally hold their own space and weight, intimating the charged forms and juxtapositions of color theory. Projecting out from the center like a magnifying glass, the circular totem-forms appear to hold a microcosm of figures—figurative portraits of people living under imperialism and/or colonialism—and plant life within a glass-like lens or bowl.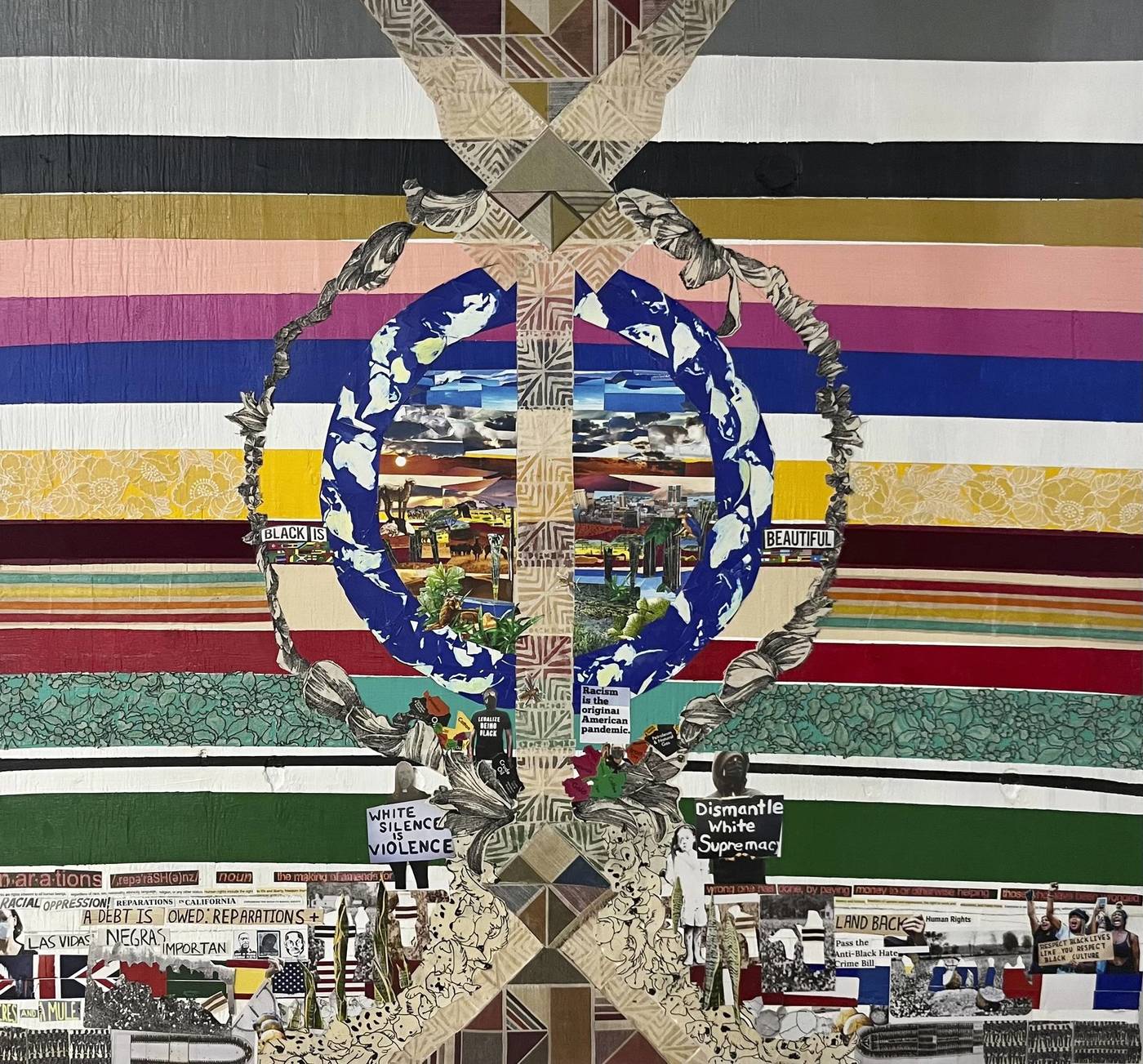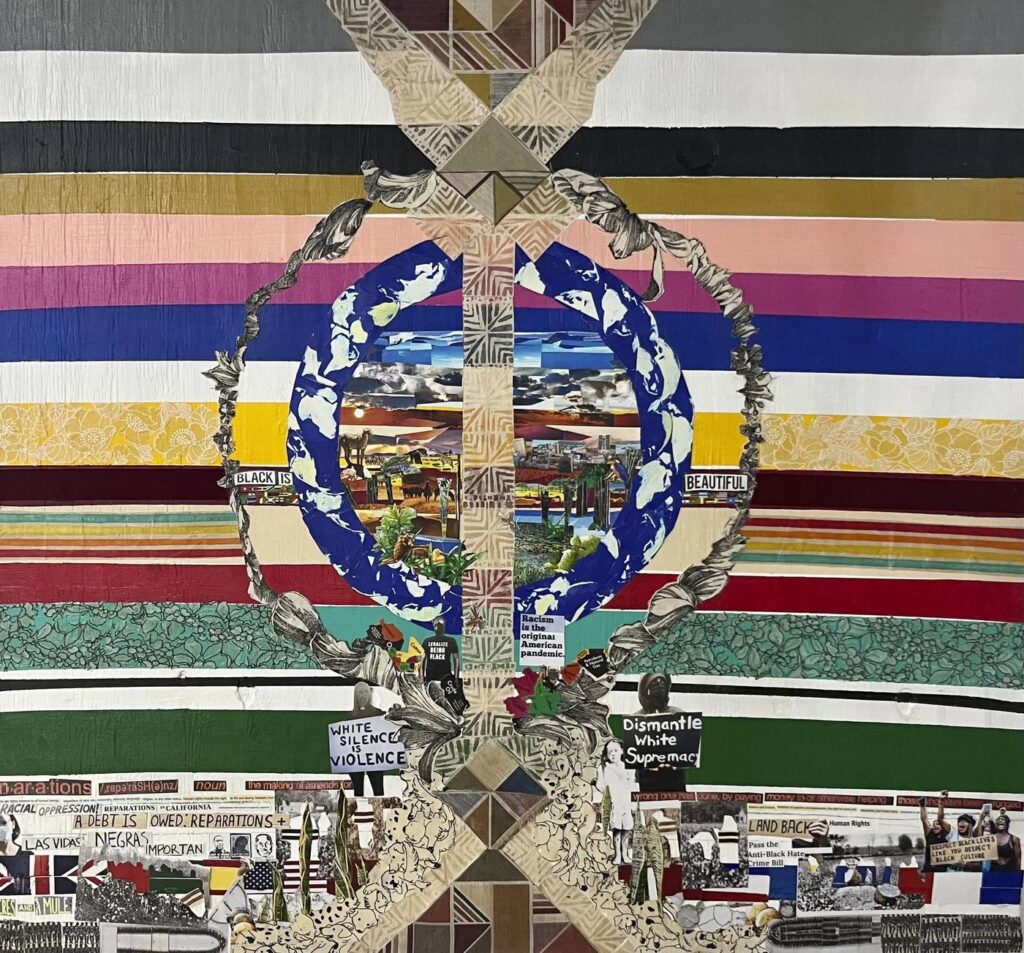 Enclosed in these distorting, circular forms, Robles-Gordon connects her subjects in a great chain of being. Paring human and tree, the series invites association with similar human-tree metaphors: family tree, tree of life, a collective tree of humanity.
Recurring across the works are painterly, coded renderings of flora (snake plants, flowering plants) and fauna (dogs, butterflies and birds), Mary Ellen Wilson and references to the Civil Rights, Black Lives Matter and child protection movements. Collaged images of Mary Ellen Wilson and piles of cute dogs, visually hold up the sphere. Yet upon inspection some dogs are not fully rendered. Robles-Gordon uses bold black lines, fences and snake plants as lines of delineation for protection and separation. Snake plants additionally aid in purification and cleansing, while also bringing luck, prosperity, and positive energy.
Amassed together, this ball of history, nature and humanity forms a peculiar picture plane of the racialized past and current treatment of people of color. Never losing sight of the material dimension (whether that be commodities and capital or the ingredients and surface of her mixed media collages), Robles-Gordon is creating a mirror-menagerie of people of color, colonized people and children—all who have been treated worse than animals in the pursuit of profit.
©2023 Amber Robles-Gordon