Adams Plaza at Canary Wharf has been transformed with an uplifting work of contemporary art, unveiled to the public today to celebrate London Pride. The bold and bright work is the latest piece by LGBTQ+ artist Adam Nathaniel Furman, whose work is characterised by their use of colour and pattern in carving out queer spaces in the public realm. With their unique style, Adam has kaleidoscopically reimagined the underside of Adams Plaza Bridge which is seen by tens of thousands of people every day.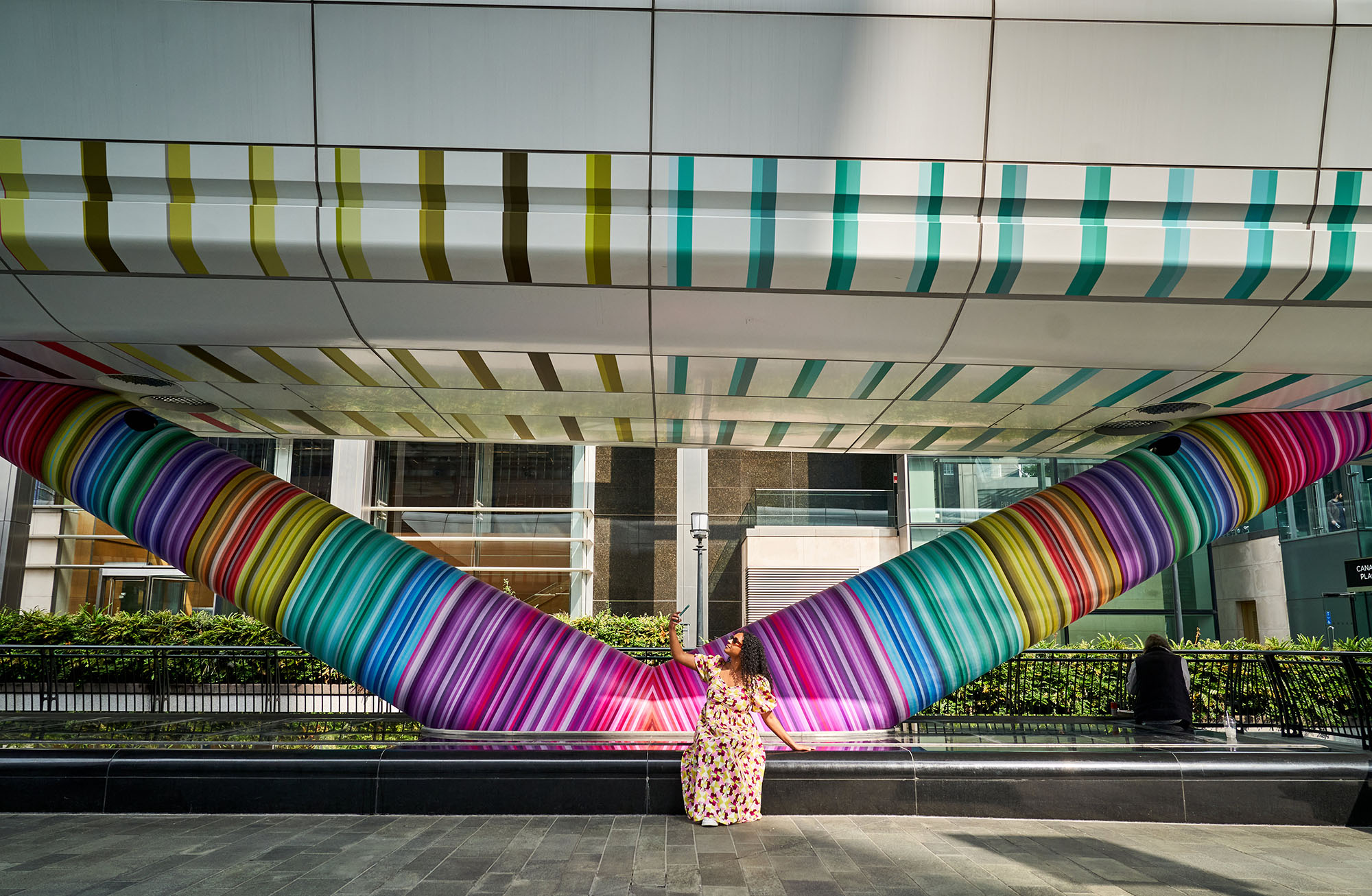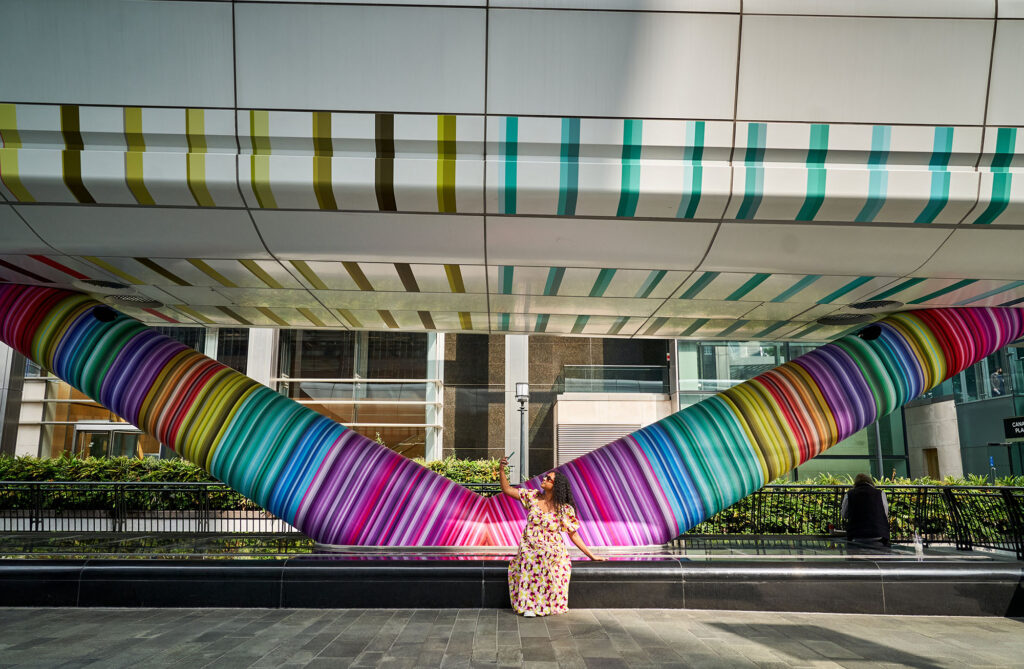 The latest piece to be added to Canary Wharf Group's public art collection, Furman's work, titled Click Your Heels Together Three Times, is intended as the architectural scale equivalent of queer icon Judy Garland's famous ruby shoes in the Wizard of Oz. It similarly celebrates the importance of realising your inner desires and identity in reality.
When considering queer artwork in public spaces, artist Adam Nathaniel Furman said: "It is important for there to be representation of all our communities and backgrounds in the public realm in order for everyone to feel welcome, as well as to simply make our urban spaces truly interesting and diverse, which benefits everyone who occupies them… Canary Wharf has fascinated me since I was a child…amazing in its scale, cleanliness, and it's futuristic aesthetics…which I love reacting to by layering alternative meanings."
The installation wraps the underside and pillars of Canary Wharf's Adams Plaza Bridge, and will greet visitors to the Wharf as they arrive from the Elizabeth line with a burst of technicolour. Acting as a celebratory sheath of colourful, dramatic drag, the installation adds a proud note to Adams Plaza.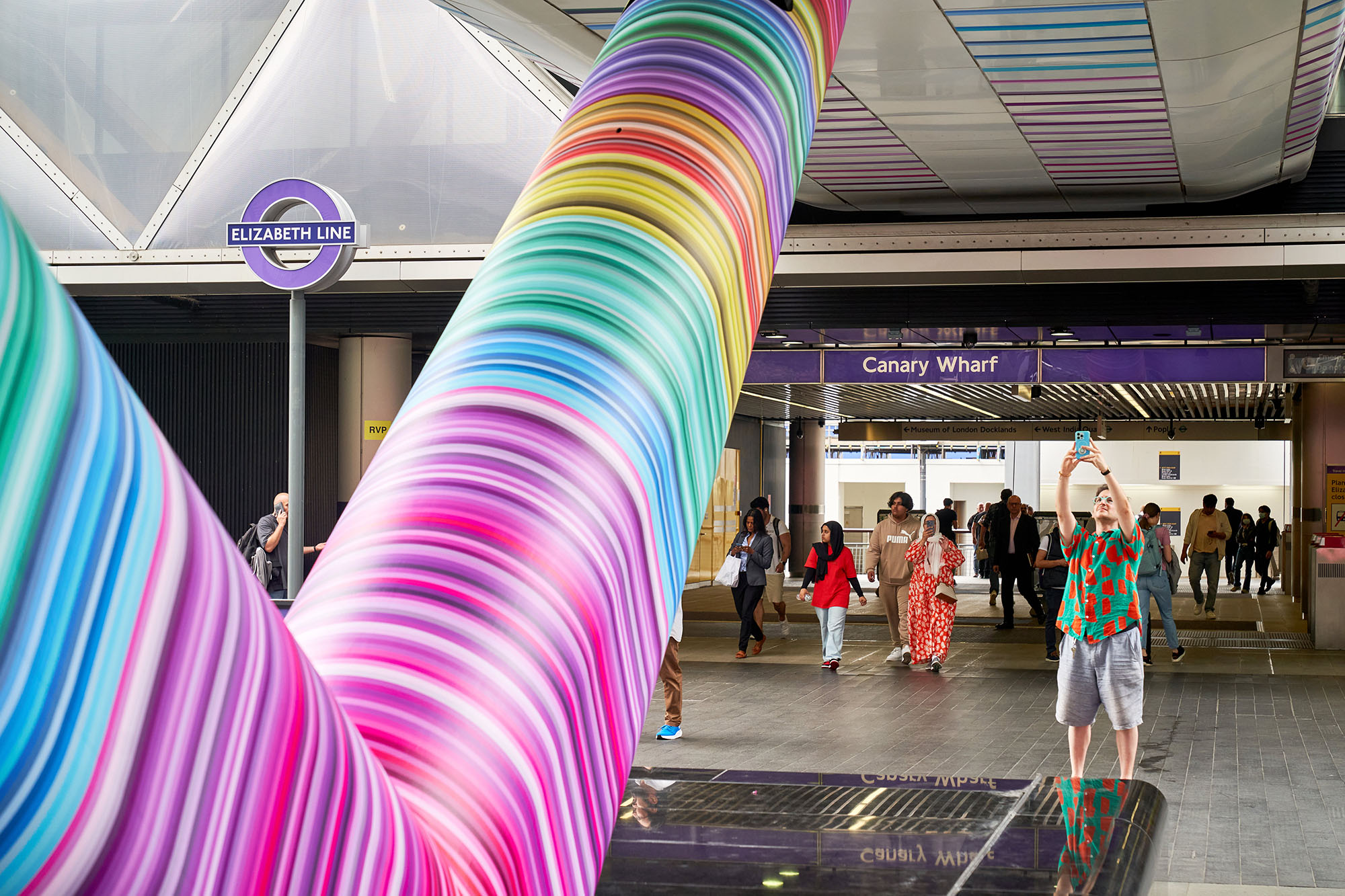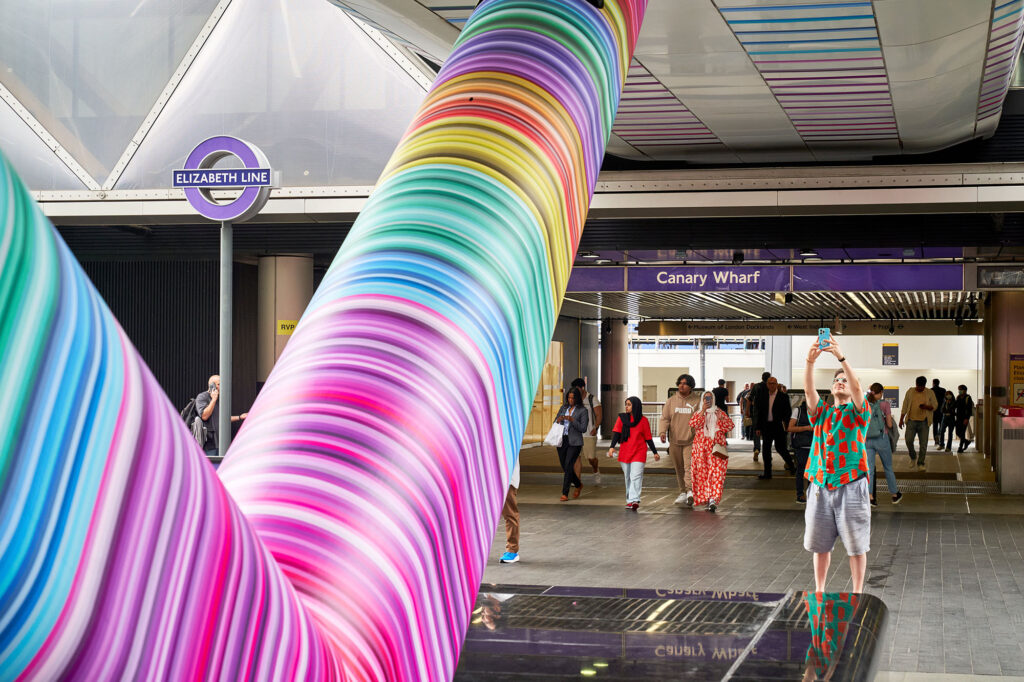 With influences from childhood experiences of Argentine and Japanese art and culture, Furman works primarily with place and spatial design. Their diverse style generates larger than life artworks that champion difference, creating space for people to feel confident, loud, proud and full of joy. The installation will form part of Canary Wharf Group's public art collection, joining over 100 other works to form the UK's largest free-to-visit, outdoor, public art collection.
Camilla Mcgregor, Events Manager at Canary Wharf Group said: "We're delighted to unveil Adam's latest work as part of our permanent free-to-view public art collection with Click Your Heels Together Three Times adding even more colour to Canary Wharf. Our permanent collection is designed to be as accessible as possible, and a vital part of this is through selecting artworks and creating spaces that truly represent our varied audiences. Adam's celebratory Pride piece joins Lothar Gotz's Electro-Rainbow, commissioned for Pride 2022, as well as works from Yinka Ilori, Sinta Tantra and Lawson Oyekan.
The guide includes photo and audio features which can be used on or off site to help art enthusiasts explore the extensive collection found at Canary Wharf. Fitness fanatics can even take in one of three running routes as part of 'Raise Your Art Rate' – 1, 3 and 5km routes which take in Canary Wharf's public art and outdoor spaces.
Those looking to make a day of visiting Canary Wharf can enjoy the Wharf by water by booking a GoBoat or enjoying open water swimming in the Middle Dock. On land, visitors can find a free-to-play 9 hole Minigolf course, designed by creative duo Craig & Karl, colourful ping pong, or explore the 16.5 acres of open space and 5km of waterside boardwalks. With over 70 cafes, bars and restaurants to choose from including Hawksmoor, MMy Wood Wharf, Dishoom's summer terrace and newly opened vegan restaurant mallow, visitors won't be short of a spot to take a break and enjoy a tasty treat.
Adam Nathaniel Furman's piece Click Your Heels Together Three Times is now a permanent piece in Canary Wharf Group's art collection and can be found at Adams Plaza, by Crossrail Place. Adam's latest book Queer Spaces – An Atlas of LGBTQIA+ Places & Stories is available to purchase now.
©2023 Adam Nathaniel Furman